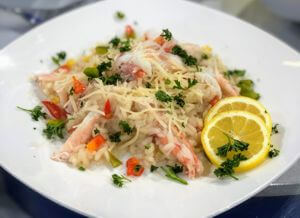 | | |
| --- | --- |
| | |
In a saucepan, bring seafood stock to boil.

Pour olive oil in a skillet and melt butter over medium-high heat. Add shallots, corn and bell peppers and saute, stirring frequently, until shallots are soft and translucent, about 3 minutes.

Add the Arborio rice and cook, stirring, until grains are coated with the mixture, about 3 minutes.

Stir in wine and cook, stirring, until all the wine is absorbed. Add hot seafood stock, ½ cup at a time, stirring constantly and letting all liquid absorb before adding the next ½ cup of stock. Repeat, stirring constantly, until risotto is creamy and cooked through. Add the zest of half a lemon, gently stir in the crab meat and allow to cook for 30 – 40 seconds.

Remove pan from heat and gently fold in the butter and Parmesan. Garnish and serve.