A Complete Checklist for Holiday Parties from a Holiday Catering Company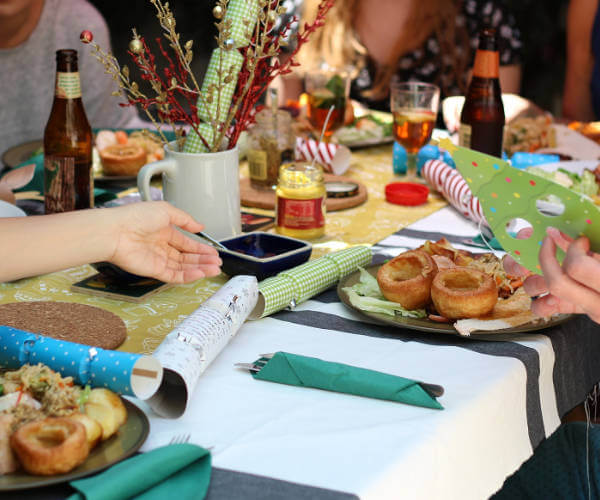 Ready for your holiday party? As a Holiday catering company, we've served a few Holiday events. Enjoy the season with your guests and let us take care of all your foodservice needs. 
Whether you are hosting a few friends at your apartment or putting on a gala for an entire corporation, the basics of planning are the same. Here is a handy checklist for planning a holiday party. 
1. Create a guest list. 
The people attending your party are really the reason you are throwing the party in the first place. Christmas and Thanksgiving are a great time to show people you care. 
Even for a small holiday party, be specific about whether your guests can bring a plus one. The age range of your guest list will also matter when you consider the venue. 
2. Begin drafting your invites. 
The invite should have all the info party-goers will need to participate in festivities. 
You may need to wait on a few details of your party to work out before sending your invitations. Start thinking of what you want them to look like while you wait. 
The invitation sets the mood for the party. Make sure they are on-theme with what your guests will experience when they show up. For example, make sure to indicate the kind of dress-code guests should plan for. They should also have an idea of who they'll be seeing at the event. 
Invites are best sent a few weeks before the party starts. Email invitations are great for informal events. However, there isn't anything quite like a personal invite. We recommend putting some thought into your invites before you send them. 
3. Order or plan for food (consider a holiday catering company). 
Aside from friendship, family, and spending time with those who love us, Holiday events are defined by the food being served. Food determines how formal or informal the party is. It significantly contributes to the atmosphere. — make sure it matches your theme. Or better yet, use it to enhance your theme. 
Using a holiday catering company? Vibrant Occasions caters to family and corporate holiday parties. We've seen a few parties and would love to help you with some of the other details around your event. – Even if you hire someone else, your cater will likely be a good source of party-planning information. 
4. Decide on drink and drinking policies. 
Serving cocktails and specialty drinks is always fun at Holiday events. There are some drinks we only enjoy around the holiday season. Enjoy them while you can! 
It is always best to determine an alcohol policy. Depending on the size of your event, you may need to take some extra measures to make sure everyone has a safe, fun time. For large companies, Holiday parties are about letting go and relaxing. It is not uncommon for alcohol to be served at holiday corporate events. However, there are laws and policies that keep companies accountable for the safety of their guests if they are the ones providing the alcohol.
5. Put together a party favor for your guests when they leave. 
The gift does not have to be extravagant. Think of something for them to remember the party. The key is to choose something that resonates with your guests and the theme of your party. 
6. Think ahead. — what just came to mind? 
Your party has so many details and special "icing on the cake" touches to add. Don't let details get lost. If you think of something, write it down. Make lists and follow up when it's finally time to party. If you have concerns, address them while you still have enough time to make adjustments. 
Mistakes happen. Don't be discouraged if something goes wrong. The heart of your party is with the people that are there to celebrate together. Relax and enjoy it!