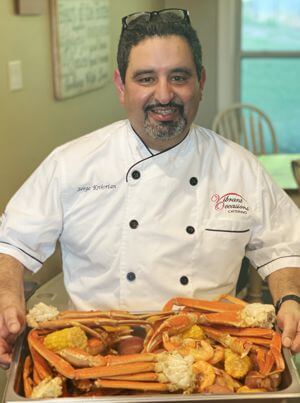 Thanksgiving is supposed to be a family-oriented holiday of gratefulness and rest. We love Thanksgiving! The food, the sweaters, the crisp air, the feeling of togetherness, and the opportunity to express our gratitude make it one of our favorite holidays. But let's face it…Thanksgiving can also be really stressful. Aside from family dynamics and the stress of travel, the cost and effort involved in preparing the Thanksgiving meal can be overwhelming. 
But we have a solution to that problem – catering your Thanksgiving meal. We've heard so many objections over the years from, "It's so impersonal!" to "That sounds so expensive though…", but we've never once had a dissatisfied client. And most of our clients end up making it their new family tradition! So let's talk about why catering for your Thanksgiving meal just makes sense. 
We Cater to Everyone
Is your daughter newly vegan? Is your nephew allergic to eggs? Are your friends kosher or halal? No problem! Catering your Thanksgiving meal means you can customize the menu for any type of dietary need. 
We offer dairy-free, gluten-free, vegan, vegetarian, kosher, halal, paleo, and nut-free menus. Have a dietary need outside of this list? Just ask! We're happy to work with you – and now you don't have to learn to press tofu or make dairy-free pumpkin pie taste good to please your loved ones! Making sure that everyone gets to partake in the feast is an act of love and inclusion that people with special diets will always remember. 
More Time For Your Family – and For Yourself
One of the biggest objections we get when we suggest catering Thanksgiving is that it's "impersonal." But in reality, you are going to have so much more time to spend with your family when you're not spending hours and hours in the kitchen prepping – not to mention clean up afterward.
Imagine all the activities and visiting you can do with those hours back! Your Thanksgiving just got a lot more personal. Not to mention the extra time you have to care for yourself. Now you can sit down to the dinner table feeling refreshed and ready to eat instead of harried and sweaty from trying to make it all turn out on time! Lowering your stress levels is an act of self-love and spending more time with your loved ones is the gift that keeps on giving.
Save Money
The second most common objection we hear is, "That sounds expensive!" But in a lot of cases, catering can actually be a lot cheaper than throwing Thanksgiving yourself. In fact, the larger your family is, the more likely it is that you'll save quite a bit of money by letting someone else handle Thanksgiving dinner. 
Caterers have relationships with markets and suppliers and often buy their food wholesale. They can then pass these savings on to you. And if you've ever tried cooking for 15-plus people, you know that it's a math game. How many potatoes do you need? How much butter? Miscalculating can mean drastically overspending – which most of us would rather do than not buy enough. Catering eliminates that expenditure because we know exactly how much food it takes to feed a large group of people, which means we can cut back on expensive waste.
We also have all the specialty equipment required to supply you with the perfect Thanksgiving dinner. Buying an electric turkey carver, a new gravy boat, a meat thermometer, a hand mixer – it all adds up and eats into your budget. 
So save yourself the time, money, stress, and frustration that come with preparing your own Thanksgiving meal and let us do it instead! We have multiple menu offerings and service selections, including buffet and full-service. And if you want to keep the new secret to your perfect Thanksgiving meal, well…secret? We have drop-off options too!
Interested in catering your Thanksgiving meal this year? Contact Vibrant Occasions today!