As everyone knows, your wedding day should be one of the most important days of your life. Everything has to be JUST right. With a vision, Vibrant Occasions Catering Catering can help bring your dreams to life and not just provide you with award-winning food and service.
Let's Get Started…
A great place to start your planning process is to think about your "theme." Your theme may be dependent on a vast number of things: venue, season, indoor/outdoor, food, and wedding colors.
In this case, we had a meeting with our bride to finalize her menu, colors, and venue. You want your wedding day to represent you and your significant other as a couple.
Our bride landed on white, gold, and Navy blue for her colors. Since her venue was outside, we decided to go with a "rustic outdoors" type of theme. Perfect for Autumn!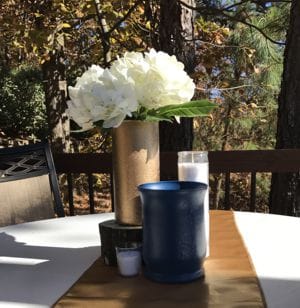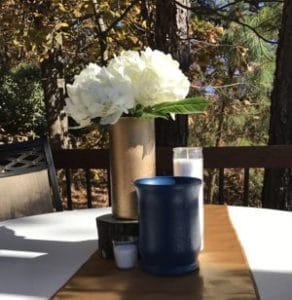 Once your guest list is confirmed and you know how many tables you'll need for seating, the fun begins! (Note: You may need additional tables for the cake and presents.) Here at Vibrant Occasions Catering, we think about all of these details for you. We help you decide exactly what you need to serve everyone efficiently.
With this particular wedding, we knew we would need to decorate 26 tables for dining and an additional table for the bridal cake. This allowed us to have a variety of decorations throughout the entire space. One way to incorporate your style is the table linens. These can be a great opportunity to use your accent colors in your arrangement.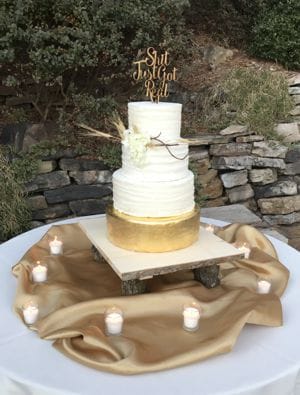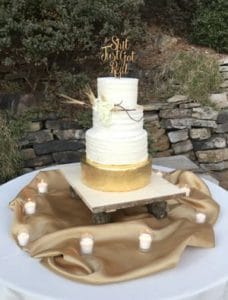 We used the Bride's guidance to help accent the tables and provide the right style for her day. Navy blue can be a heavy color. We didn't want to wash out our centerpieces with too deep of a color, but we also didn't want to end up with plain white. The final verdict: white cloths with gold, satin runners on the main tables and Navy with gold ties on our smaller pub tables.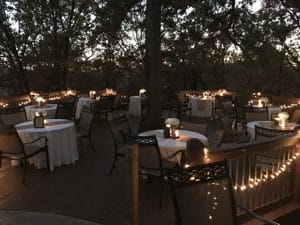 Center Pieces…
Your centerpiece is the main focus of your theme. Being outdoors in the fall, surrounded by the beauty of Arkansas, we really wanted to use this as our inspiration. Our bride-to-be really enjoyed the idea of using small pumpkins and that fit perfectly. We had an open line of communication with our Bride throughout the entire process to make sure we were meeting her standards for the entire day.
We were also working with a good amount of tables. This gave us the option to use a variety of centerpieces and really follow our theme down different paths. We ended up using three different centerpiece arrangements: floral, rustic wooden, and a lantern and pumpkin. Painted leaves and candles were a fast an easy way to tie in the color scheme.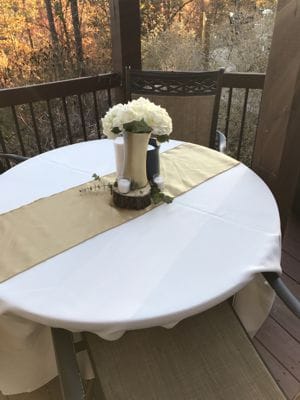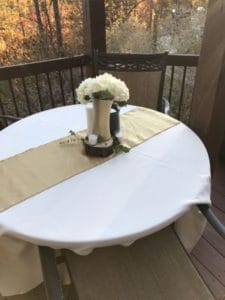 We were also making sure that not only did the decor fit what the Bride was expecting, but it fit the venue as well.
We were able to tie in the colors the Bride wanted by using the flowers, vases, and candles. This is always a fun way to showcase your style as a couple.We were using white flowers and gold runners for the table, so gold vases would blend famously. This provided an opportunity to use blue vases to add color. We also used these vases to place a floating candle to bring in some light.
We loved being able to be a part of this process. We love getting to show off our creative side and be a bigger part of someone's special day!
Last, But Not Least…
Our lantern pieces were still missing something, though. We needed something to really bring our theme of rustic and woodsy together. With our extra vases that hadn't yet been painted, we were able to put together a floating candle motif.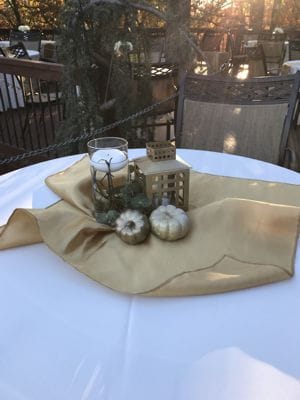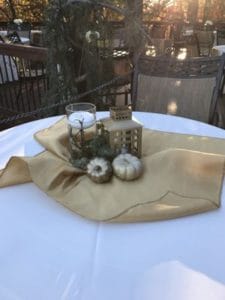 We know that planning a wedding can be a daunting task. We understand that sometimes it's better for you to let someone else help you through the process. We have an extensive warehouse of items that we can pull from to decorate for events. We love to make each event we're a part of unique. Just like we custom design your menu for your reception, we can custom design your decor as well!
We can create a unique texture, style, and theme for your event that won't be like anyone else's. Don't just think of us as solely a catering company. Feel free to ask about what we can do to help decorate for one of the most special days in your life!
We absolutely loved getting to be a part of Brooke's big day! Not only did she trust us to make sure the food was high quality, she trusted us to make sure the entire day was exactly what she had hoped.