A wedding is an event that most people spend months planning for and dreaming about. The dress, the flowers, the catering, the music and so much more.  But who would ever think to plan for the unthinkable…a power outage?
Last November at the beautiful venue of Alda's Magnolia Hill in Little Rock, Arkansas, bride, Ashleigh, and groom, Shankar, were preparing to walk down the aisle to say I do. The bridesmaids were dressed in their gorgeous gowns, the wedding guests were taking their seats and the cold, windy November weather was out in full swing. The Vibrant Occasions Catering staff were fast at work setting up the delicious food that was soon to be served at the farmhouse down the hill. With a menu of Tomato Bisque Soup, a Grown-Up Grilled Cheese Action Station, a bacon bar (with six different types of bacon!!!), an extensive array of desserts and a gourmet hot cocoa station were waiting for the cold, hungry guests.
The vows had been exchanged and the crowd cheered for the newly wed couple! The reception was set to start at 4:30 and right around 4:10pm, the evening took an unexpected twist. The power went out! How was the Vibrant Occasions Catering staff supposed to heat up hot chocolate and make coffee to warm the guests? How would warm meals be served without the luxury of electricity? Thankfully in times like these creativity and experience come in handy. Chef/Owner Serge Krikorian came up with the idea to boil water in a chafer to use for the hot chocolate. Luckily this idea worked out perfect, and as the guest entered the candle lit barn the hot cocoa was ready to go.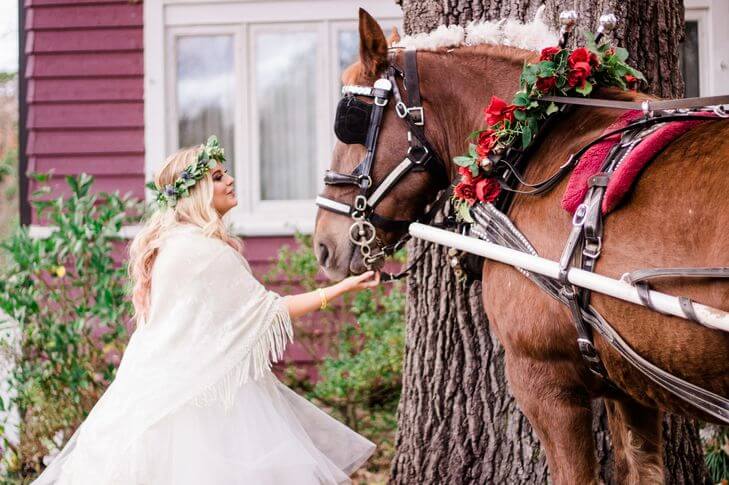 Little did the wedding guests or the bride and groom know that Mary was already in route to Alda's with a generator! What fun could a wedding be without a DJ to play dance music?! When Mary arrived to Alda's with the generator the staff quickly went to work setting it up, and within a matter of minutes of guests were entering the farmhouse with the lights back on and the music playing. The day was saved and the bride and groom enjoyed their first dance under twinkling lights and a love song for the ages!
Even though behind the scenes there was a hustle and bustle to make sure everything went smoothly, to the wedding party and the guests the night went seamlessly. The generator was able to keep the music going, the coffee boiling and the food steaming! Vibrant Occasions Catering makes every event special, not only is the food a top priority for us but the entire experience. Who knew something as random as a generator could be the missing piece for this cold November wedding filled with romance and candlelight?