We were thrilled when Arkansas lifestyle blogger, Mary Kate Whitmire, agreed to sample our private fine dining option around Valentine's Day with her husband, Colton.  Mary Kate Whitmire is the writer and creator behind Chic Little Honey, a blog where she gets to share her love for fashion, beauty, home decorating, cooking, baking, and so much more.  The blog started when Mary Kate was in college and has grown along with her through various phases of her life such as getting married, buying a home and landing her dream job as a corporate advertising copywriter.  We love that Mary Kate and Colton got to experience our fine dining dishes on a holiday where they were celebrating their love for each other.  We want to thank Mary Kate for these amazing photos she took of Vibrant Occasions Catering's food and hope they will dine with us again!
Interested in trying our private fine dining at home or office experience?  Read more here and call ahead, so we can help you customize the perfect menu for your occasion.
Mary Kate and Colton's Menu
Appetizers
Cheese – Stuffed Mushrooms
Fresh mushroom caps stuffed with a blend of cheeses and seasoned bread crumbs, baked until gooey.
Antipasto Skewers
Sharp cheddar and provolone skewers with slices of pepperoni and Genoa salami along with fresh grape tomatoes and a kalamata olive.
Saucy Asian Meatballs
Party – size beef meatballs tossed in a delicious Asian barbeque sauce made with soy sauce, fresh ginger, sesame oil and Hoisin Sauce.
Bacon Praline Skewers
Applewood – smoked bacon skewers caramelized with sugar and toasted pecans.
First Course
Garden Salad
Fresh salad greens with grape tomatoes, cucumbers and shaved carrots. Served with house – made Buttermilk Ranch dressing.
Second Course 
Pan – Seared Black Angus Beef Filet
Black angus aged prime beef filet pan – seared to desired temperature, draped in a cabernet sauvignon veal reduction.
Grilled Ribeye Steak
Black angus aged prime boneless ribeye steak lightly seasoned with our House Grill Seasoning and grilled to a juicy, desired temperature. Served with a garlic rosemary pan jus.
Grilled Twice Cut Pork Chops
Prime twice cut, bone – in pork chops draped in a savory sauce made with blistered red grapes, burgundy wine and fresh thyme.
Pan – Seared Wild Salmon with Cilantro Wine Butter
Wild – caught salmon filet pan seared and topped with cilantro lime butter. Served with garlic butter shrimp scampi.
Side Dishes
Potatoes Au Gratin
Thinly – sliced potatoes cooked in a creamy sauce and topped with a blend of three cheeses.
Fingerling Nutmeg Potatoes
Fingerling potatoes roasted with sweet butter, fresh garlic and a touch of nutmeg .
Maple Bacon Brussels Sprouts
Fresh brussels sprouts glazed with maple syrup and tossed with applewood – smoked bacon.
Green Bean Provencal 
Fresh green beans cooked to a crisp tender.
Dessert
Strawberry Cheesecake
New York – Style Cheesecake drizzled with strawberry syrup and served with a chocolate covered strawberry.
Devil's Food Chocolate Cake
A super moist freshly-baked devil's food chocolate cake topped chocolate ganache and served with a chocolate covered strawberry.
Chocolate-Covered Strawberries
Fresh, juicy strawberries are hand-dipped and drizzled to perfection in a milk chocolatey drizzle.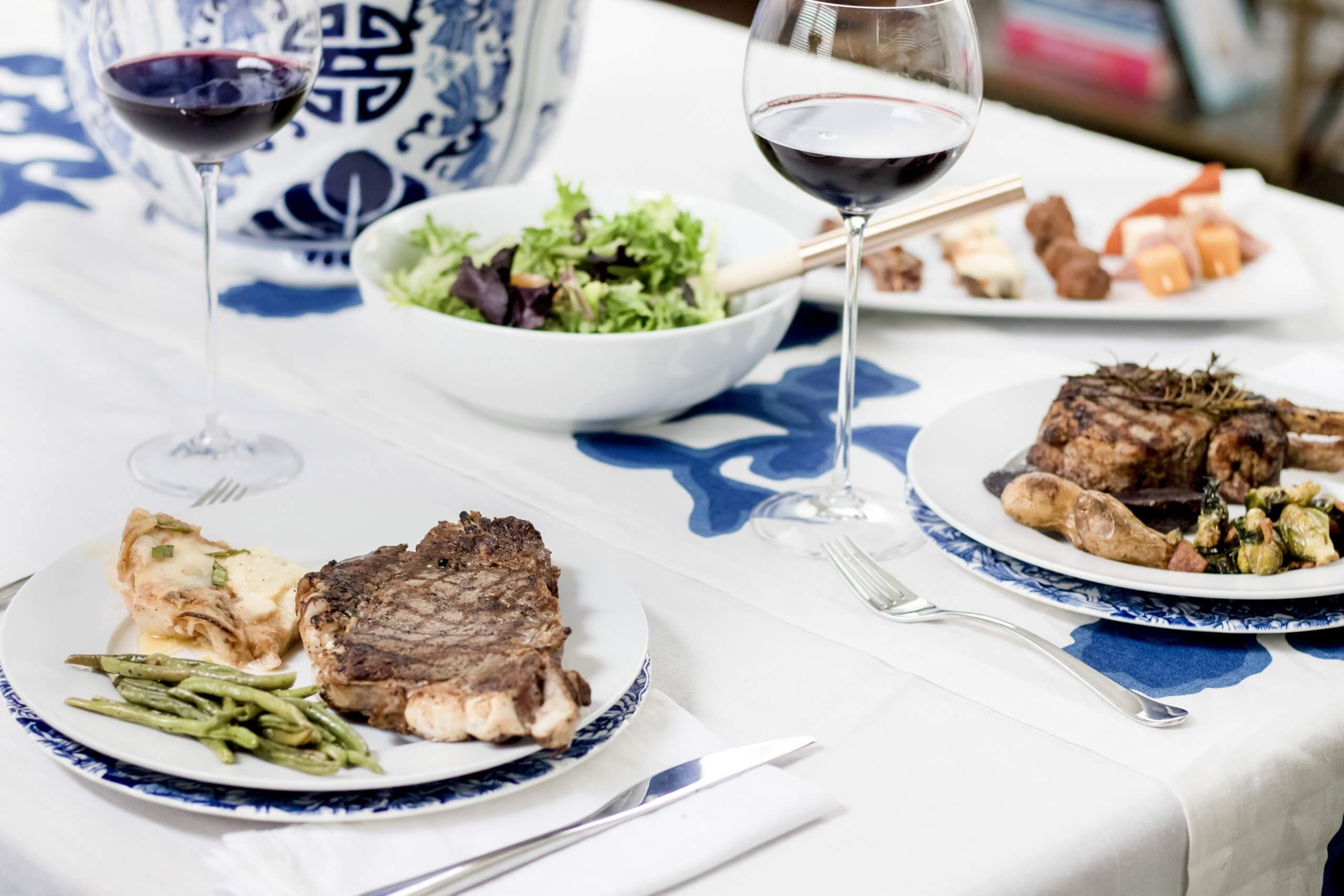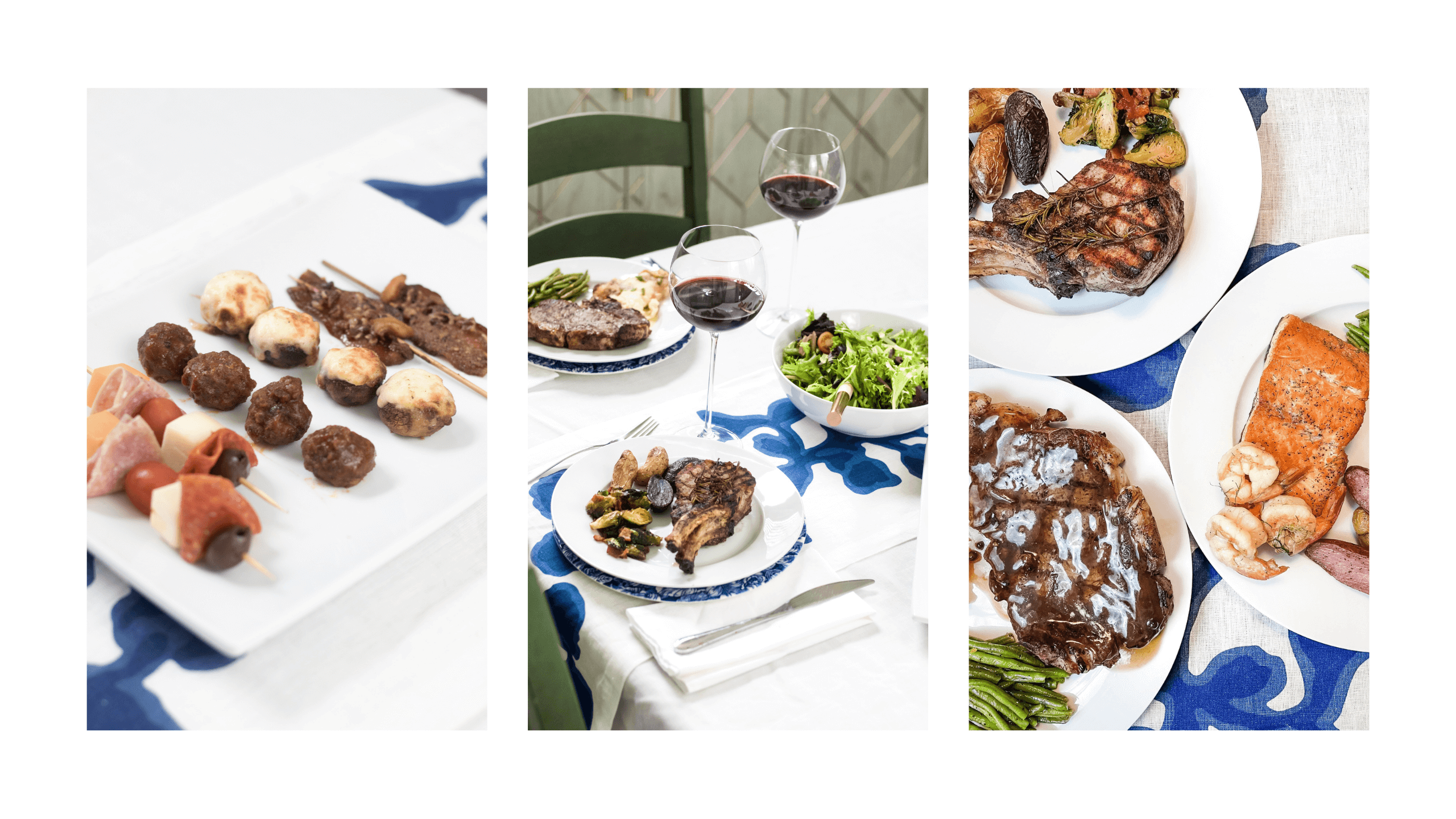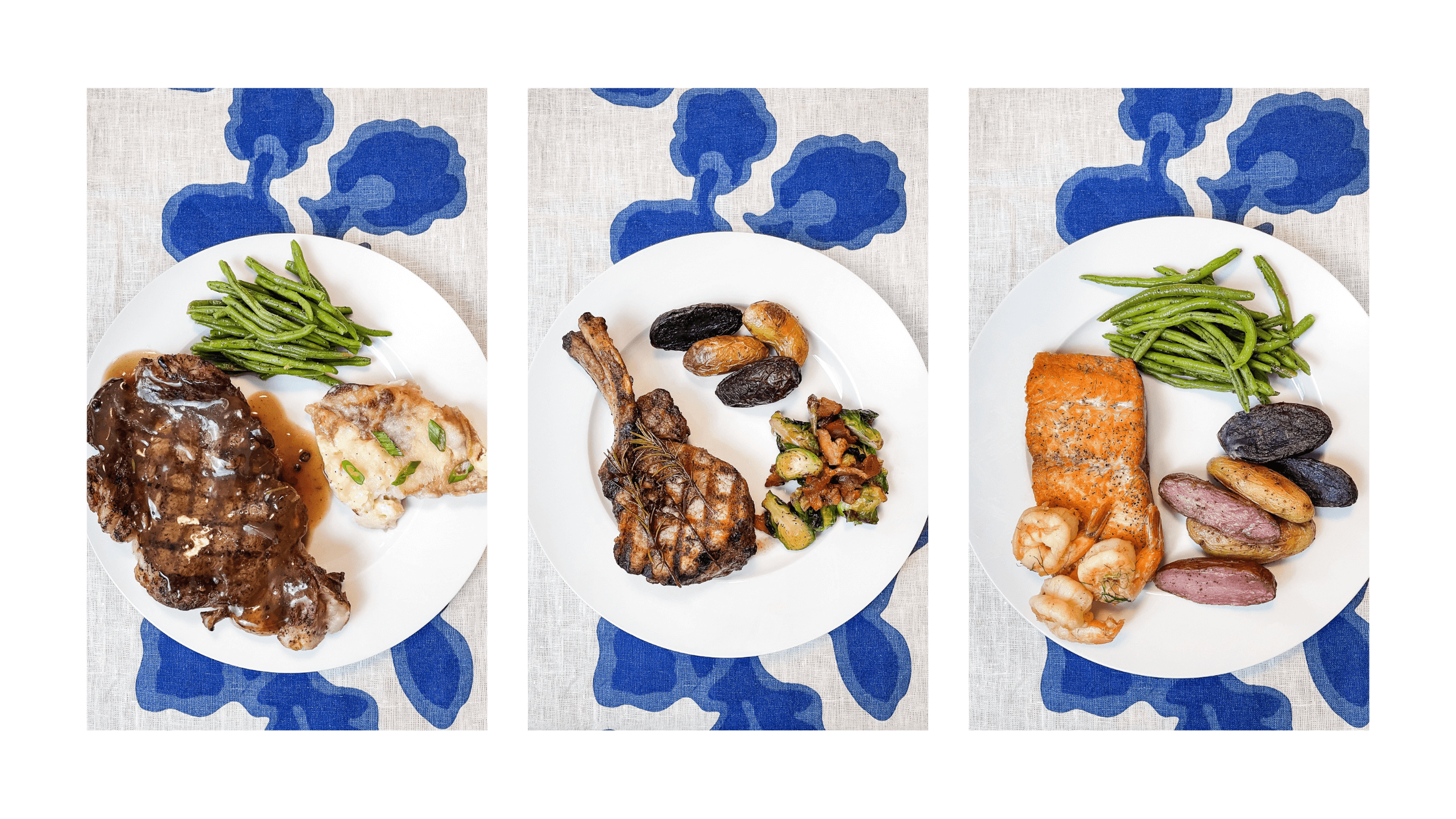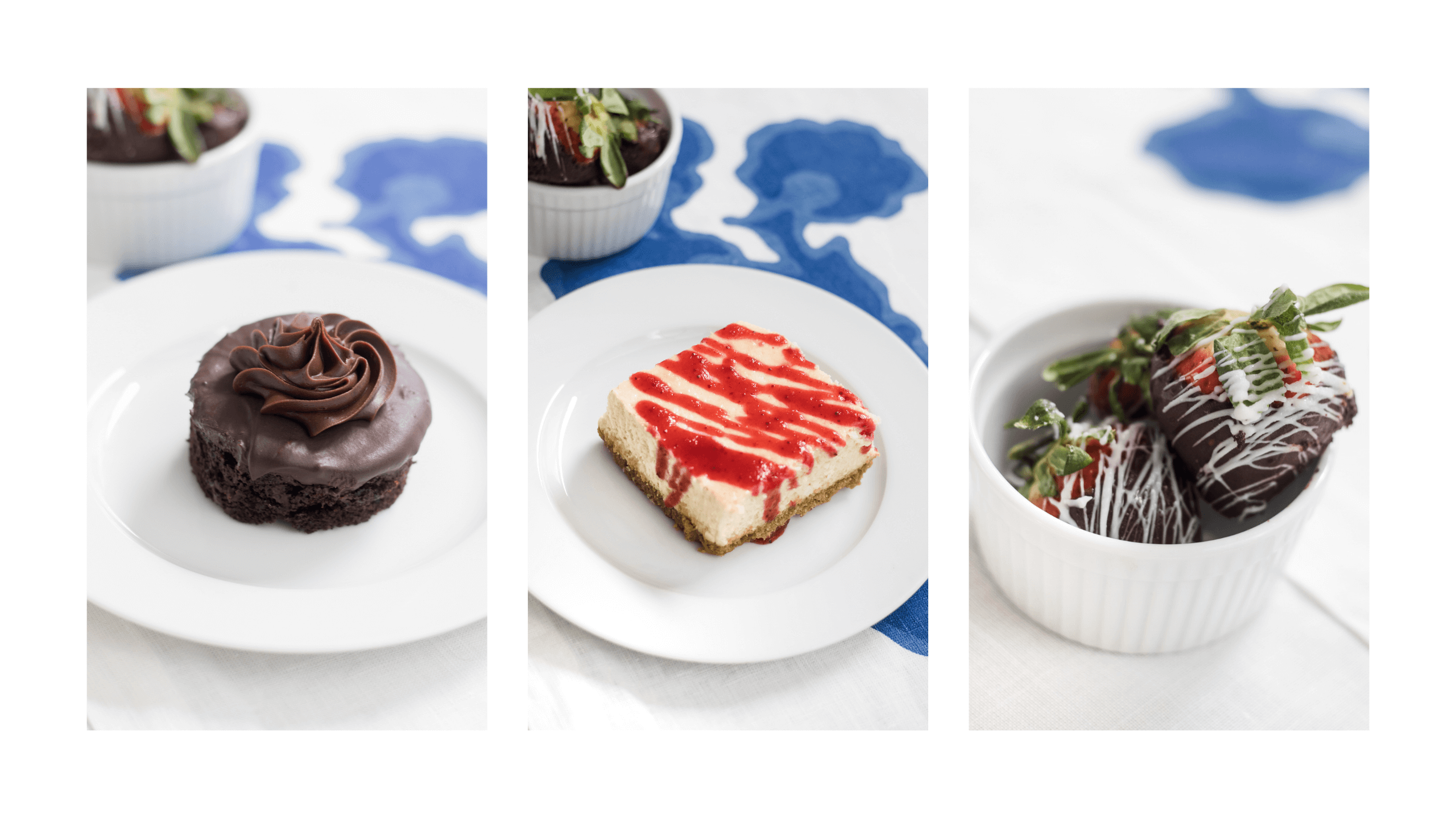 All images by Chic Little Honey