The Vibrant Occasions Catering team is pleased to announce the release of the first episode of Cooking with the Kriks cooking show on our brand new Youtube channel.  On our first episode, we welcomed Sarah Heer with Arkie Travels into our kitchen to create a hearty meal that Sarah and her husband, Paul, could easily cook after a long day of hiking.  Sarah and her husband created Arkie Travels from their love of the natural state and all the amazing places they visit.  They share their passion for travel, scenic views and local shopping and restaurants on their social media as well as their own Youtube channel.  
Since Sarah likes to keep things local, we utilized pork from The Farm at Barefoot Bend purchased at The Olde Crow General Store in Benton, Arkansas. Our friends at Rusty Tractor Vineyards provided us with a red wine for the marinade (Sarah's favorite part!).  You can taste the difference when you buy local, so while not mandatory for this recipe, we highly encourage you to try out the local farms and vineyards in your area.  It was a pleasure having Sarah in our kitchen and we hope everyone enjoys this inaugural episode of Cooking with the Kriks.  Don't forget to LIKE and SUBSCRIBE!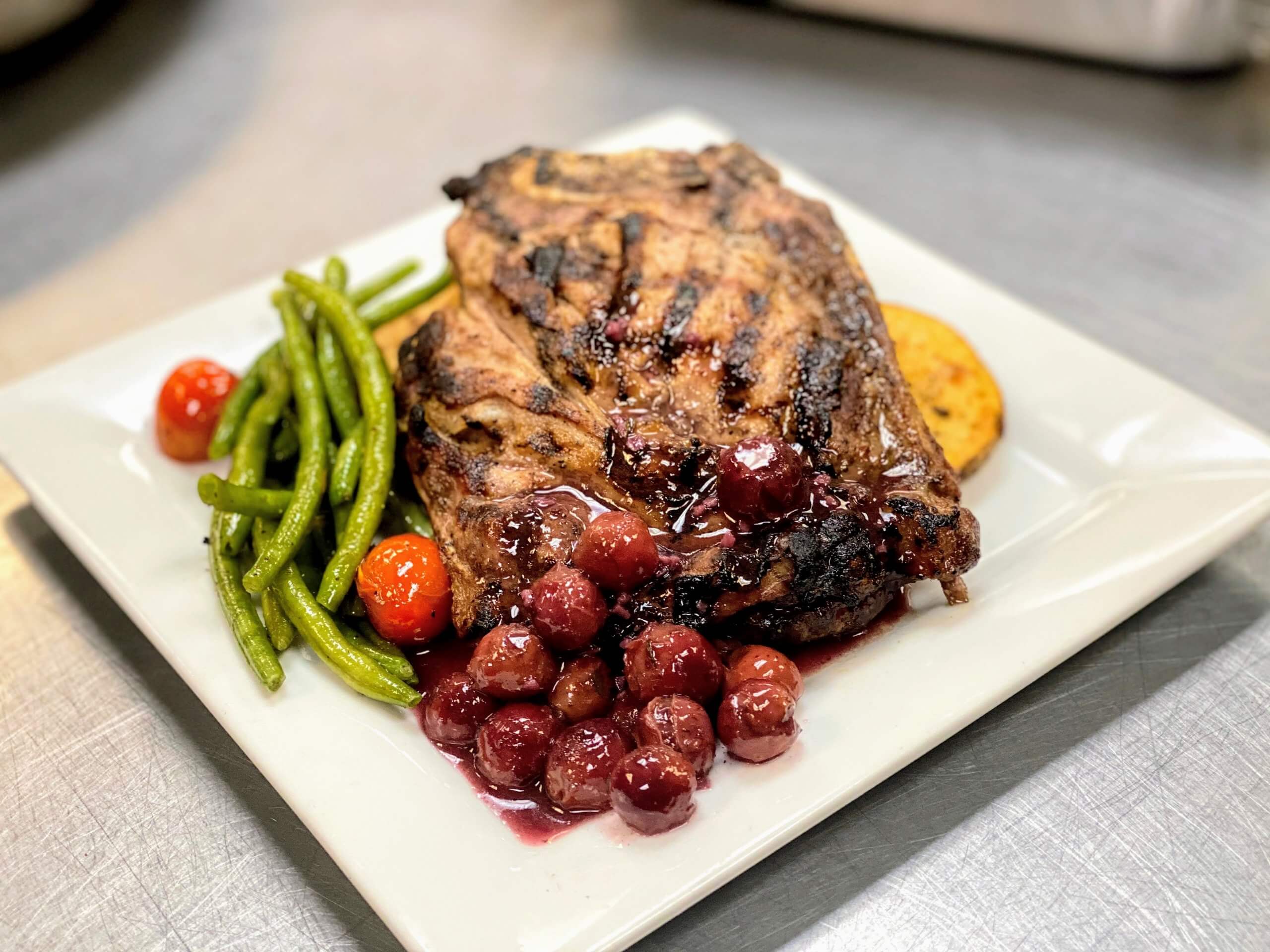 Grilled Pork Chops with Blistered Red Grapes
4 Servings
4 8 oz. Bone-In Prime Pork Chops
2 tsp. Kosher Salt
1 tsp. Course Ground Black Pepper
1 tablespoon  of grapeseed oil
1 lbs. Seedless Red Grapes
½ Cup Red Wine
⅔ Chicken Stock
1 Sprig Fresh Rosemary
1 Sprig Fresh Thyme
1 Bay Leaf
1.5 Tbls. Unsalted Butter
⅔ tsp. Minced Garlic
1 tsp. Worcestershire Sauce

Pat your pork chops dry with a towel, lightly rub with grapeseed oil and liberally season them  with salt and pepper.
 
Place  8 to 10 ounce pork chop on a grill pan or on the grill and grill both sides for approximately 4 min on each side for medium or until the internal temperature reaches 145 degrees.  Let rest for 5 -8 min and serve

In a bottom heavy skillet add 1 tablespoon of grapeseed oil, to the grapes until they start wilting approximately 3 to 4 min.  Add garlic and saute for another 1min. Reduce your heat  and add the wine and herbs and simmer until you reduce in half.  Add the chicken stock and worcestershire  continue to reduce in half approximately another 5 min.  Season with salt and pepper, stir in the butter and serve.