Who doesn't love a fashionista?  The Vibrant Occasions Catering team was delighted to have Sarah Jo Reynolds, an Arkansas fashion influencer, on our second episode of Cooking with the Kriks. Sarah Jo from It's Me Sarah Jo on LiketoKNOW.it and Instagram is all about positive affirmations and embracing your femininity in style. Sarah Jo also hosts a blog called XOXO Sarah Jo where she shares her love of affordable fashion for the everyday woman. Her Instagram account is filled to the brim with spunk and beauty – just like this fabulous recipe for Jerk Chicken she wanted to learn how to cook! This flavorful Caribbean dinner is made with chicken from the local farm, Gann Family Farms, in Benton, Arkansas. As always, while locally-sourced chicken is not required for this recipe, we highly encourage you to seek out meats from your area when possible for an unmatched flavor.  Don't forget to LIKE and SUBSCRIBE!
Here are some of our favorite affirmations by Sarah Jo Reynolds (we call them Sarah Jo-ismns):
"Remember you are worthy, beautiful, strong, and capable. Don't let anyone ever make you feel less."
"My Papa always told me you can't please people all of the time, only some people some of the time.  So wear a pink wig, people are going to talk either way."
"Be gentle with yourself, you're doing the best you can!"
Seriously, follow this fabulous gal for all the happy vibes and a whole lotta' PINK!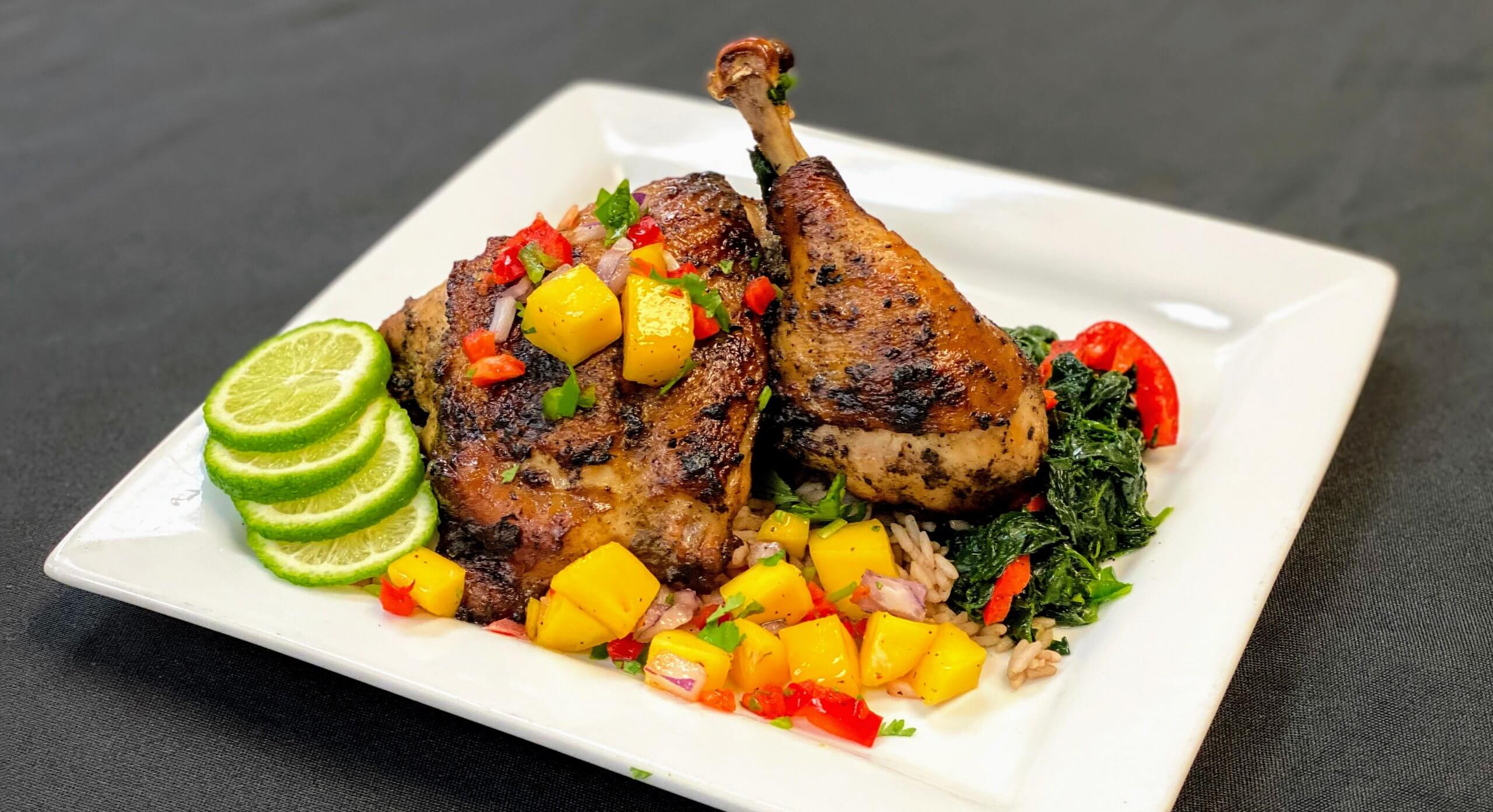 Jamaican Jerk Chicken with Mango Salsa
1 medium onion, chopped
2 green onions, chopped
4 garlic cloves, chopped
1/12 teaspoon five-spice powder
2 teaspoon allspice berries, coarsely ground
1/2 teaspoon dried thyme, crumbled
1 serrano peppers, chopped
2 teaspoon salt
1/2 tablespoon  ground pepper
1/3 cup soy sauce
1 tablespoon of worcestershire sauce 
1/2 tablespoon Grapeseed oil
1 3 1/2- to 4-pound chickens, each cut into 8 pieces (I used locally raised chickens from Gann Family Farm in Benton)
2 cups Mango Salsa (recipe below)
In a blender, combine the onion, scallions,  garlic, five-spice powder, allspice, pepper, thyme, serrano pepper and salt,soy sauce. Turn on the blender for 15 to 30 seconds.  Pour the marinade into a large, shallow dish, add the chicken and turn to coat. Cover and refrigerate overnight. Bring the chicken to room temperature before proceeding.
Grill the chicken , turning occasionally, in a grill pan for 6 min on each side until well browned. Place it in a preheated  350 degree  oven and cook for 20 -30 minutes until the internal temperature is 170 degrees.  Let  the chicken rest  for 4 min and serve
Mango Salsa
3 ripe mangos, diced (see photos)
1 medium red bell pepper, chopped
1/2 cup chopped red onion
1/4 cup packed fresh cilantro leaves, chopped
1 jalapeño, seeded and minced
1 large lime, juiced (about 1/4 cup lime juice)
1/8 teaspoon salt, to taste (1/8 to 1/4)
In a serving bowl, combine the prepared mango, bell pepper, onion, cilantro and jalapeño. Drizzle with the juice of one lime.
Using a large spoon, stir the ingredients together. Season to taste with salt, and stir again. For best flavor, let the salsa rest for 10 minutes or longer.