It is always a pleasure to work alongside one of our event industry colleagues and we could not have picked a more fun guest for the seventh episode of Cooking with the Kriks!  Chef Serge Krikorian is cooking up his Nashville Hot Chicken Wings recipe with Jaris Johnson, a.k.a. DJ Jellybean, from Central Arkansas Entertainment based in Little Rock, Arkansas.  The always-traveling DJ Jellybean started his career in 2006 as the program director at Henderson State University's radio station, The Pulse, and as a freelance event and party DJ for colleges, large festival-style events and ticketed and private parties.  Noticing the great potential Jaris possessed, Joe Snell brought DJ Jellybean into the Central Arkansas Entertainment booking agency family in 2010.  He has become the most requested DJ in Arkansas for weddings and an infamous figure in the wedding industry scene in Arkansas.  His fans affectionately call him Jellybean, but today we are calling him Mr. Hot Wings – he did a great job in the kitchen with Chef Serge!  It is never a dull moment with this guest, so learn Chef Serge's Nashville Hot Chicken Wing recipe on the seventh episode of Cooking with the Kriks.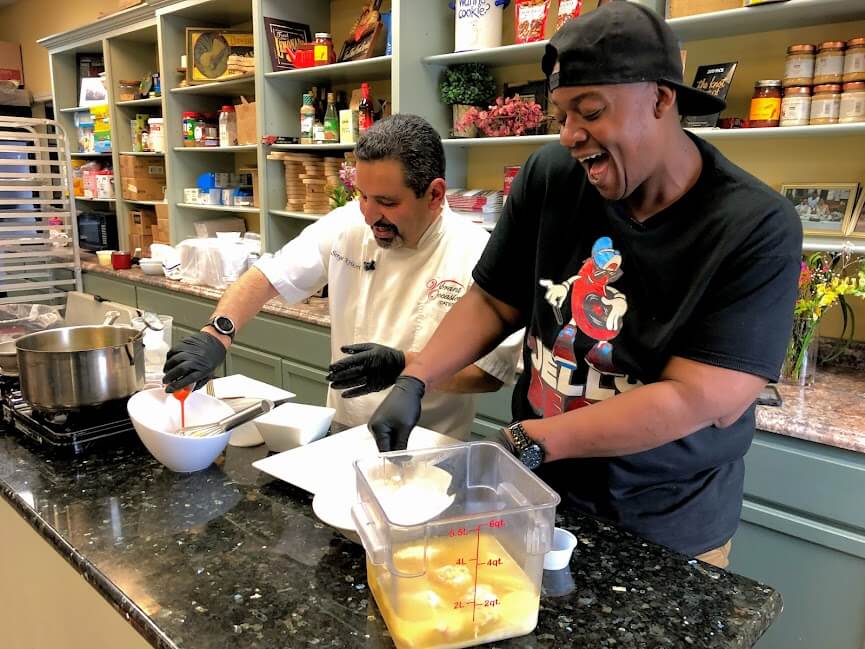 We want to thank everyone who has SUBSCRIBED to our Cooking with the Kriks YouTube channel.  We now have over 100 subscribers and a new YouTube Channel url with the name of the show in it (how cool is that?!).  Let's keep going – our next milestone will be 1,000 subscribers!  Can you do us a HUGE favor and follow this link below and hit that Subscribe button: https://www.youtube.com/c/cookingwiththekriks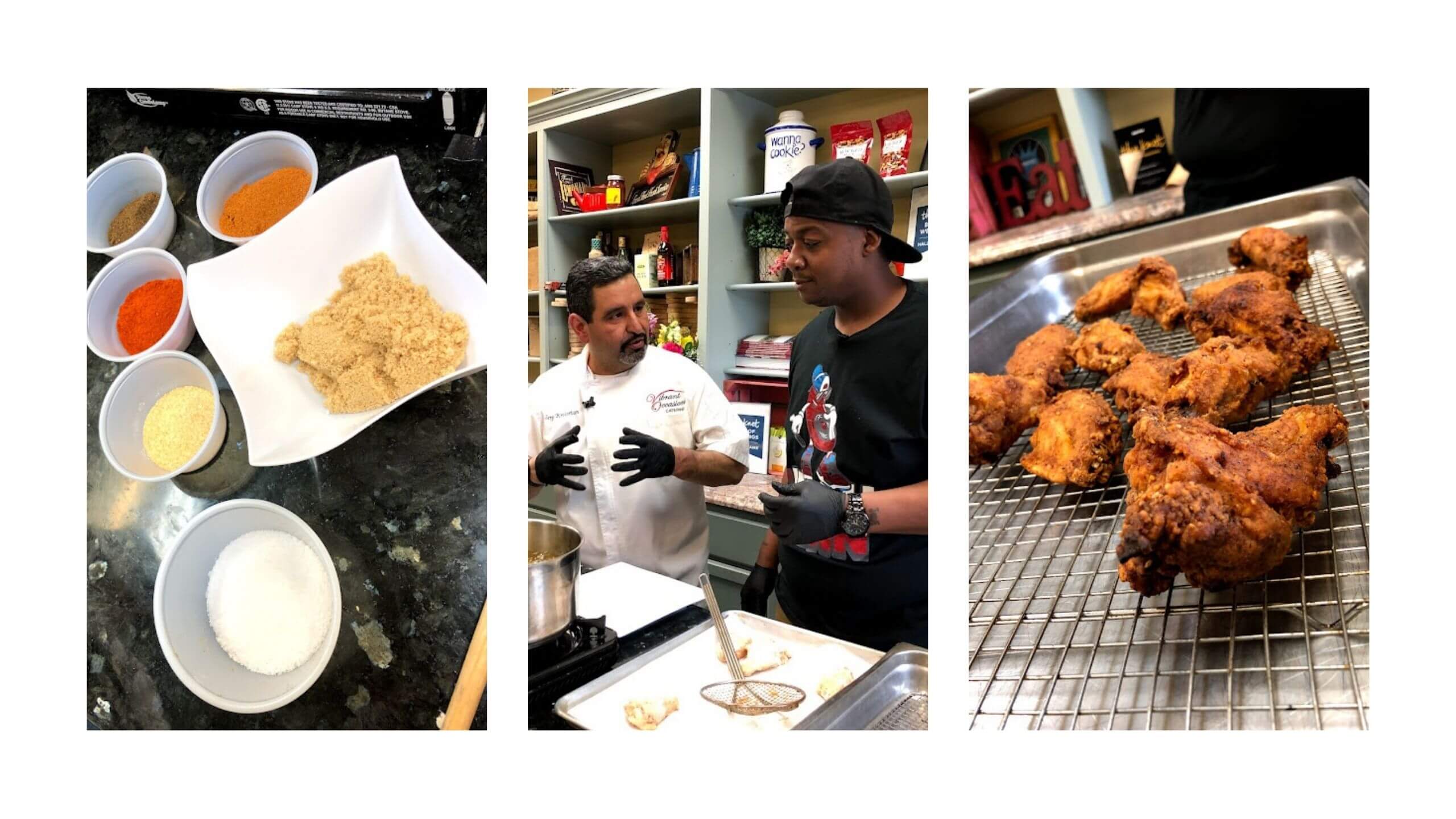 Nashville Hot Chicken Wings
Ingredients
4 dozen chicken wings
Pickle juice, enough to cover all of the wings, approx. 2 1/2 cups
Frying oil, approx. 10 cups
Batter 
2 Cup all-purpose flour 
1 Tbls granulated garlic (or powder)
1 Tbls black pepper
1 Tbls salt
1 Tbls paprika 
Dredge
2 eggs
2 Cup buttermilk 
2 Tbls Frank's RedHot Sauce (or Louisiana)
Sauce
1 pound butter
2 Tbls brown light sugar
1 Tbls chili powder 
1 Tbls paprika 
1 Tbls granulated garlic (or powder)
1/2 Tbls salt
3 Tbls cayenne pepper (4 if you want it spicer than Jellybean)
Instructions
In a shallow bowl or pie plate, mix all the dry batter ingredients together with a fork.  Now in a medium-sized bowl, whisk together eggs, buttermilk and hot sauce.  Dip each chicken wing into seasoned flour (batter) and then into buttermilk mixture (dredge) then back into seasoned flour, thoroughly coating each wing.  Once all of the chicken has been coated, add them to a baking sheet to rest in the fridge for 1 hour.
Chef Serge Tip: Shake off the excess seasoned flour before dipping in the dredge.  Putting the chicken wings in the fridge after coating will help the batter stick to the wings while it's frying.  It will also help let the flavors set.
While coating sets, add about 10 cups of oil to a large pot and heat at medium-high.  The oil should reach about 350 degrees.  Fry five or six wings at a time for about 6-7 minutes.  The wings' internal temperature should be 165 degrees.  Remove chicken from oil and place on paper towels or rack to drain. 
Chef Serge Tip: Make sure you don't overcrowd the pan.  Too many wings in the pot will cause them to stick together.
While chicken is frying, place a medium-sized pot on medium-high heat for the sauce.  Place the butter in the pan and allow it to melt before adding the seasonings.  If you want the sauce spicier, increase the cayenne pepper to 4 Tbls.  Let the seasonings fuse with the butter for about 3-4 minutes.
Once the sauce and wings are done, place the wings in a large bowl, then pour the sauce over them and toss.  Now it's time to eat!