Chef Serge Krikorian is cooking his salmon with lemon dill sauce and a side of maple bacon Brussel sprouts recipe with fashion influencer, Alisha Curtis from Style in the Rock KATV 7 News.  Alisha also happens to be the Chief Communications Director and Legislative Director for the Arkansas Economic Development Commission.  During her tenure, she has served as the right-hand staffer to Arkansas governor, Asa Hutchinson, working at the governor's mansion in her day-to-day life.  Chef Serge Krikorian and Alisha Curtis came to know one another better during the pandemic when Alisha became an instrumental liaison for Vibrant Occasions Catering regarding legislative affairs that helped get businesses get back on their feet.  Alisha began her fashion blogging as a fun side project and creative outlet, separate from her very important everyday work, which is often quite serious in nature.  Alisha has grown an organic, dedicated following who look to her for style inspiration.  She was awarded the annual Women to Watch award by Soiree magazine and is a wildly inspiring figure in the state of Arkansas.  Alisha says her favorite quote is, "Start each day with a sense of purpose and end each day with a sense of accomplishment."  We couldn't agree more!  Alisha follows a healthy diet of low carbs, so no bread, pasta, pizza nor anything fried.  Learn this healthy pan-seared salmon filet with lemon dill sauce and a side of maple bacon brussels sprouts recipe that Chef Serge created for Alisha's show on the twelfth episode of Cooking with the Kriks.
Don't forget to SUBSCRIBE to the Cooking with the Kriks Youtube channel and stay up-to-date on all the fabulous recipes Chef Serge Krikorian shares just for you!  Stay tuned for future episodes featuring flavors from around the world (Chef Serge's specialty!).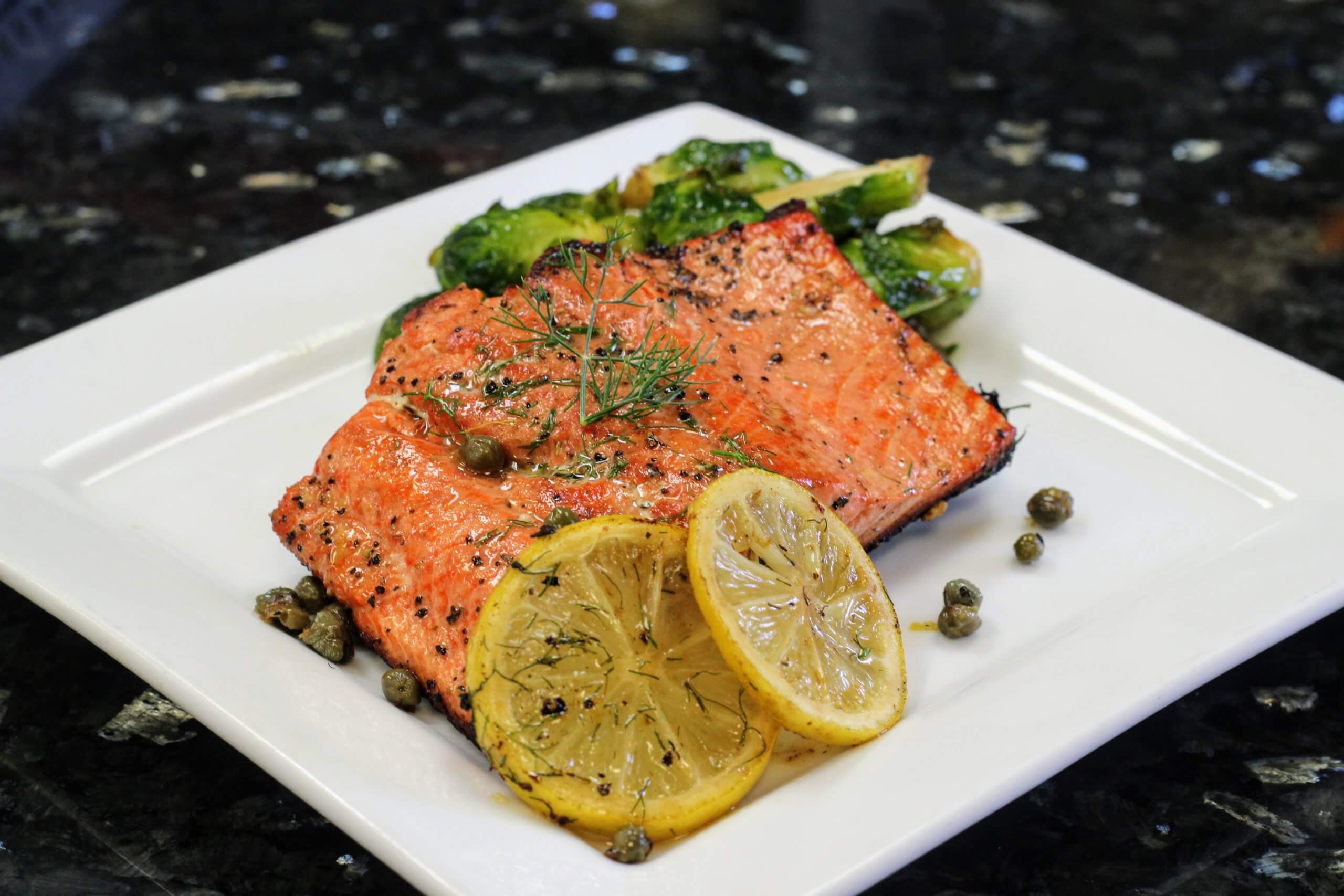 Pan-seared Salmon Fillet with Lemon Dill Sauce
12oz Wild Caught Sockeye Salmon Fillet
Grape seed oil
1 Lemon
1 sprig fresh dill
Salt and Pepper for seasoning
Instructions
Cut the lemon in half and cut one of the halves into thin slices. Keep the other half handy to zest later on. Add grape seed oil to non-stick pan on high heat. Cut slits into the skin on the salmon filet. Season both sides with salt and pepper (heavy on the salt). 
Once pan is hot, place the salmon skin side down. Sprinkle some of the dill and add lemon slices on top and around the salmon. Squeeze the uncut half of the lemon over the entire pan. Cook for 4 to 4 ½ minutes, then flip. Add a little more oil to the pan and baste the salmon with the liquids in the pan. Sprinkle it with lemon zest and fresh dill. Cook for another 4 to 4 ½ minutes.
Chef Serge Tip: If you want your Salmon to be a little brighter, add a tablespoon of butter to baste with instead of grapeseed oil at the end.
 
Maple Bacon Brussels Sprouts

Yields: 2 pounds
2 Pound Brussels sprouts
1 tsp kosher salt
½ tsp ground black pepper
2 Tbls olive oil
¼ Cup maple syrup
3 slices of bacon, 2-3 tsp real bacon bits (optional)
Instructions
Preheat oven to 350 degrees.
Wash Brussels sprouts and remove hard stems. Cut in half lengthwise. Blanch in salted boiling water for 3 to 4 minutes. Drop the Brussels sprouts in ice water. Drain off excess water.
Spread Brussels sprouts on a sheet pan and drizzle with olive oil. Season with salt and pepper.   
Roast in preheated oven for 20 minutes, until edges start to brown.
Toss Brussels sprouts with maple syrup and put back into the oven for 1 minute.
Stop there or sprinkle some bacon bits over the top and serve.