Bridgerton-inspired styled shoot by White Pine Coordination.  Photography by Faith Ealy Photography. Floral design by Silks a Bloom at Goodwin Manor.
Kirsten Bou is a people-person and anyone who meets her will recognize this quality right away.  She will graduate college this year with a degree in public relations, which she admits has taught her many of the same components she uses in event planning.  She began her event planning journey interning for other planners, but now owns her own company called White Pine Coordination based in central Arkansas.  Let's hear more about this spunky wedding coordinator in our interview with Kirsten, below!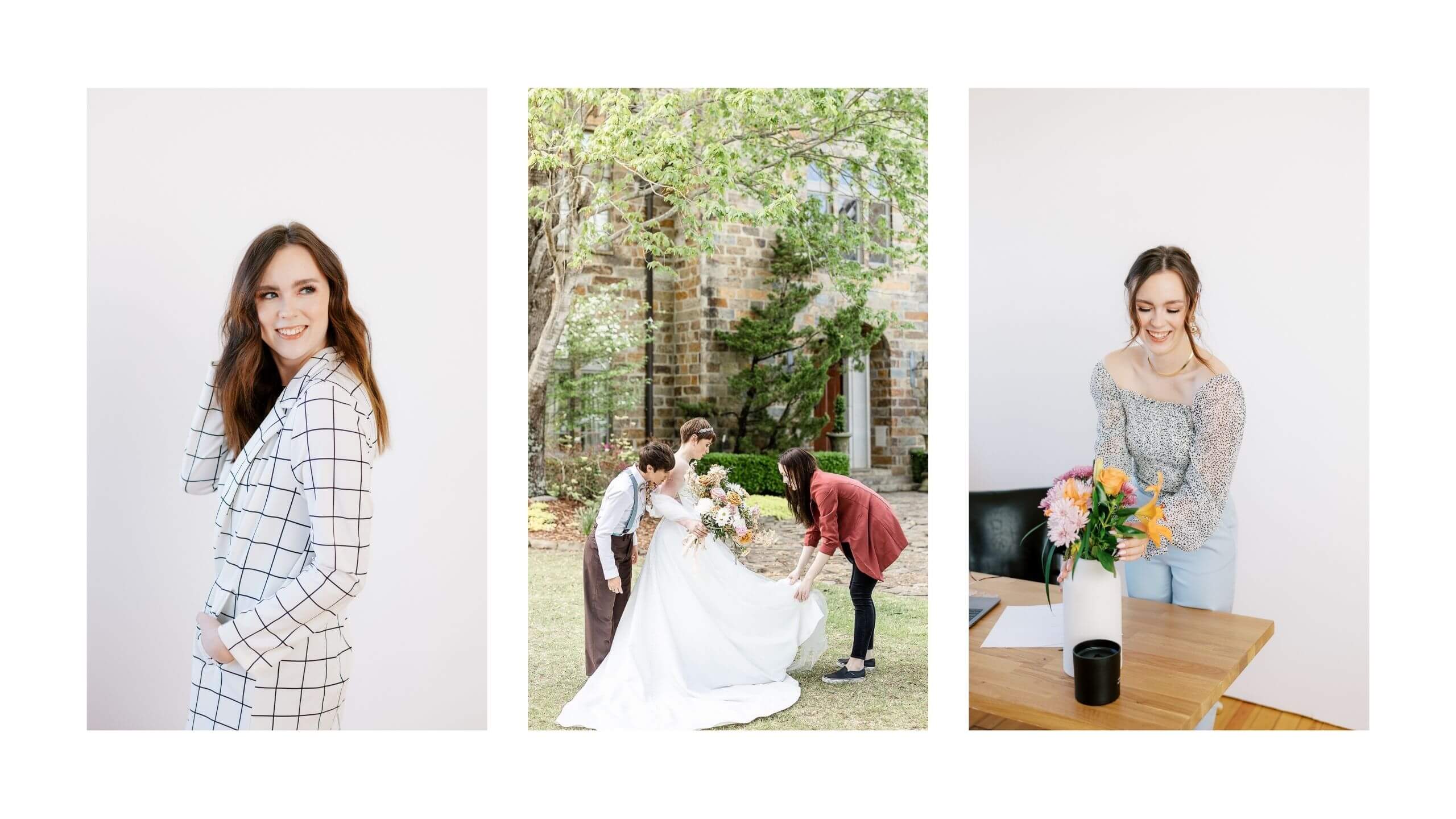 What does a normal workday look like for you? 
I am a late riser, so I typically wake up around 11:00 a.m. to start my day. I turn on some TV, scroll through my HoneyBook (the best CRM platform ever) and make a list of what needs to happen that day. That can be anything from finishing up mood boards, finalizing timelines, responding to inquiries or emailing vendors. I finish up the important tasks and often have my client meetings at night. After those meetings, I type out my notes, send them over to the client and then write out my social media posts for the next day. I then head to bed after winding down around 1:00 a.m. I am a complete night owl and my best work happens at night!
Where do you receive most of your design inspiration? 
Most of my design inspiration does come from the client's pinterest boards, but I truly try to incorporate other elements. One of my biggest sources of inspiration is movies or TV shows. I am a theatre nerd and love the way set-design tells the story without having to utter a word. I believe your wedding design should be the same. It should tell the story and set the scene before any "I Do's" are spoken. My absolute favorite inspiration to draw from is Bridgerton on Netflix and it actually inspired my own wedding design!
What is your biggest success so far? 
Having my styled shoot featured on Wolfer & Co, an event planning and wedding planner education resource. Jamie Wolfer, the owner, has been someone I have looked up to for so long. I remember watching her youtube videos in High School and thinking, "I hope to be like her some day." I was finally able to afford her education course last year and submitted my styled shoot on a whim. I was so honored when I got the email that she was going to feature my work on her blog. It felt like a full circle moment in my business. I was also fan-girling pretty hard.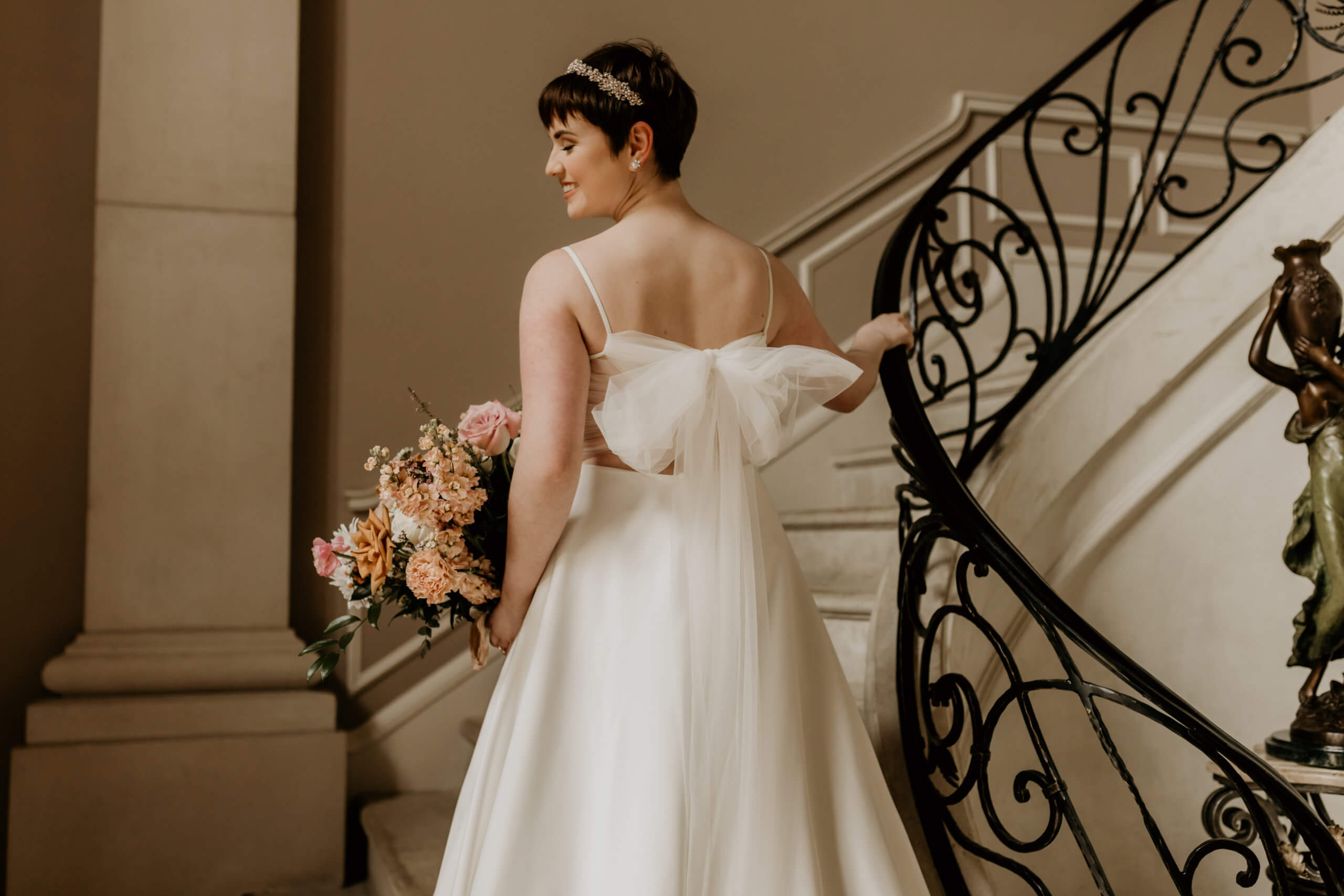 Bridgerton-inspired styled shoot by White Pine Coordination.  Photography by Faith Ealy Photography. Floral design by Silks a Bloom at Goodwin Manor.
What is your biggest disaster story so far and how did you overcome it? 
I am lucky enough (knock on wood) that I haven't been faced with a complete disaster. However, the most stressful moment that tested my abilities as a planner happened in October of 2021. It was the day before my clients', Kristina and Edet's wedding and the forecast went from sunny skies to a torrential downpour in a matter of hours. While we did have a back-up plan for their outdoor wedding on Lake Conway, the tent ended up just sinking into the ground and it became too muddy and flooded to hold even a BBQ, let alone a formal wedding. I messaged Kristina 24 hours before she was supposed to be getting hair and makeup done, and told her we needed to start calling some venues. While she was out on tours and I was at my normal 9-5, I was calling, texting and emailing all of her vendors to keep them updated on what was happening. We ended up finding her a gorgeous venue and I was able to coordinate a complete change of location and timeline in 24 hours. It ended up being one of my absolute favorite weddings of last year and even got picked up by Arkansas Bride.
Do you prefer to plan huge events or intimate affairs and why? 
This is a hard one. I love intimate affairs for the…well, intimacy of them. There is something to be said about saying "I do" with only the most important people in your life. Those events are always more laid back, less strict about timeline and overall have less that can go wrong than large affairs. However, large affairs fill my cup in a different way. Planning an intricate timeline, filling a venue with overflowing florals and bringing tons of vendors together seamlessly makes me feel alive. The idea that everything must work perfectly makes my little Type A-heart happy. They both have a place and at the end of the day, the best weddings are the ones that feel authentic to my couples.
What is your most memorable design so far? Explain. 
Is it wrong to say my wedding? I am super biased when it comes to this, but my wedding was my baby. When you work over 20 weddings in a year, it can be daunting to choose what feels right for you. None of my clients thus far have used color in the way I wanted to use it. I chose a colorful palette filled with every color in nature shining through an overflow of flowers. Flowers are the most important piece of design to me so it was important to have them be in the spotlight for my wedding day.
A memorable design from a client was my Halloween wedding in 2021. My clients, Andrew and Carmen, wanted to celebrate their culture through deep jewel tones with a hint of "Day of the Dead." Their arbor at The Venue at Stonebrook Meadows was an absolute stunner and the day of the dead table really showed their intention to bring their cultures together. I am still obsessed with it to this day.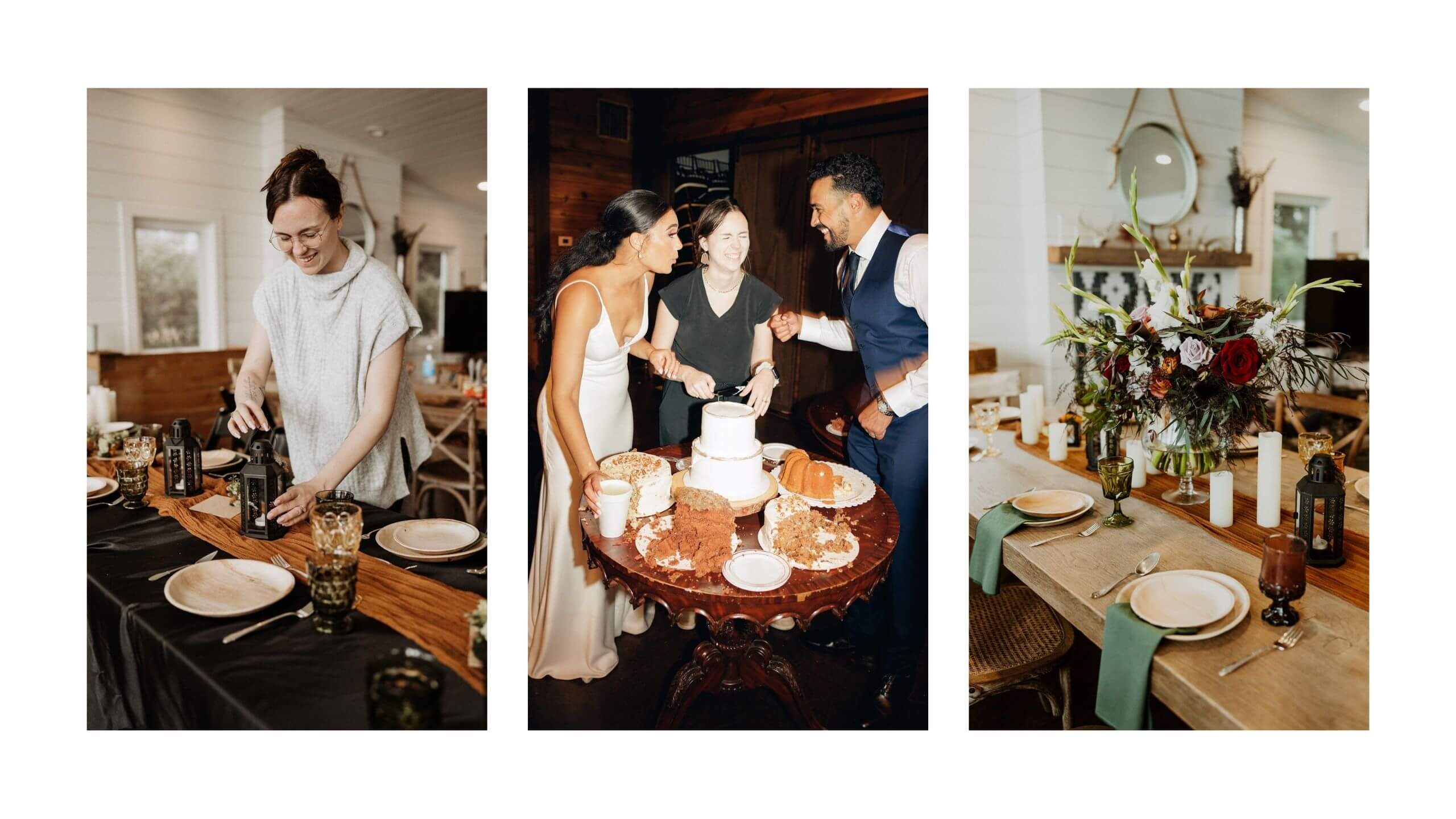 What is the most important thing for a host to keep in mind? 
Be adaptable. No matter how well you prepare, events will always throw you a curveball. It's important to be able to creatively innovate on the spot without stressing everyone else out around you. You know that scene in Friends where Ross screams "PIVOT?" That's exactly what a wedding day looks like.
How important are flowers in a wedding design? 
10000% the most important facet of design. They will make or break your design. They set the tone, tell the story and make everything cohesive. It's where you tell the color story of the day and to be honest, without them, your wedding design will read more like a corporate event. I know they are expensive, but they are worth every penny.
How important is food for an event? 
I'll say this; the only thing guests will remember about your wedding is the food and the entertainment. Don't believe me? Watch one episode of 4 weddings. They will either rave about the food for years or talk about how boring the day was solely because the food was mediocre. I say this as someone who had Olive Garden catered at my wedding. While the food was mediocre, it told the story of how my husband and I met. So, our guests remembered that and they still talk about how sweet it was. When choosing food, choose what is reasonable for your budget (as with everything), but also choose food that feels right to you. If you're not a couple who enjoys a fancy steak dinner, cater street tacos! Just pick food that you want to eat, and your guests will thank you for it.
How do you decompress?
Traveling. Being a military brat and now a military wife, traveling is something that is simply a part of who I am. In fact, I am answering these questions from an AirBnB in Phoenix right now. I have to get away, meet new people, and see the world. I am not what you call a homebody so in order to recharge my battery, I pick a couple of fun trips throughout the year and just go.
What's the most extravagant party favor you have ever seen? 
I honestly haven't had any extravagant party favors but my most recent clients, Teegan and James, customized tequila shot glasses for their guests for a tequila toast and I thought that was just the most adorable thing ever.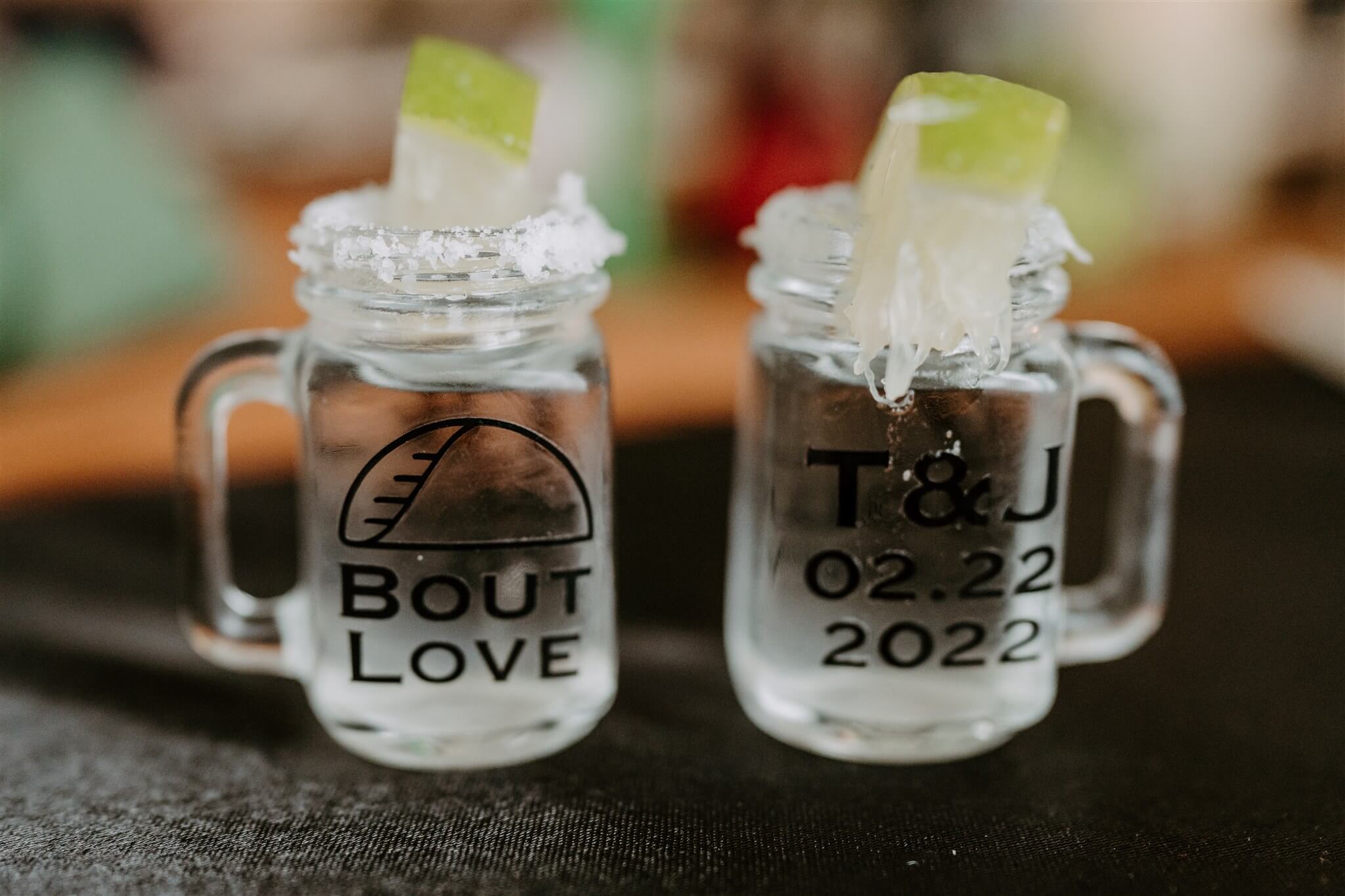 What wedding trends are hip right now? 
I am seeing a lot of strictly black and white or weddings that are full of color. I absolutely adore both.
What wedding trend would like to hit the road? 
Anything rustic farmhouse. Being in the south, I understand the appeal, but rustic farmhouse should be home decor… not wedding inspiration. That's my unpopular opinion (ha).
If you could give an aspiring event planner one piece of advice, what would it be? 
Find and cultivate a system before you begin booking clients. This means what are you going to do from when someone inquires until their wedding day? How many meetings for each package? What will those meetings be? What does design guidance, wedding management or full-service planning look like from point A to wedding day? For so long I was basically making up a system as I went and would constantly find new systems that had me back tracking with clients. Making sure you have those systems in place will really help you.
Also, be vulnerable. Reach out. Be creative. Taking one leap of faith has made my entire business take off in a way I never imagined.
What's next for your business? 
Right now, I am in the process of planning a few educational/resourceful events that I am super excited about! I can't say much because not a lot is set in stone, but I am so excited to bring the community together!
Vibrant Occasions Catering would like to thank Kirsten Bou with White Pine Coordination for allowing us to interview her.  We are wishing all her future couples a beautiful day!