Chef Serge Krikorian is cooking San Marzano marinara and grilled chicken pasta with local entrepreneur and luxury clothier, Paul Rainwater from Q Clothier.  Q Clothier is a Dallas-based company that sells made-to-order men's clothing and was founded in 2003.  Q Clothier prides itself on having pushed back against the onslaught of the online clothing market. Rainwater started working with the company eight years ago, but he has been in the business much longer…45 years in all. His family opened a men's clothing shop in Fort Smith, Arkansas in 1974. He now operates the Q Clothier store located in The Promenade shopping center in Little Rock, Arkansas offering custom-tailored men's clothing and recently added women's apparel as well.  Rainwater has been featured in prominent publications such as Arkansas Money and Politics, AY magazine, and Arkansas Democrat-Gazette to name a few.  He is the chairman of The Society of Classic Gentlemen, a small group of men with whom the emphasis is self-improvement to advance the highest standards of education and practices in living as a gentleman.  Rainwater jokes that he is not much of a cook, but Chef Serge can turn anyone into a pro in no time! Learn this San Marzano marinara and grilled chicken pasta recipe featured on the thirteenth episode of Cooking with the Kriks.
Don't forget to SUBSCRIBE to the Cooking with the Kriks Youtube channel and stay up-to-date on all the fabulous recipes Chef Serge Krikorian shares just for you!  Stay tuned for future episodes featuring flavors from around the world (Chef Serge's specialty!).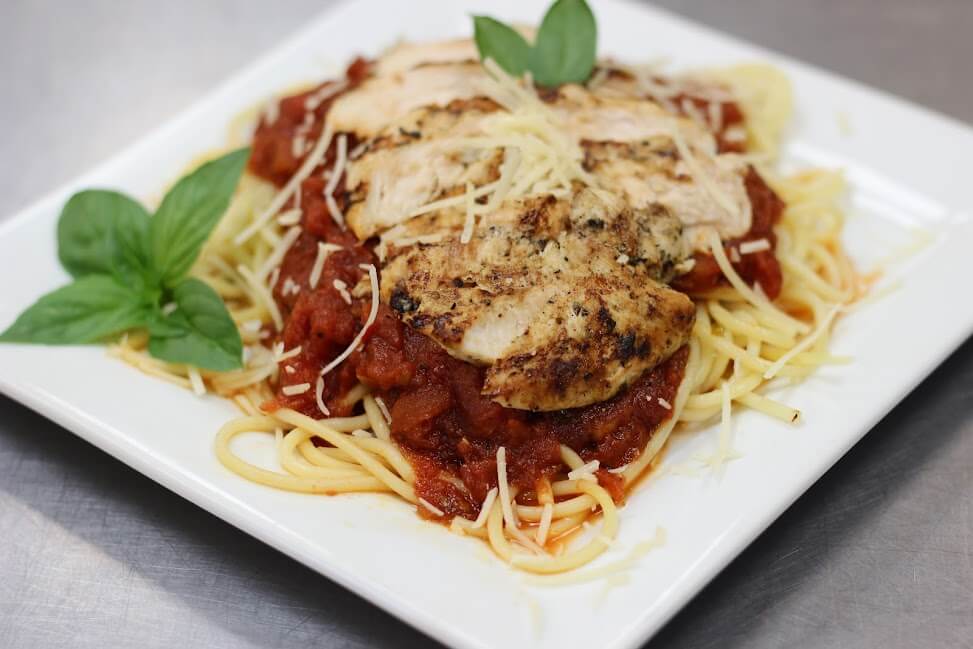 San Marzano Marinara & Grilled Chicken Pasta Recipe
Ingredients
Italian dressing marinade
1 Pound boneless skinless chicken breast
3 Tbls olive oil
7 garlic cloves, cut into slivers
1 #10 Can Crushed San Marzano Tomatoes
1 Cup red wine
2 Tbls kosher salt
1/2 Tbls ground black pepper
1/2 Tbls crushed red pepper
2 Tbls sugar
1 fresh Long Stem basil
1 package spaghetti noodles
Instructions
Pour Italian dressing over chicken breast in a resealable bag or container and marinate in the refrigerator for a couple of hours or overnight.
Heat oil in a large pot. Add slivered garlic and cook, stirring frequently, until garlic starts to soften. Be careful not to burn the garlic. Meanwhile, pour tomatoes into a bowl and crush them with your hands. When the garlic is ready, deglaze the pan with red wine and reduce by half. Add the crushed tomatoes and the water. Stir in seasonings and add a long stem of fresh basil (8-10 leaves). Reduce heat and simmer until sauce reduces and thickens (about 20 minutes).
While sauce is simmering, heat a heavy-bottom skillet to medium-high heat. Place the marinated chicken breasts in the skillet away from you. Grill approx. 3-4 minutes on each side. Once chicken has reached an internal temperature of 165 degrees, take it off the heat and let it rest for a few minutes before cutting.
Cook the spaghetti noodles according to the package. Top your cooked spaghetti with the marinara and a sliced chicken breast. Enjoy!