Michelle Stewart is a veteran event planner with twelve years in business under her belt.  She owns DYV Events with offices in Little Rock, Arkansas and Bedford, New Hampshire.  Michelle is a mechanical engineer by trade giving her a unique perspective to planning events, especially regarding logistics.  She loves bringing a professional, creative team of great vendors and assistants together for each of her client's events. Her motto is " we only have one chance to bring a clients' vision into reality and having a cohesive team working together is of utmost importance."  DYV Events has received Wedding Wire's Couple's Choice Award for Best Wedding Planner 2015-2017, Borrowed and Blue's 2017 Bronze Best Wedding Planner Vendor Award, voted Little Rock's Best Wedding Planner 2014, 2017 & 2020 by the Little Rock A-List, and rated one of the top 3 Best Wedding Planners by TopThreeRated.com 2019-2020.  Michelle has been featured as a regular expert guest on ABC's KATV Channel 7's Good Afternoon Arkansas show multiple times and is also a certified Professional Wedding Planner (PWP) with the Association of Bridal Consultants.  If you are looking for a true professional with impeccable attention to detail and extensive portfolio, look no further than DYV Events.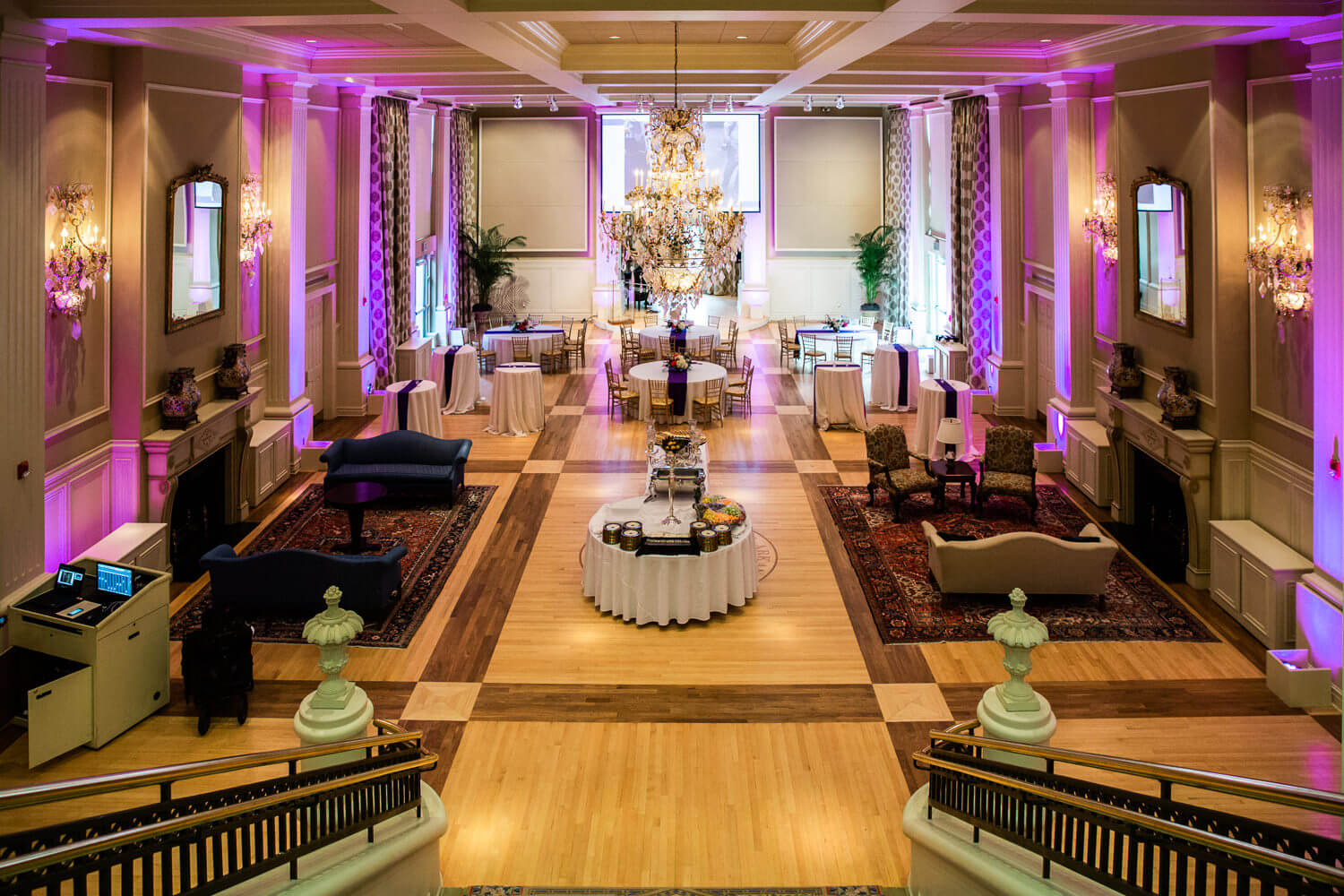 What is your background in event planning?
I have a degree in mechanical engineering and have professional experience in project management and business analysis, which led me to being really good at organization and details.
What does a normal workday look like for you?
I work from home, so it is a mix of client and vendor zoom calls and dedicated client time which includes a variety of things including floor plan and timeline creation, script and program-detailed information, along with scheduling set-up and break-down needs with my vendors.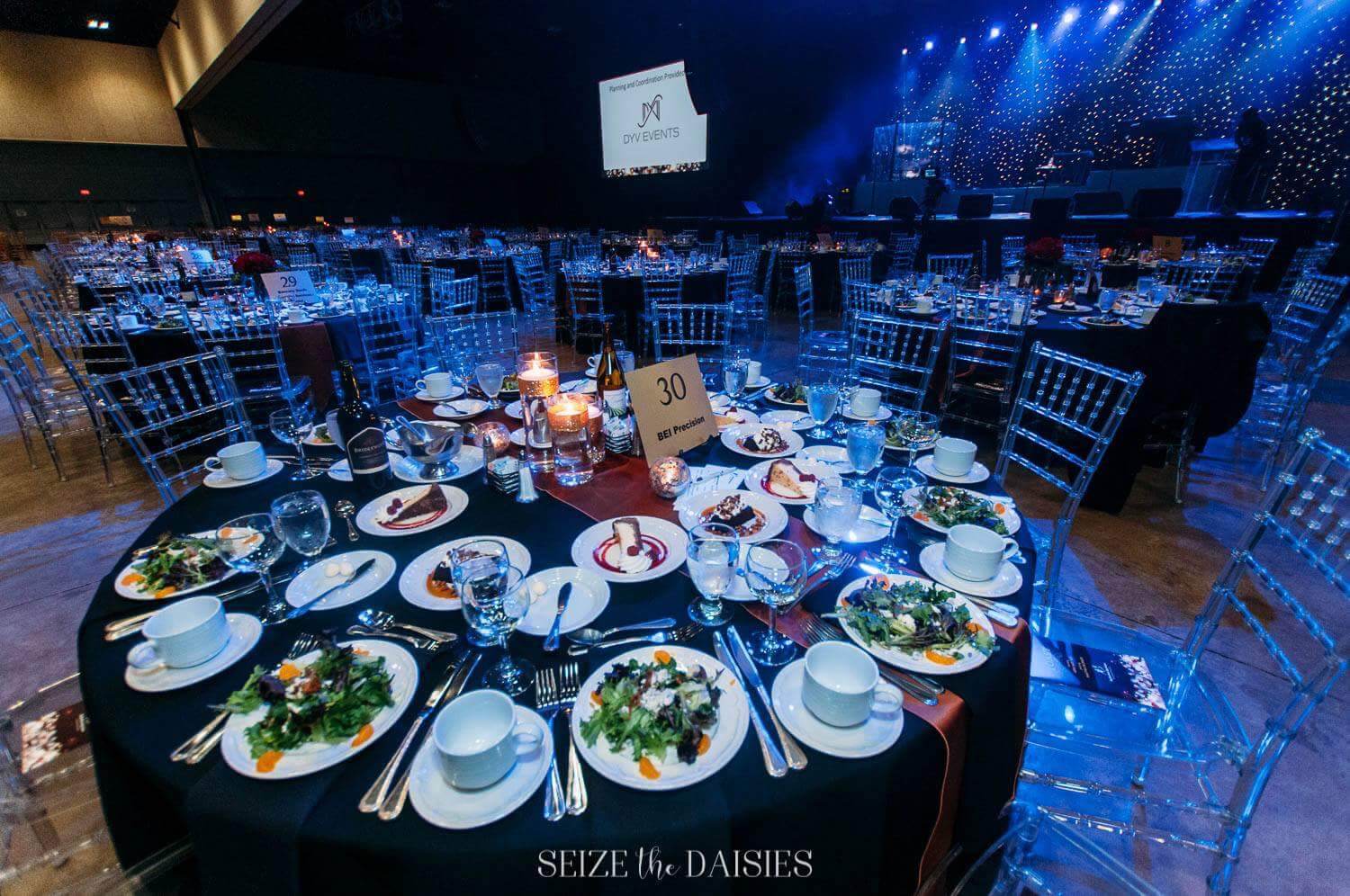 Photo by Seize the Daisies
Where do you receive most of your design inspiration?
I would have to say shopping and social media. When I am out and about at different stores, I get ideas about color, style and take that into my events.
What is your biggest success so far?
Large Non-Profit fundraiser and Martina McBride concert for 1,000 people
What is your biggest disaster story so far and how did you overcome it?
I had a four-post wedding arch with fabric, crystal beading and floral on a beach completely fall down (due to wind) 30 minutes before the ceremony. With the help of my DJ, assistant and many people on the beach that day, we were able to get a two-pole version up that looked good enough for the pictures they needed. And the couple was happy and didn't realize it happened until after I told them.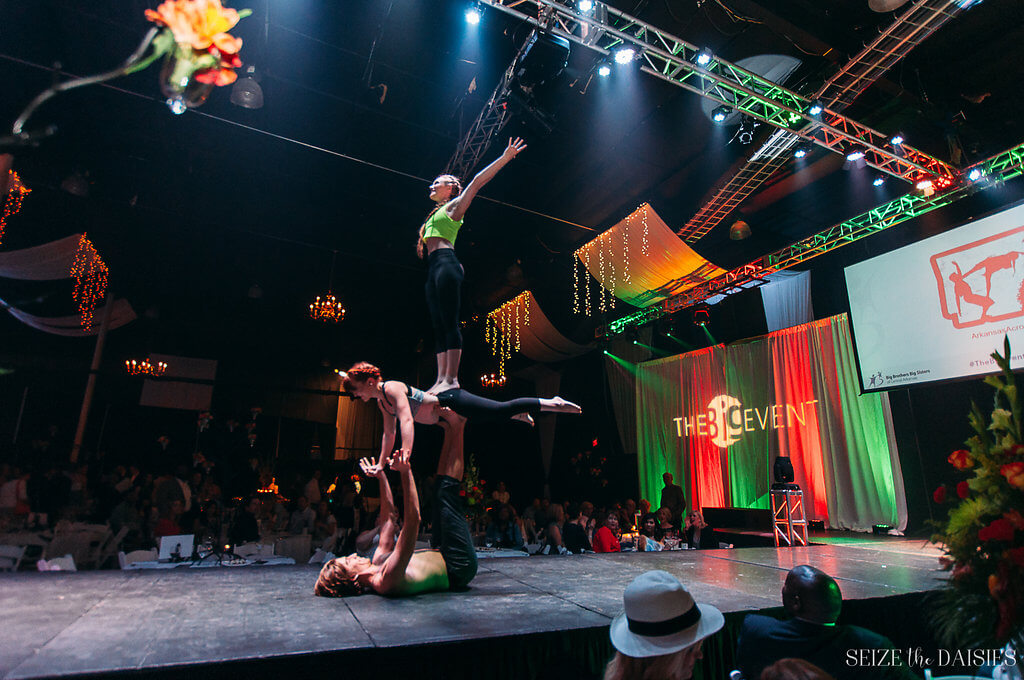 Photo by Seize the Daisies
Do you prefer to plan huge events or intimate affairs and why?
I really enjoy large events with lots of moving pieces. I think you can see the impact of the transformation on the day of the event more. But I also like smaller intimate affairs where I can help my clients weave those small touches throughout their events that mean the most to them.
What is your most memorable design so far? Explain.
I would have to say the stage design I recently did in 2019 and this year for the Arkansas Women's Hall of Fame event. My production team and I were playing around with a large 7 foot column one day and ended up making them look like a bust of a lady's dress by using some velour drape, lots of clips and some well placed crystal beading and lighting. The client loved it so much they did it two years in a row. The design for eight of them on stage took almost an hour each to perfect but well worth the pictures!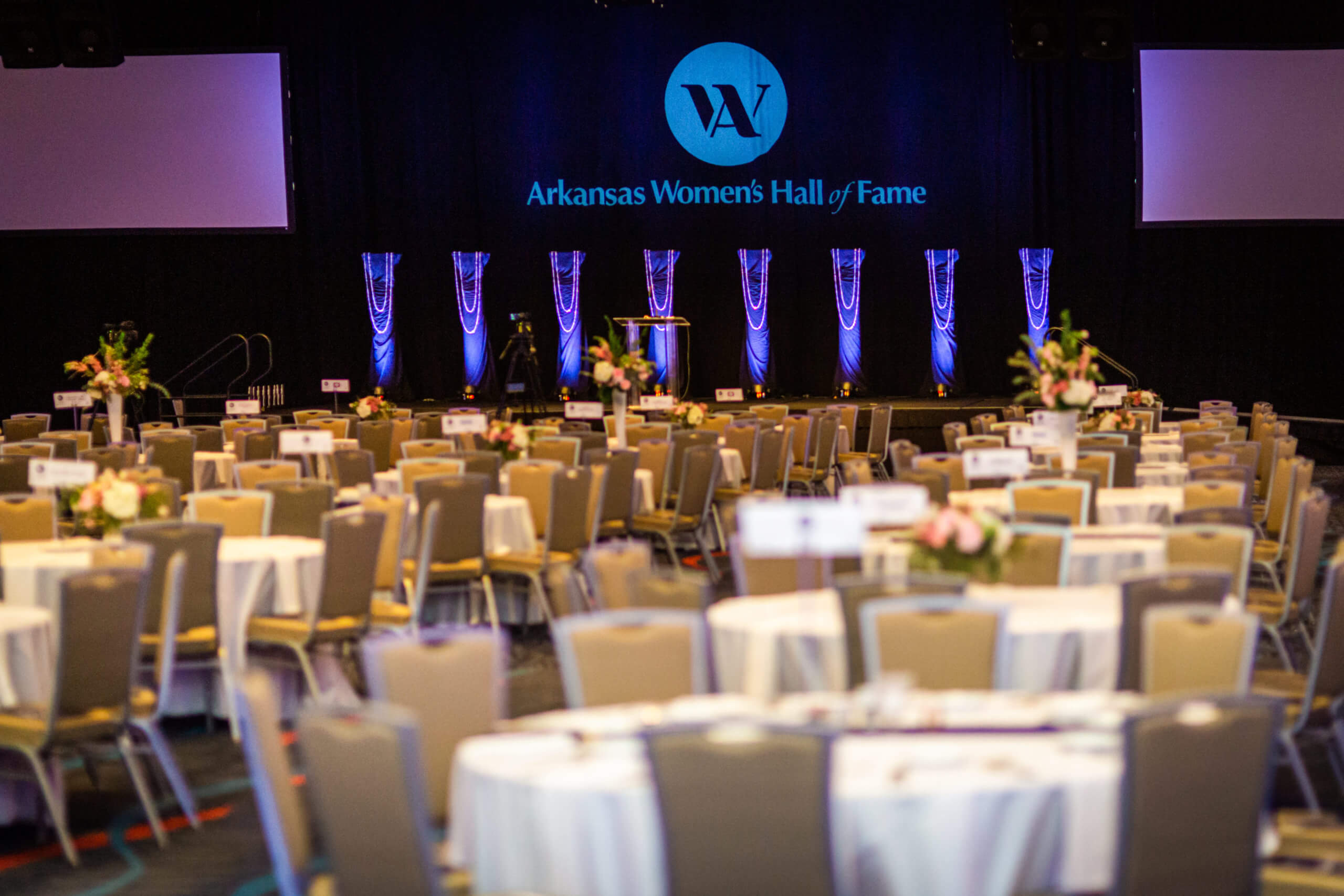 What is the most important thing for a host to keep in mind?
Have a plan, but be flexible on event days. Things happen and the key is to adapt to it. Sometimes the end results end up better than what we planned.
How important are flowers in a wedding design?
I think it depends on the couple. I do think that well-placed arrangements can bring balance to a couple's color palette for their wedding day, but I have also seen so many other creative ways that bring the same balance through art, well-placed SWAG, signage, photos, and candles.
How important is food for an event? Bonus points for advice on food selections and/or etiquette.
I always tell my clients once you get your guests there, you want to keep them there so you are going to have to feed them! Use common sense when selecting the type of food for your event. What time is your event? That will dictate whether your guests will be expecting a meal or just appetizers. Also, if you invite them, you need to expect to count them in your food count. I know there is a percentage of guests that will not show up, but you need to have realistic expectations when it comes to final food and drink counts with your caterer and bar.
How do you decompress (vacations, meditation, a hobby…tell us)?
After an event…an Epsom salt bath for sure. But overall, walks with my dog, Maddie, along with reading, writing and creating art.
What's the most extravagant party favor you have ever seen?
Each guest took home a bottle of Dom Pérignon.
What wedding trends are hip right now?
I think multi-colored bouquets and florals are in along with being creative with your food – having a meal of all appetizers…etc.
What wedding trend would you like to hit the road?
Mason jars.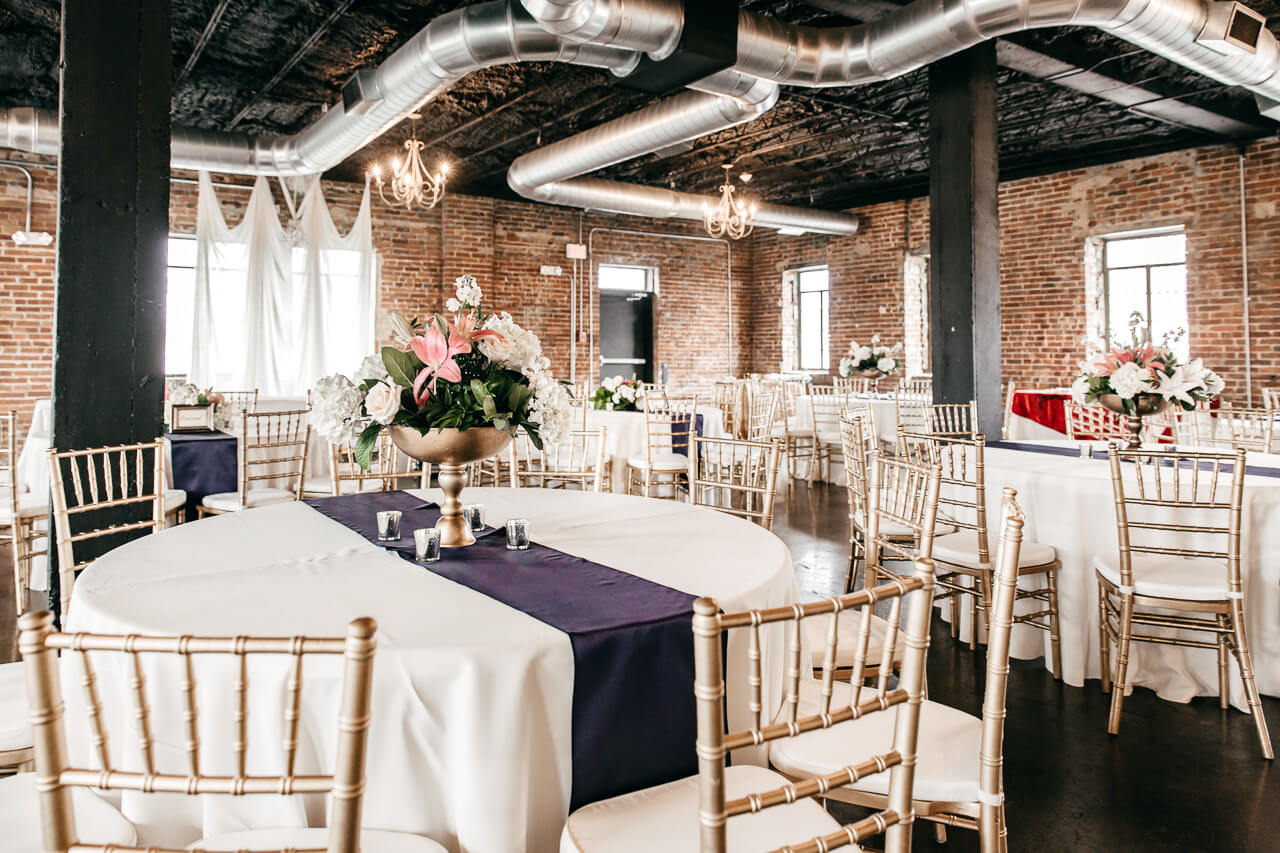 If you could give an aspiring event planner one piece of advice, what would it be?
Being an event planner is not for the faint of heart. It takes a lot of hard work and tenacity. I would seek out a mentor who is a planner and ask if you can work with them as their assistant. Hands-on experience is key to actually knowing how an event ebbs and flows…something that a book will never be able to teach you.
What's next for your business?
We have slowly been transitioning to more corporate, non-profit organizations, conference and festival clients over the past five years. We love our yearly events with these clients, but also enjoy our wedding clients which we take a handful of each year now. We are well-established in the south and looking forward to expanding into the New England region soon.
How can someone find DYV Events online?
Website
Instagram
Facebook
Pinterest