Photo by Joe and a Camera.
Brittany Paden is the owner, lead planner and designer at Brittany Bloom Events & Design. Brittany Bloom Events & Design has been in business 6 years with its home office in Bella Vista, Arkansas.  Offering an array of custom packages from wedding management to full-service planning and design, this is your bespoke wedding planning source.  Paden loves to get to know her clients and work hand-in-hand with them to create their dream wedding day.  She started out her professional career as an interior designer for several high end hospitality and residential firms before starting what is now her dream job in event planning.  She was born and raised in Leawood, Kansas before meeting her husband and moving to Arkansas where they have a son together and 4 fur babies.  Get to know more about one of the most bubbly planners in Arkansas by reading our interview with Brittany Paden below!
Left photo by Corrie Childers. Middle photo by Shalae Byrd Photography.  Right photo by Amanda Berube Photo.
What is your background in event planning?
My background is actually in interior design. I designed high-end hotels and homes for quite some time before jumping into the wedding industry. I had a blast planning my own wedding and always loved being the one to plan all of my friends birthdays and events. Eventually, I realized that the office setting was not meant for me and my husband encouraged me to start the business I had always been talking about. Within my first 6 months I had 6 clients and it just spiraled up from there!
What does a normal workday look like for you?
I'm a working mom so every day is different. Typically, I am taking calls throughout the day with clients and in-between my mom duties I'm writing emails, calling vendors, working on weddings. It's really just non-stop all day long. I love it though!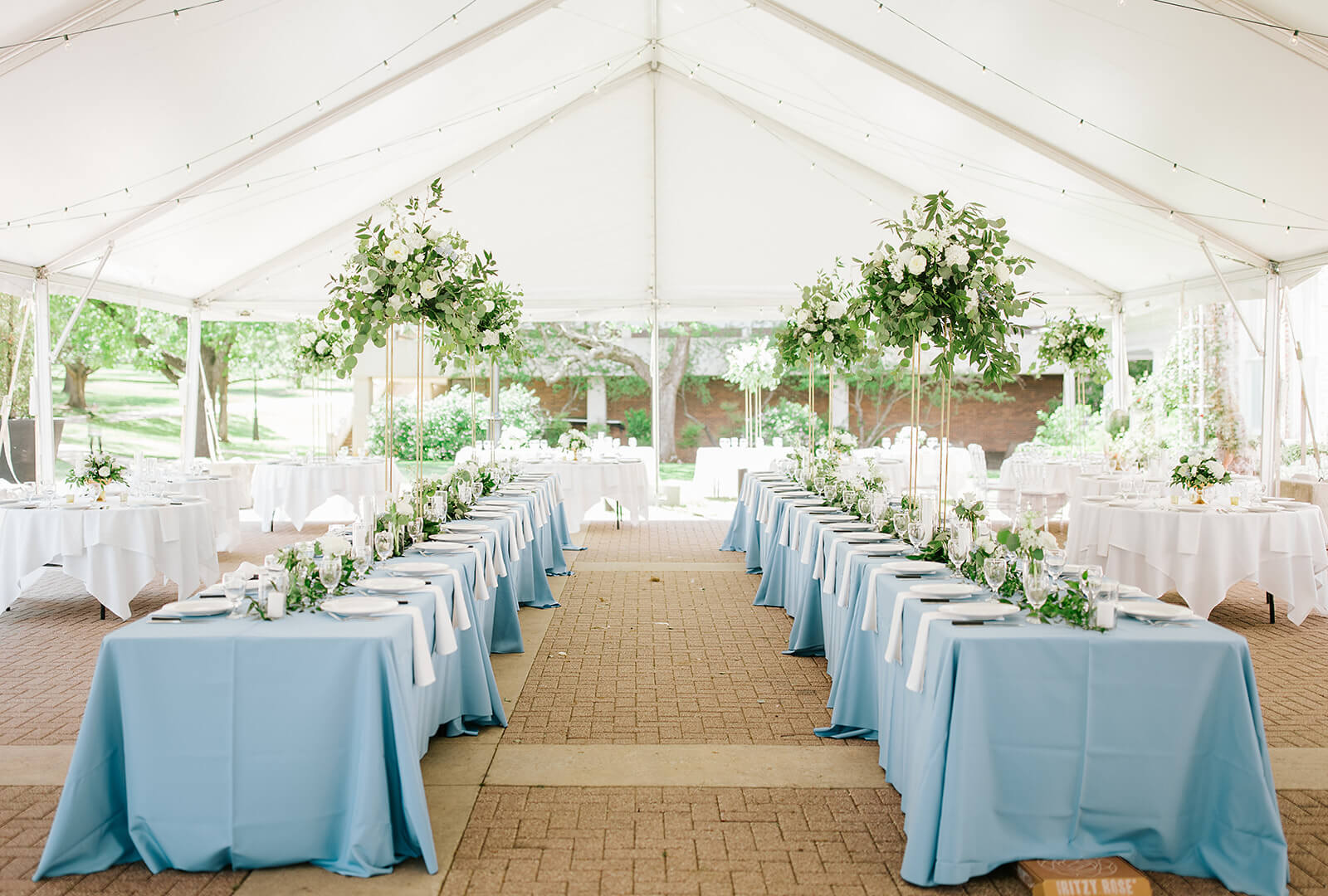 Photo by Whit Photography.
Where do you receive most of your design inspiration?
Inspiration is everywhere! Obviously Pinterest is a great resource but I feel like I really pull from my couples. I try to get to know them and their personalities and then translate that into a mood/design board. This is their day and the design should reflect that!
What is your biggest success so far?
We hit 30+ weddings this year! It's absolute insanity but I am so lucky and grateful to be where I am. I have a great team working with me that makes having this many weddings possible.
What is your biggest disaster story so far and how did you overcome it?
I almost died at a wedding. I swear – it was the craziest experience I've ever had. This was back in 2020 and we were putting together an intimate outdoor wedding at Ferncliff in Little Rock. The tent had been put up and we had started setting up when my assistant and I needed to go run and pick up the cake. On our way back the weather took a turn and when we pulled up to the tent it was pouring and hailing! We pulled all the rentals and florals under the tent when all of a sudden the tent started to slightly lift from the ground. Instead of running (like any sane person would do) the 4 of us each grabbed a pole in an effort to keep the tent from flying away. (Mind you it was a full blown thunderstorm with lightning) We then saw one of the 2′ stakes come out of the ground and we all got lifted into the air slightly, when we came back down someone yelled "RUN" and as soon as the last one got out the tent went up in the air and came crashing down completely ruined. I immediately got on the phone with our tent company and lighting guys and they were more than willing to come out and help. When the storm had passed we had 2 hours until ceremony start time and no place to have the ceremony. Luckily the arch had survived and we moved it to a different area of the camp and set up a ceremony space there. Everyone who was on site pitched in to help us make this wedding possible. We even had another venue owner come over to check on us and offer any supplies we needed. The ceremony started late but it did happen and while that was going on a new tent was being put up and they still got to have their reception. It was absolutely nuts but it all came together and the couple was happy which is all that matters.
Do you prefer to plan huge events or intimate affairs and why?
I love both! You can't ask me to pick one. 😀
What is your most memorable design so far? Explain.
Aw, man there's a few. I just did a West African wedding that was absolutely stunning with an ombre of purples and pinks. It was also the best dressed wedding I've ever been a part of. There was a Crystal Bridges wedding last year that had the most INCREDIBLE baby's breath altar structure as well. But then there are some really simple ones that just stand out to me because of how amazing the couples were.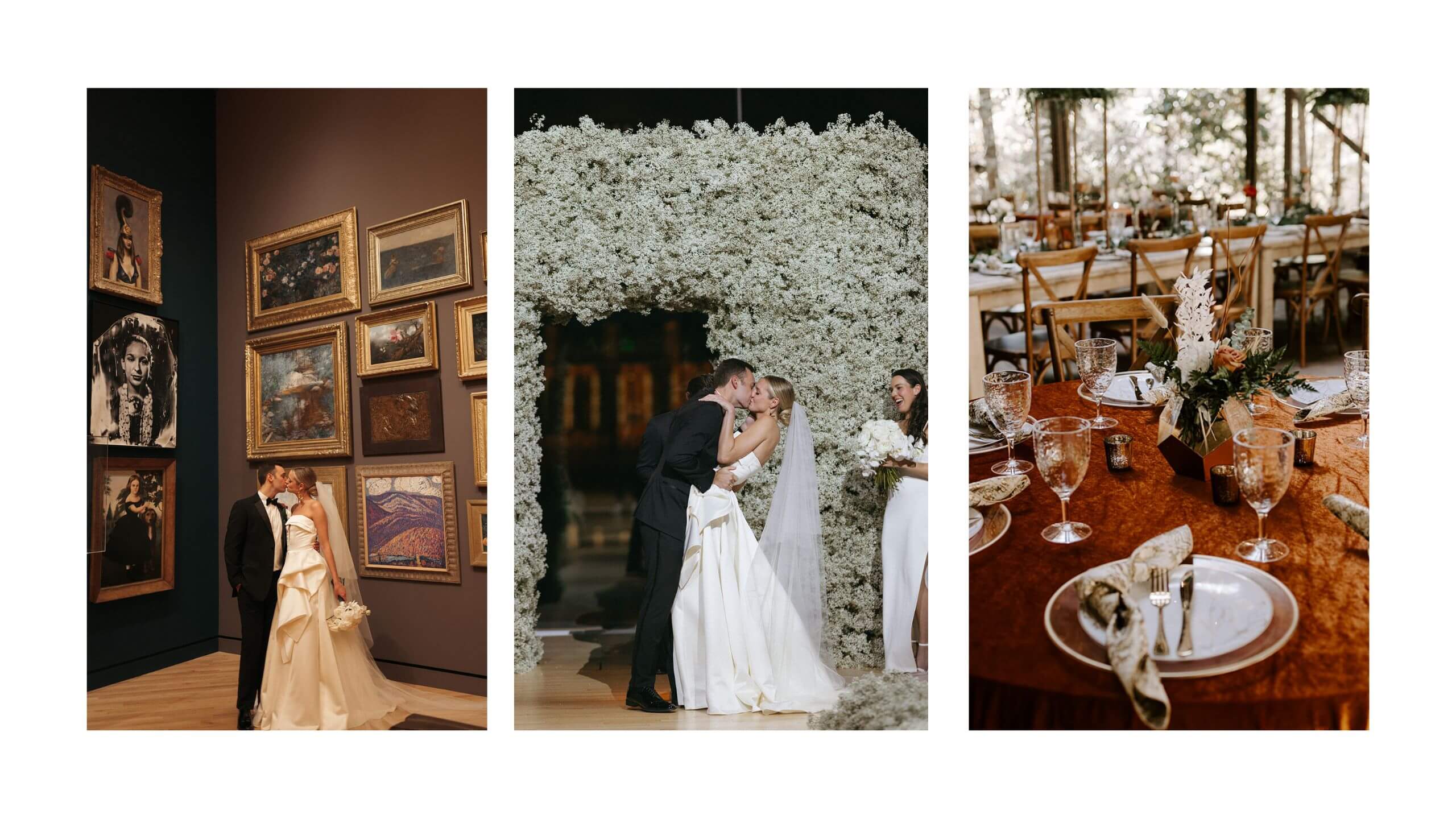 Left and middle photos by Marissa Nicole Photography.  Right photo by Courtnie Welch Photography.
What is the most important thing for a host to keep in mind?
Every couple is different and their weddings should be a celebration of who they are as a couple but also individually. Finding ways to incorporate those details while keeping everything cohesive is essential.
How important are flowers in a wedding design?
Depends on the client. If they really love florals then they are essential to the wedding design. On the other hand, if the couple doesn't care about flowers or they just don't appeal to them then you have to find other ways to create a design.
How important is food for an event? Bonus points for advice on food selections and/or etiquette.
Personally, I think food is essential. When guests come to a wedding they are expecting to be fed. Now, I do think it depends on the budget and couple to determine what is to be served. No matter what, I do think that a variety of options should be available. These days there are so many dietary restrictions (for instance I've got a gluten allergy) that people need to have some options. It's essential to always have a vegetarian option and if someone has an allergy they are usually quick to let you know or will bring something they can munch on.
How do you decompress?
I try to take time with my family without checking my phone or emails. Let me tell you, it's hard! My clients have my personal number which makes it hard to turn off. When I am going on vacation I do tell my clients that I will be away and not answering my phone. Sometimes the best way to decompress is to just sit on the sofa with my family and watch a movie though.
What's the most extravagant party favor you have ever seen?
The West African wedding – hands down. Culturally, both sides of the family were to present their guests with gifts. They came prepared with personalized bags, pens, water bottles, some sort of electronic, the list goes on.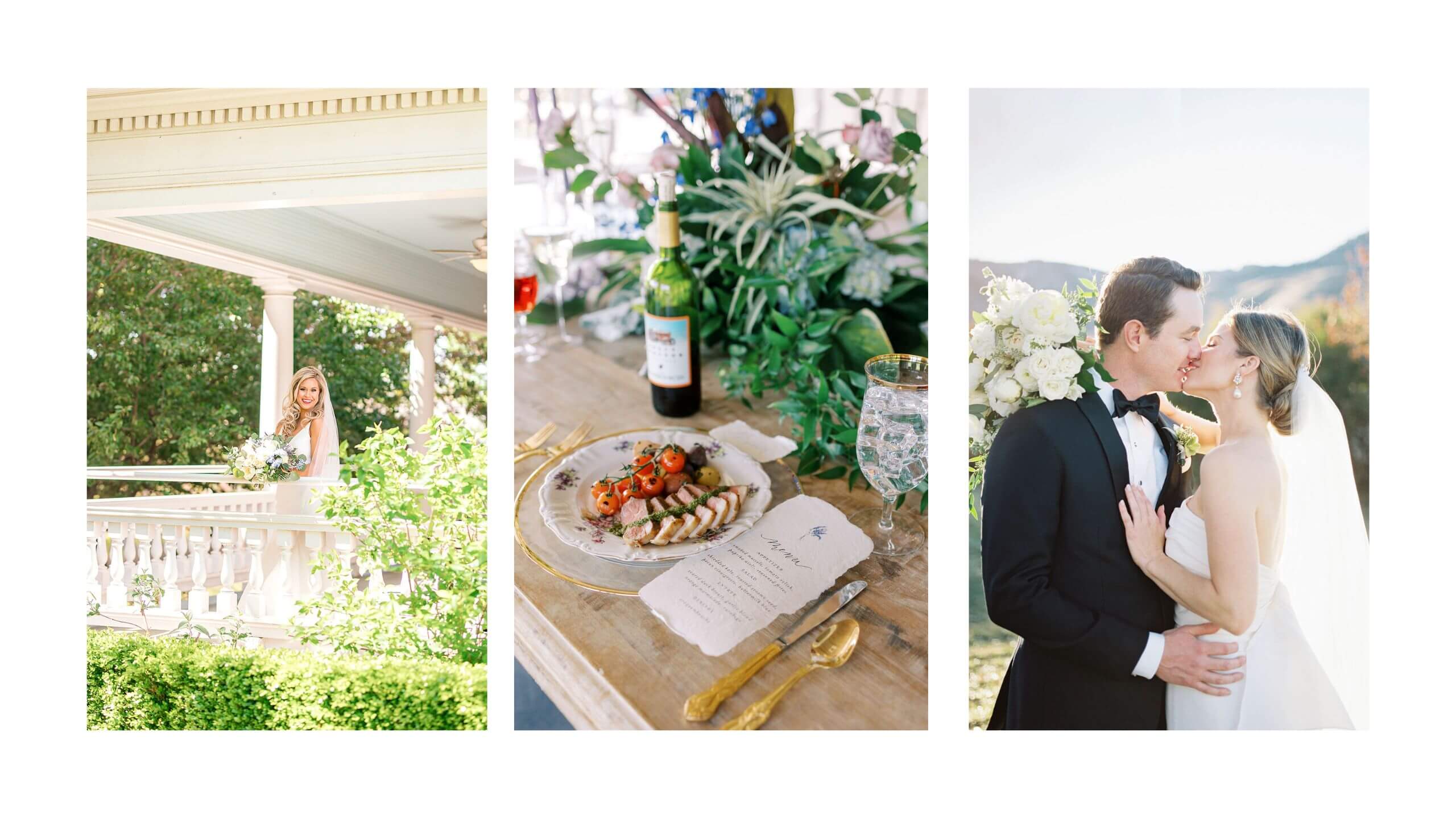 Left photo by Whit Photography. Middle photo by Shalae Byrd Photography.  Right photo by Amanda Berube Photo.
What wedding trends are hip right now?
I'm seeing color becoming a trend again and I am here for it! I'm so excited to get some designs going with the bright pinks, yellows, and greens. I've also seen a huge increase in heavy hors d'oeuvres being served in lieu of a full dinner. This cocktail style reception is definitely the new trend this year.
What wedding trend would like to hit the road?
No hate for the "all white" weddings but I love a good pop of color. I would not be mad if the garter toss would be gone for good – sometimes it just gets so awkward!
If you could give an aspiring event planner one piece of advice, what would it be?
Don't be afraid to be who you are! Also, always respect and trust your vendors. If you treat them right they will do the same. Create and maintain those relationships because those are the people who are going to have your back throughout the wedding day.
What's next for your business?
We are looking to hire another lead coordinator/planner! I want to keep expanding so that we can take on more while giving our clients the attention they all deserve. We are also expanding into the Kansas City area. I am originally from there and would love to take on a few weddings out there every year!