On this episode of Cooking with the Kriks, Chef Serge Krikorian is cooking Mediterranean chicken breast with event planner Brittany Paden with Brittany Bloom Events & Design.  An interior designer by trade, Brittany was working with high-profile hospitality and commercial firms before transitioning into event planning with a niche in weddings. Brittany Paden began her own planning and design business officially in 2016 with its home office in Bella Vista, Arkansas.  She studied political science at University of Kansas before realizing she was missing a creative outlet.  Paden then spent 2.5 years at Art Institutes – Kansas City and graduated top of her class with a bachelor's degree in interior design.  She then packed up her life to move to Washington DC where she earned her master's from George Washington University.  Brittany Bloom Events & Design is a full-service wedding planning firm offering services from wedding management to full planning and design. Her work has been featured in publications such as Arkansas Bride, Magnolia Rouge, MunaLuchi Bride, Wedding Chicks and has received The Knot's Best of Weddings award in 2021 and 2022.  Learn this Mediterranean chicken breast recipe with Brittany Paden and Chef Serge Krikorian featured on season two, episode three of Cooking with the Kriks.
Don't forget to SUBSCRIBE to the Cooking with the Kriks Youtube channel and stay up-to-date on all the fabulous recipes Chef Serge Krikorian shares just for you!  Stay tuned for more season two episodes featuring flavors from around the world (Chef Serge's specialty!).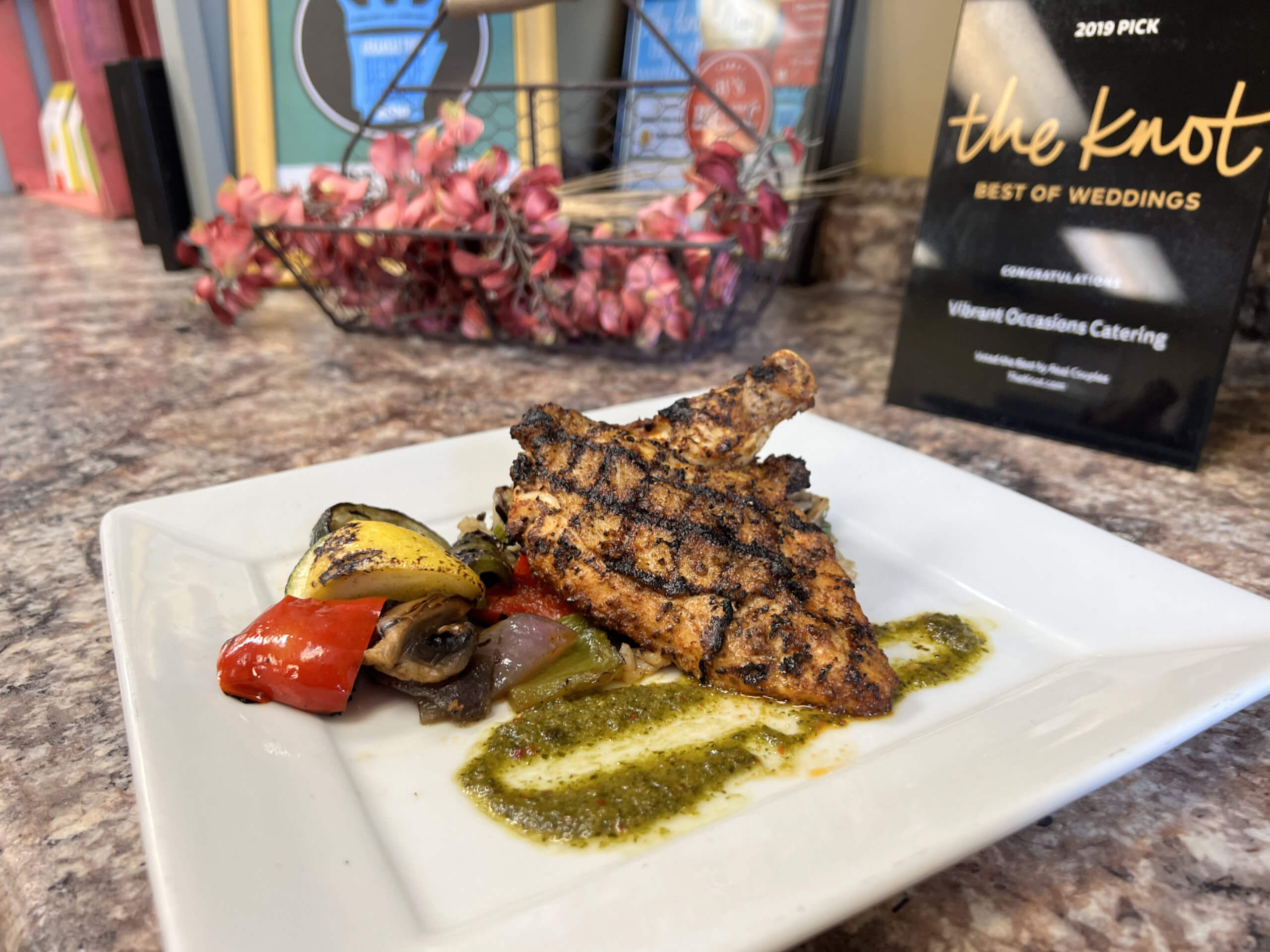 Grilled Mediterranean Chicken Recipe 
 Ingredients
2 Pound Chicken, bone in chicken pieces
3 Tbls oil, olive
2 tsp garlic, minced
1 Each zest lemons 1/2 Each lemons
1 juice from a lemon
1 1/2 tsp salt
1 tsp pepper, ground black
1/2 tsp cardamom, ground
1 tsp paprika
1/2 tsp cumin, ground
1 1/2 tsp oregano, dried
1/2 tsp coriander, ground
1/4 tsp pepper, cayenne
Instructions
Mix all of the ingredients, except for the chicken, in a large bowl. Add the chicken and stir to completely coat the chicken on both sides. Cover and refrigerate the chicken for at least four hours, preferably overnight. Once the chicken has been refrigerated, you will need to heat your grill or oven. Cook the chicken on the grill or oven, turning frequently, until chicken is cooked through and internal temperature reaches 170 degrees. Pair with preferred sides. Add aioli or preferred sauce.