Vibrant Occasions catering is completely committed to participating in the efforts of local nonprofits that directly benefit the community and the people within. Being able to make a splash while raising money and putting smiles on people's faces was an honor in itself. Chef Serge Krikorian and his wife Mary have been catering to Arkansas since 2002 and have been making theirs, and others, dreams come true. Menu planning, catering, and being active in changing the lives of as many people as they can has always been their goal. The EMpact One Foundation has a passion for serving the youth. They have been helping shape the futures of children in their community of Saline County, Arkansas and bettering the lives of many people around the state. Their mission? Transform the way youth impacts the world. Our future will be characterized by the children of our world today. They want to be able to provide children of all ages with the opportunity to engage in high-quality character building experiences that could forever change the trajectory of their lives. With the help of those such as the Benton Chamber of Commerce, Arkansas Thunder Fastpitch, Arvest Bank, Vibrant Occasions, and many more, they have been able to raise funds to be able to support the youth of their community.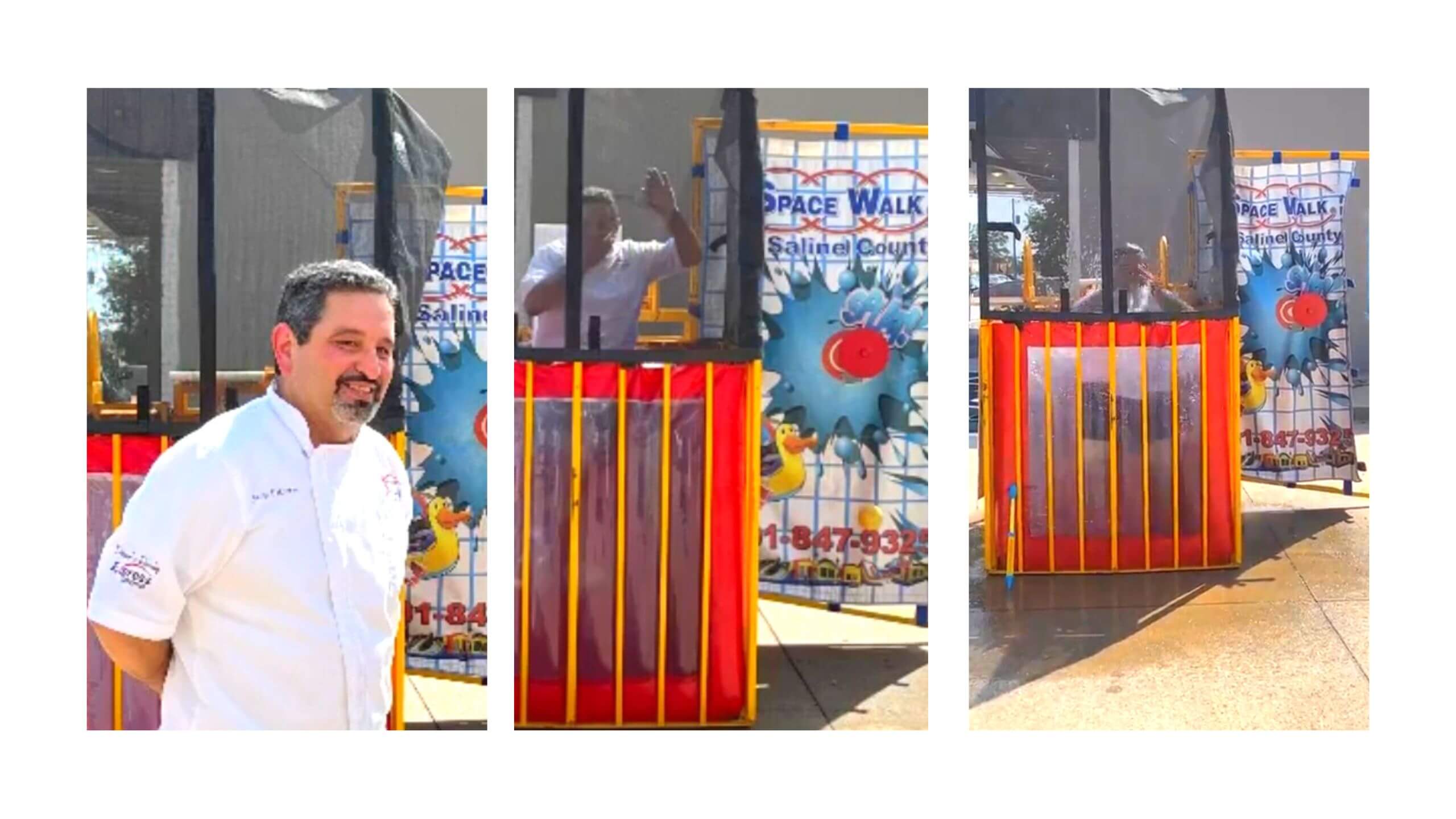 EMpact Objectives:
Providing access to high-quality experiences for children and families.
Building character and emotional intelligence within a child.
Empowering youth through leadership training and development opportunities.
Promoting inclusivity and cultural infusion.
Supporting the physical and mental wellness of children and youth.
Advancing parent, sibling, and community support through training and resources.
On September 15th The EMpact One Foundation hosted a donation dunking booth! $10 ensured three tries at dunking some special people, Jason Brown, Andrew Norris, Jordan O'Roark, Ashley Copple, Dr. James Cooper, Ashley Strange, Brook Plack, Danny Young, Justin Jackson, and Vibrant Occasions' very own Serge Krikorian! With a goal of $2,500, they were able to totally surpass that with everyone's help and reached $3,350. Every $80 that was raised is able to fund one month of enrollment for one child in whatever athletic activity they enjoy. That's nearly 50 children who are now able to participate in their dream sport. From football, to gymnastics, to softball, those who have been underserved and underrepresented will now have the ability to partake in something they wouldn't have been able to before.
With 30 minutes in the dunk tank, Chef Serge awaited being dunked, and was submerged before he knew it! Sacrificing himself for a good cause while having fun is always a good time in his book. We had a wonderful time at the dunk booth, even if it called for being dunk'd! If you're in need of a quick laugh, check out EMpact One Foundation's facebook to watch Chef Serge and other brave troops make a splash! It's sure to make your eyes water. If you are wanting to support The EMpact One Foundation and take part in helping the youth of the Benton community by donating or volunteering your time, visit their website here.  Donations made directly to EMpact One are tax-deductible to the full extent allowed by law.