This recipe by Chef Serge Krikorian was originally featured on THV 11's The Vine broadcast with Adam Bledsoe and Ashley King.  Chef Serge knew that Ashley is vegan and kept that in mind when deciding to showcase this particular dish.  Around the holidays, people are always trying to find the best vegan recipes out there that will leave guests feeling satisfied.  It can be difficult to find a dish that is filling, tastes great and has that holiday flair.  This stuffed acorn squash recipe accomplishes all of these goals and more.  The recipe has also been picked up on Newsweek in an article found here:
https://www.newsweek.com/vegan-thanksgiving-dinner-recipes-celebrity-chefs-1761091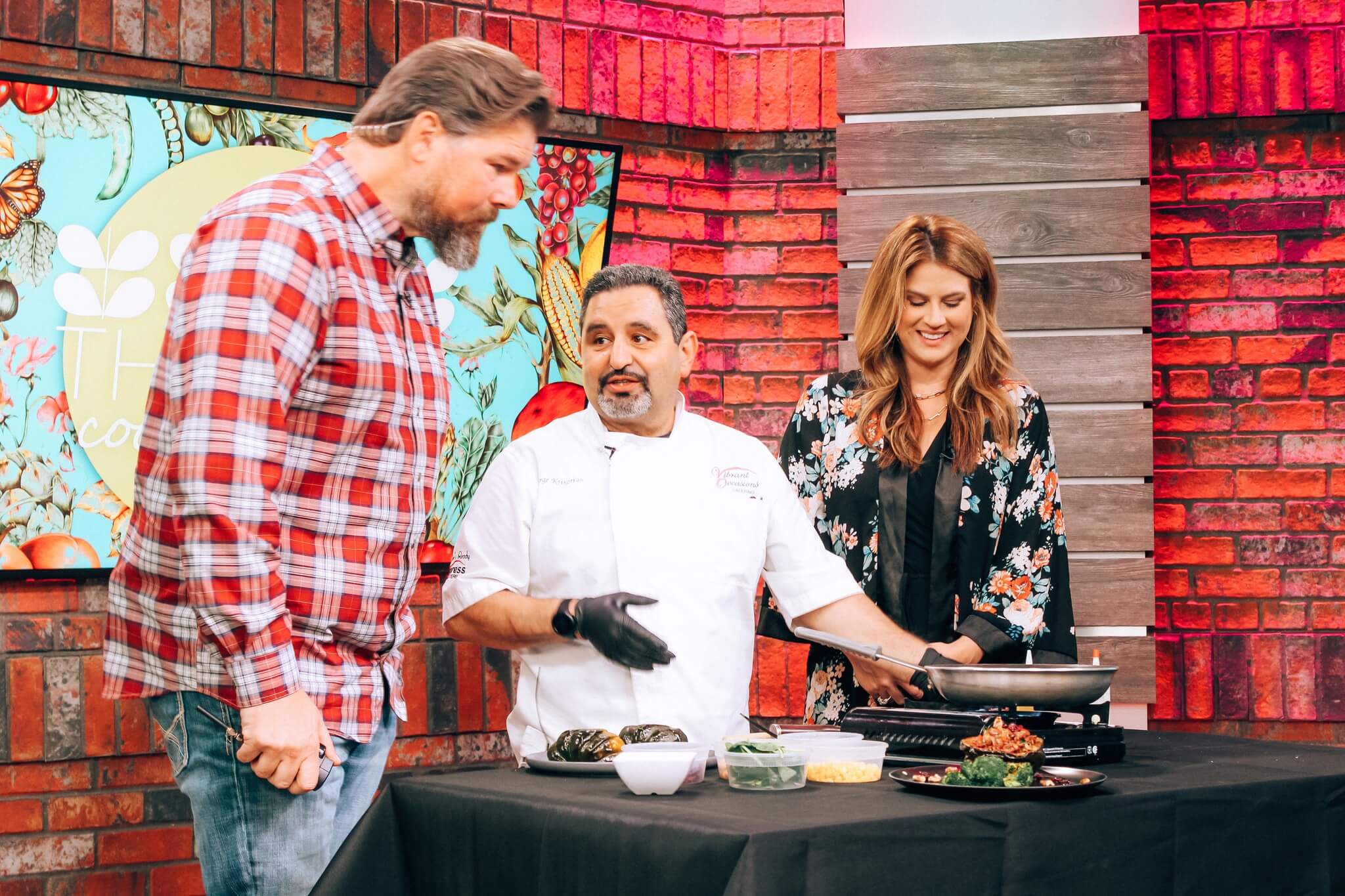 Thank you to THV 11's The Vine hosts, Ashley King and Adam Bledsoe for having Chef Serge Krikorian with Vibrant Occasions Catering share his recipe, Stuffed Acorn Squash.
Try this recipe out for yourself this holiday season or any time of the year!  Don't forget, you can always visit the Cooking with the Kriks show on Youtube for more guided recipes.  Cooking with the Kriks is hosted by Chef Serge Krikorian as he demonstrates some of his favorite recipes with local celebrity guests, influencers, entrepreneurs and interesting people.  Go check it out at the link below and be sure to SUBSCRIBE:
https://www.youtube.com/CookingwiththeKriks
Stuffed Acorn Squash 
Yield: 2 Servings 
Ingredients: 
2 Acorn Squash 
1/2 Cup Harvest Blend Rice (I recommend Ralston Family Farms)\ 
1 tsp. Vegan Bouillon 
1/4 Cup Diced Yellow Onion 
1/4 Cup Diced Celery 
1/4 Cup Diced Red Bell Pepper 
1/4 Cup Diced Green Bell Pepper 
1/4 Cup Frozen Sweet Whole Kernel Corn 
1 Cup Fresh Spinach 
1 tsp. Minced Garlic 
2 Tbsp. Extra Virgin Olive Oil 
1 Tbsp. Tomato Paste 
1/4 Cup Canned Chickpeas 
1/4 Cup Chopped Toasted Walnuts, divided 
1/4 Cup Craisins, divided 
1/4 tsp. Ground Allspice 
1/2 tsp. Ground Cumin 
1/2 tsp. Kosher Salt 
1/4 tsp. Course Ground Black Pepper 
Cut the acorn squash in half from stem to bottom and remove the seeds with a spoon. Rub the acorn squash with olive oil and place it in a preheated 325 degree oven with the skin side up for 25-30 minutes, until it starts wilting on the outside. Remove from the oven and season with a little salt and pepper to taste. 
Meanwhile, combine the rice with 2.25 cups of cold water in a small pot. Add the vegan bouillon and bring to a boil over medium-high heat. Reduce heat and let simmer until all liquid is absorbed and rice is al dente, about 20-25 minutes. 
Add the olive oil to a skillet on a stove on medium heat. Saute the onions, red and green bell peppers and celery until the onions are almost translucent and the remaining vegetables are soft. This generally takes 3 to 4 minutes. Add the corn, chickpeas, and fresh spinach, sauteeing for another 3 to 4 minutes. Add the garlic, tomato paste, and the remaining seasoning. Saute for another couple of minutes. Add the rice, ¾ of the toasted walnuts, and ¾ of the craisins. 
Stuff the rice mixture into the acorn squash. Garnish with cucumber aioli (recipe below) the remaining walnuts and craisins.
Cucumber Aioli 
½ English Cucumber, seeded 
Juice of ½ Fresh Lemon 
2 Cloves Garlic, minced 
1 Tbls. Extra Virgin Olive Oil 
½ Cup Vegan Mayonnaise 
1 Tbls. Fresh Cilantro, chopped 
½ tsp. Kosher Salt 
½ tsp. Course Ground Black Pepper 
Put all the ingredients except for the mayonnaise in a blender and blend until well combined. Fold the mayonnaise into the mixture and refrigerate for 15 minutes before serving.