Corey and Rhianna's wedding at Venue at Oakdale was a gorgeous day exquisitely planned by Washington, D.C. wedding planner, Andrew Roby with Andrew Roby Events.  The couple met at the gym, but eventually became more deeply connected through Instagram direct messaging.  The rest is history! Because guests love cake, but hate waiting for cake, the couple opted for a faux cake with sheet cake in the kitchen to actually serve from.  That way, guests can be served immediately after cake-cutting photos commence.  Between the beautiful burgundy and red tones, the delicious meal and all the wonderful people involved and in attendance at this wedding, we can definitely say this was an event to remember.
Corey elaborates on the experience working with Vibrant Occasions and the wedding menu:
"Vibrant Occasions created a spectacular spread! Rhianna is a foodie and has a global palate. Chef Krikorian made a unique menu for us and then elevated it based on feedback from the tasting. From lemongrass chicken spring rolls to tandoori chicken, bacon praline skewers to caprese pipettes – our cocktail hour had something for every palette. Vibrant Occasions provided 8 passed hors d'oeuvres.
Where else can you go and that they recommend providing your guests with a dual meat option. All guests were served Caribbean citrus chicken and bacon-wrapped pork tenderloin. For the non-pork eats, they did accommodate by doubling the chicken and for the vegetarians, they made quinoa stuffed bell peppers. Plates were going back empty, which is always a great sign. Our sides for both the meat and vegetarian dishes were roasted broccoli and macaroni and cheese. The best part was that it tasted way better than the tasting! Chef K really listened to my critiques, down to changing the wrapper of the lemongrass chicken spring from a rice wrapper to a lumpia wrapper. We would highly recommend them for any event!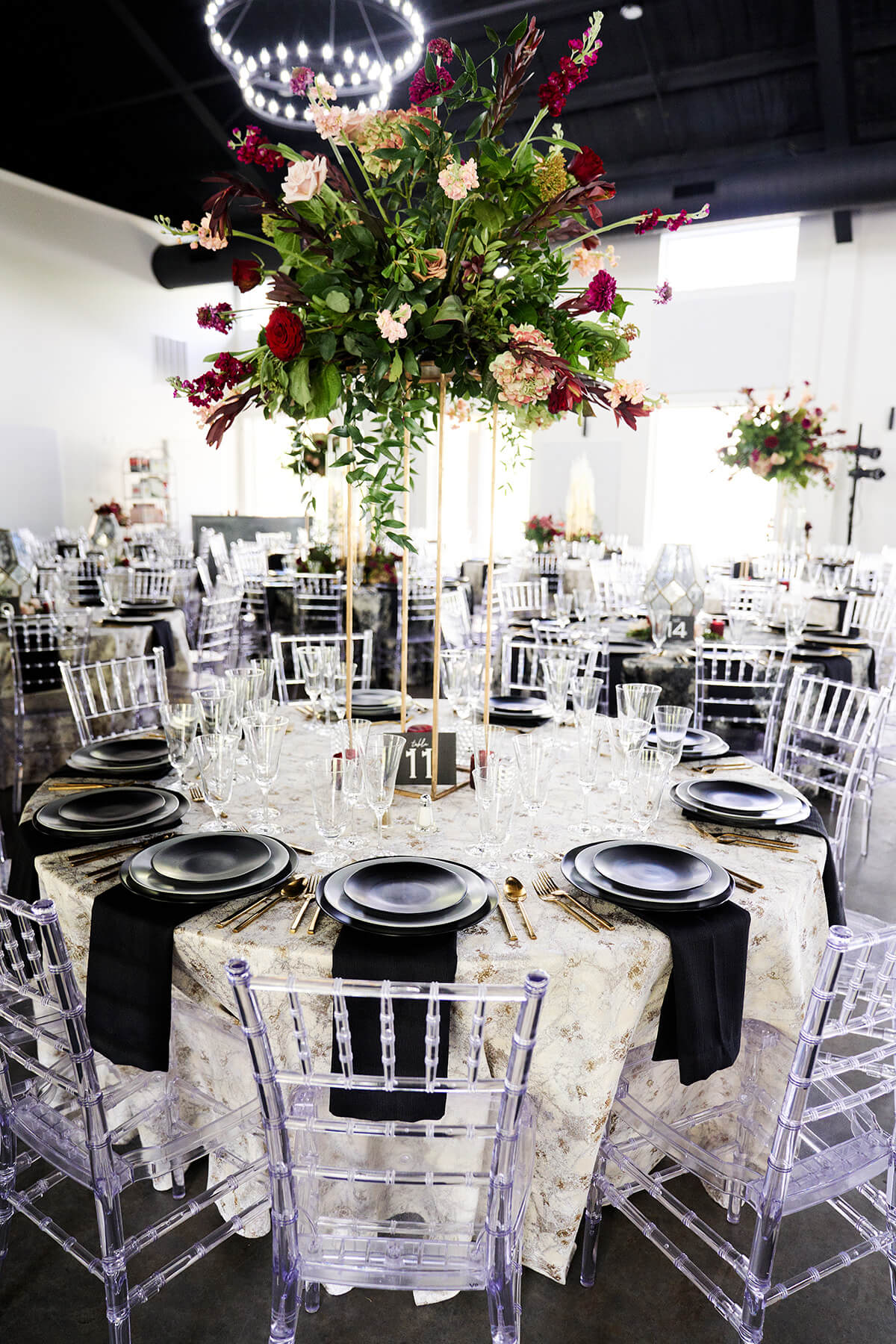 Corey & Rhianna's Wedding Menu
Cocktail Hour Passed Hors d'Oeuvres
Mini Italian Meatballs
Handmade beef and sausage meatballs slow-simmered in San Marzano Marinara sauce
Cheese Stuffed Mushrooms
Fresh mushroom caps stuffed with a blend of cheeses and seasoned bread crumbs and baked until gooey
Bacon Praline Skewers 
Applewood smoked bacon skewers caramelized with sugar and toasted pecans
Smoked Salmon & Dilled Cream Cheese Cucumber Bites
Brightened up with a zingy horseradish and dill cream cheese, these simple yet fancy smoked salmon bites are crunchy, creamy finger food perfection!
Caprese Pipettes
Fresh mozzarella, heirloom tomato, and fresh basil on a pipette filled with aged balsamic
Tandoori Grilled Chicken Satay Picks
Served with Spicy Peanut Sauce
LemonGrass Chicken Spring Rolls
Served with Plum Sauce
Plated Dinner
1st Course
Dinner Salad
A garden salad dressed with House-Made Greek Dressing
Dinner Rolls
Freshly-baked dinner rolls
2nd Course Dual Entree Plate
Caribbean Citrus Chicken
Airline chicken topped with mango salsa
Bacon-Wrapped Pork Tenderloin
Wrapped in applewood smoked bacon and roasted, draped with a white wine reduction sauce
Balsamic Glazed Brussels Sprouts
Charred Brussels sprouts with a sweet balsamic glaze
Mac & Cheese
An upscale rendition of a classic favorite made with our jalapeno cheese sauce
Vegetarian Option
Quinoa Stuffed Peppers
Sweet peppers stuffed with a flavorful quinoa made with sweet corn, tomatoes, black beans, onions, and feta cheese, finished with a squeeze of lemon