A new year is a great time to learn some healthy new recipes! Luckily, chef Serge Krikorian with Vibrant Occasions is here to give us fresh ideas with even fresher ingredients. Both of these recipe tutorials were featured on THV 11's The Vine show with host Adam Bledsoe. 
If you love salads, but are looking for something with a bit of a twist, Salmon Salad Nicoise may be exactly what you are looking for. Niçoise olives can sometimes be hard to find, so be sure to check your market's olive bar or substitute with kalamatas if you need to.
For those looking to cut meat from their diet without sacrificing a hearty meal, Spaghetti Squash with San Marzano Arrabiata Sauce is a wonderful option. The sauce itself would be amazing over any pasta, if spaghetti squash isn't your jam. This yellow gourd has the magical ability to turn into spaghetti-like strands when roasted, which has inspired many new "pasta-like" recipes over the years. Don't forget when creating a spaghetti squash dish to have a really good chef's knife on hand!
You can find even more recipes on our Youtube show, Cooking with the Kriks.  Be sure to hit that Subscribe button: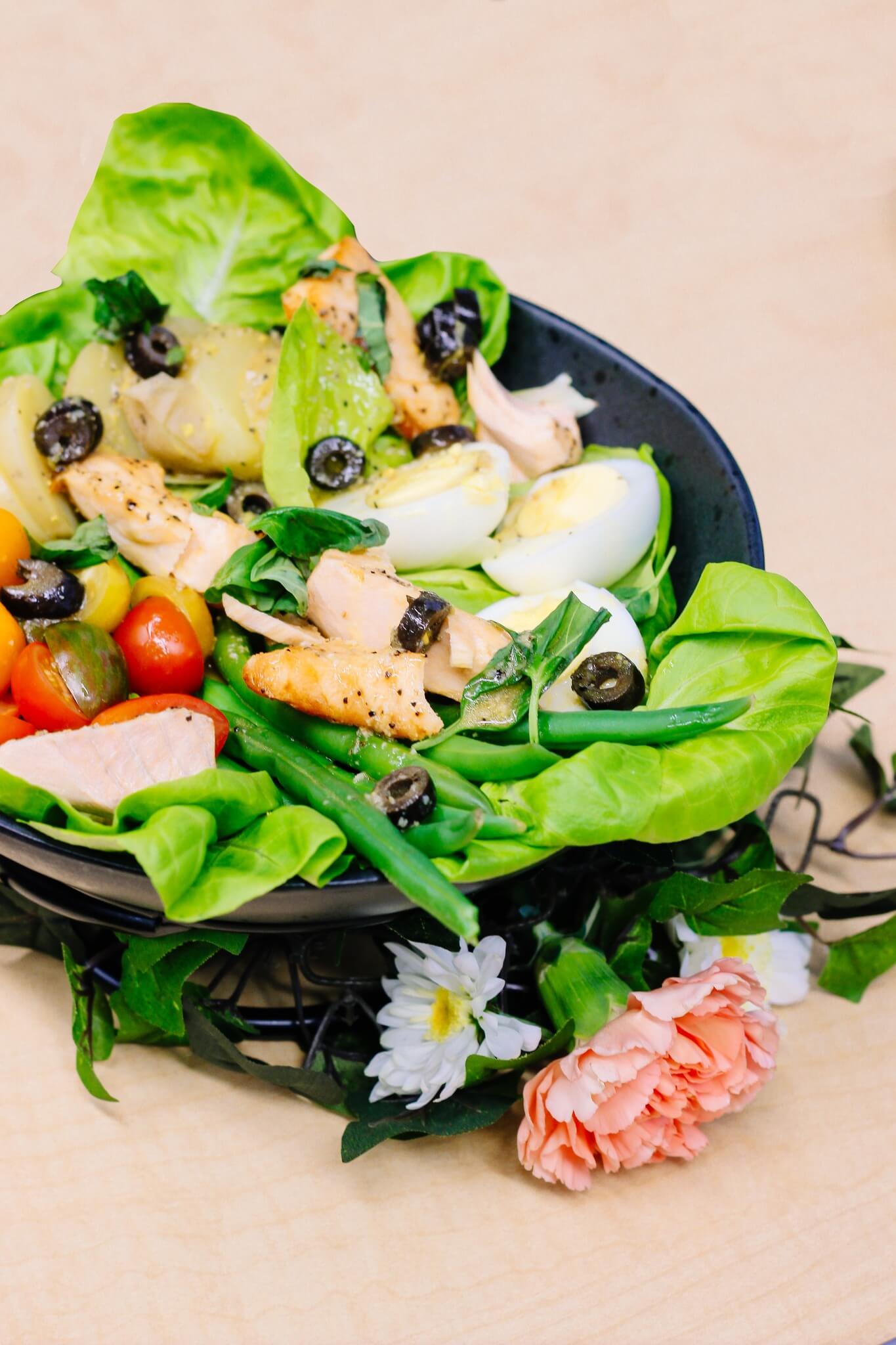 Salmon Salad Nicoise
8 oz. small new potatoes or yukon gold potatoes, sliced ¼" thick 
4 oz. haricot green beans 
4 eggs 
1 head butter lettuce 
5 Tbsp. extra-virgin olive oil 
1 pint cherry tomatoes, halved 
2 6 oz. wild caught salmon filets 
5 basil leaves, for garnish 
For the Dressing:
½ cup black olives, preferably Niçoise, pitted 
1 tsp. dijon mustard 
1 garlic clove, minced 
Juice of 1/2 lemon 
Zest of 1 lemon 
5 Tbls. olive oil 
1 Tbls. aged balsamic vinegar 
1 tsp. kosher salt 
½ tsp. black pepper 
First, make the dressing by combining all ingredients, except the black olives, and emulsify dressing to thoroughly combine. Add black olives and set aside. 
Meanwhile, cook the potatoes in boiling water for 15 minutes until tender. Drain and put into iced water to cool. Drain again and set aside. 
Cook the beans in boiling, salted water for 4-5 minutes until tender but with a slight crunch. Drain and put into iced water to cool. Drain again and set aside. 
Bring a small pan of water to boil with a teaspoon of water and cook the eggs for 7 minutes. Gently put in an ice bath for 5 minutes. Peel, cut in half, and set aside. 
Preheat the oven to 375 degrees. Rub the salmon with olive oil and season with salt and pepper. Place on a sheet pan and cook for 13-15 minutes until cooked through. Move to a plate and allow it to cool down. 
Arrange the butter lettuce on a large platter. Add the potatoes, tomatoes, green beans, eggs, and salmon. Dress the salad with the dressing and garnish with torn fresh basil leaves.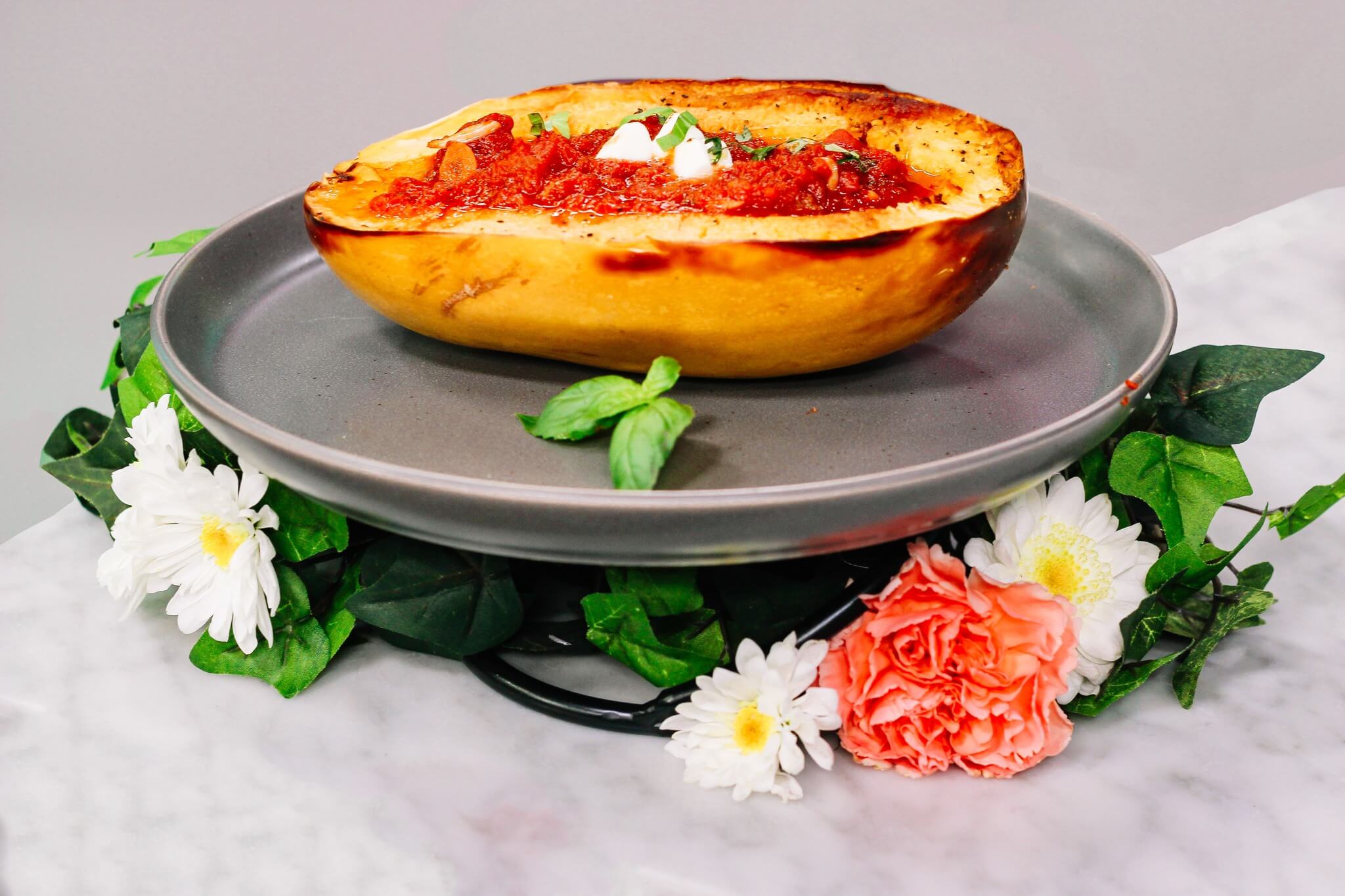 Spaghetti Squash with San Marzano Arrabiata Sauce 
4 Servings 
1/4 cup extra-virgin olive oil 
9 garlic cloves, peeled and slivered 
1/2 cup of dry red wine 
1 can whole San Marzano tomatoes, (28 ounce), certified D.O.P., if possible 1 pinch crushed red pepper flakes 
1 tsp. kosher salt 
1/2 tsp. ground black pepper 
1 large fresh basil sprig (about 10 leaves on the stem) 
Diced fresh mozzarella 
2 spaghetti squash 
Basil chiffonade, optional garnish 
Preheat oven to 325 degrees. 
Cut the spaghetti squash in half and remove the seeds. Drizzle with olive oil and rub all over the squash. Season the flesh with salt and pepper. 
Place the squash skin side up on a sheet pan and cook in the oven for 25-35 minutes. Note" The squash is done when the skin starts to lightly brown and you can easily scrape the "noodles". 
Meanwhile, heat the olive oil in a large skillet over medium high heat. Cut the garlic into slivers and add to the pan. Cook, stirring frequently to prevent the garlic from browning, until the garlic becomes translucent. Deglaze the pan with the wine and lower the heat and reduce by half. 
Meanwhile, pour the San Marzano tomatoes into a large bowl and crush them with your hands. Pour 1 cup of water into the can and slosh it around to get tomato juices. Set aside the water for later use. 
When the wine has reduced by half, add the crushed tomatoes and the reserved tomato water. Add red pepper flakes, black pepper, and salt. Stir to combine. 
Reduce the heat to low and place basil sprig, including stem, on the surface of the sauce. Let it wilt, then submerge in sauce. Simmer sauce until thickened, about 15 minutes. Discard basil. 
Turn the cooked spaghetti squash over, ladle your sauce into the halved squash. Add fresh mozzarella on top and place in the oven until the mozzarella is melted, about 5 minutes. 
Optional addition for the sauce is sauteed fresh baby portobello mushrooms, sauteed baby spinach, and/or basil chiffonade.