Chef Serge Krikorian is back to share his savory beef ramen noodle soup recipe recently featured over on THV 11's The Vine with Adam Bledsoe and Ashley King. For this episode, he set up an interactive action station displaying an array of toppings sure to please any palate. The great thing about an action station is that you can pick and choose which toppings suit you and leave off the ones that don't. This recipe is a super easy one to make that anyone can do in only a few minutes. Set this up at your next party or family dinner for a true, cozy crowd-please!
Ramen dates back centuries originating in China, which is considered to be the birthplace of all things ramen. Over the centuries, ramen made its way across the world spurring on unique recipes aplenty with its first ingredient variations of the Chinese noodles beginning in Japan. 
Don't forget to head over to the Vibrant Occasions Catering Youtube channel, Cooking with the Kriks, for more international and international-fusion cuisine by chef Serge! Be sure to hit that subscribe button: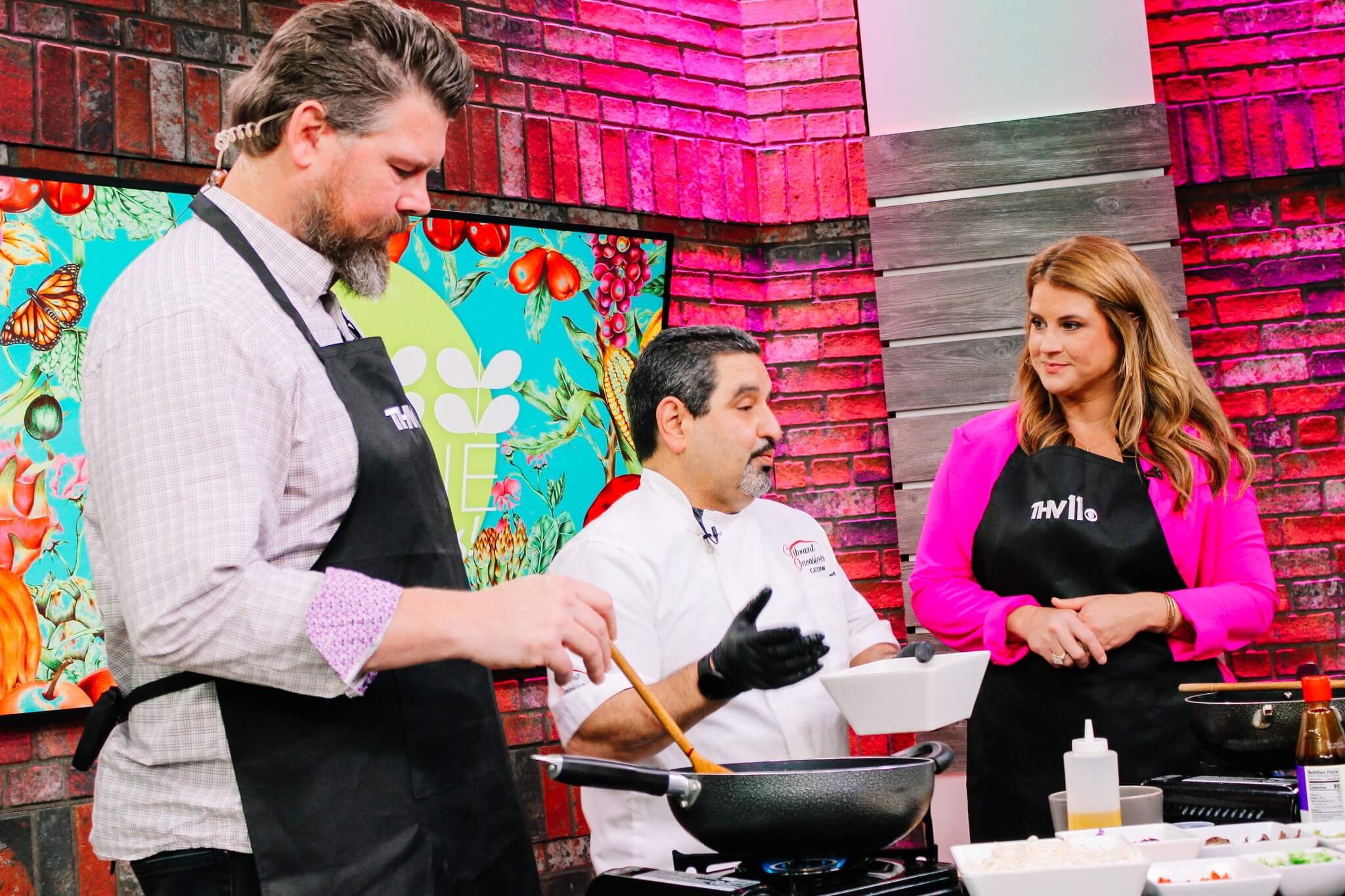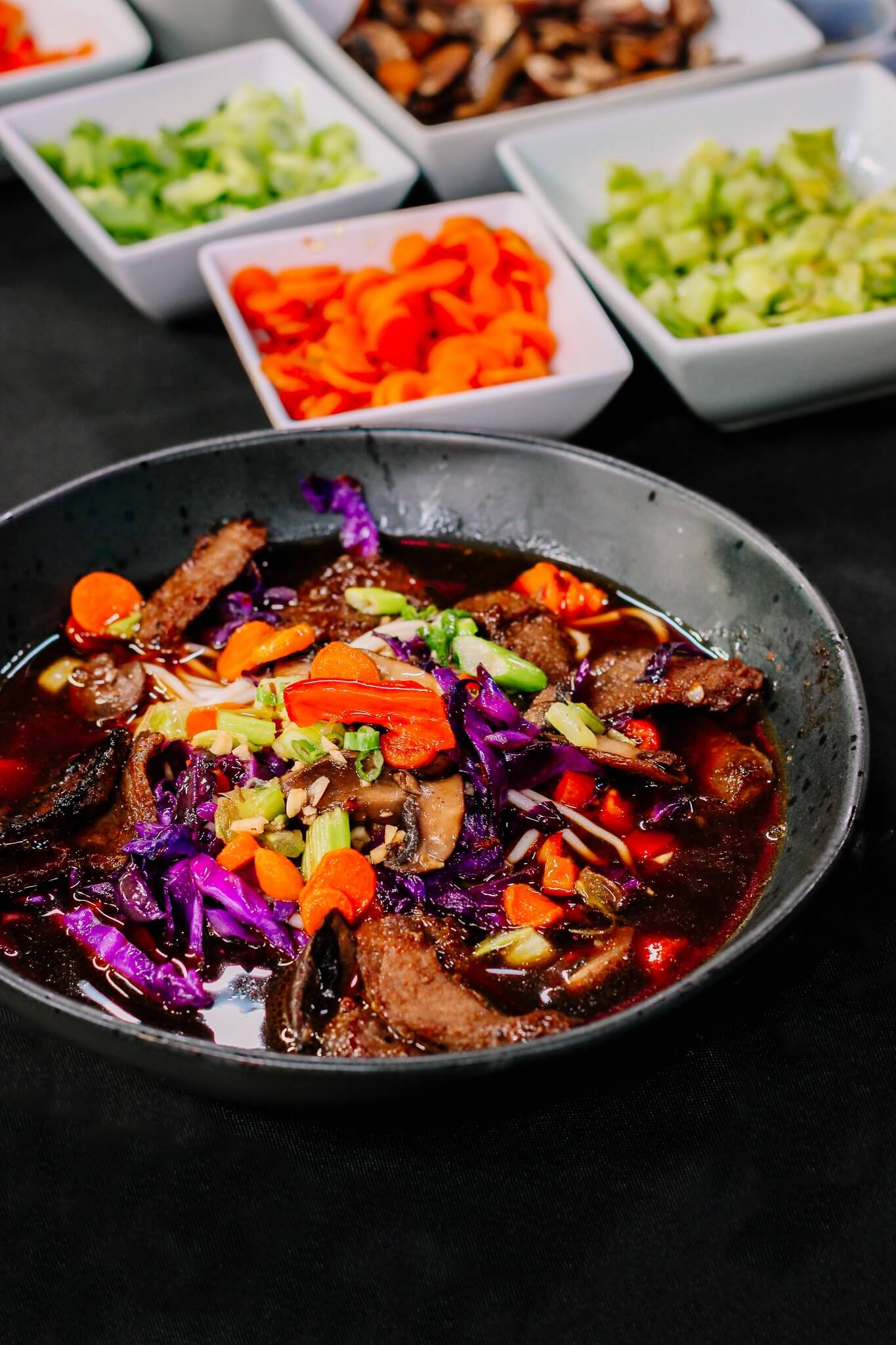 Beef Ramen Noodle Soup
3 tbsp. grapeseed oil
¼ cup diced carrots
1 diced red pepper
2 diced celery stock
8 oz. sliced button mushrooms 
2 cloves garlic, minced
1/4 cup fresh chopped parsley, divided
½ cup shredded purple cabbage
3 cups beef stock
2 cups chicken stock
1 ½  cups water
4 tbsp. soy sauce
1/2 tsp. sriracha
1 tsp. fish sauce
1 bay leaf
¼  lbs. ramen noodles,  uncooked
Salt and pepper to taste
4 green onions, diced
For the Steak
1 ½ Tbls. grapeseed oil
1 lbs. sliced steak, recipe below
½ tsp. Salt
¼ tsp. black pepper
¼ tsp. onion powder
¼ tsp. Garlic powder
2 Tbls. Hoisin Sauce
Steak Recipe:
Slice 1 lbs. of lean steak  into very thin slices ⅛ inch thick and season with ½ tsp. salt, ¼ tsp. black pepper, ¼ tsp. onion powder, ¼ tsp. garlic powder and 2 tbsp Hoisin sauce 
Heat 1 ½ tbls. grapeseed oil in a heavy skillet.  Add slices of beef and saute until done.  Remove from heat and add 2 tbls. of hoisin sauce and stir.  Set aside.
For the Ramen Noodle Soup:
Heat 3 tbls. grapeseed oil in dutch on medium high heat. When the oil is hot, add the onion, carrots, celery, red bell pepper, and mushrooms and cook for about 6 minutes until the vegetables are soft .  Add the garlic and cabbage and cook for another 2 minutes.  Add the beef stock, chicken stock, water, soy sauce, sriracha and fish sauce.   Bring the soup to a boil, turn down the heat, and simmer for 10-12 minutes.  Add the Ramen noodles and cook for 3 minutes.  Add your beef and green onions and cook for another two minutes.  Serve immediately.