When it comes to hosting an event, trying to make sure everyone is happy with the selection of food and drinks can be tricky. Feeding a large crowd, accommodating to their dietary needs and also trying to be an active host doesn't always have to be difficult, though. There are many ways that a host can make things a little bit easier on themselves while making it even more fun and entertaining for their guests.
Food bars have become an increasingly popular trend during parties and events, making dinner more casual for the hip host. Creating a self-serving buffet, or even hiring caterers to come and prep and serve for your food bar will save you loads of time, stress and planning. It's easy, oftentimes more economical than planning a full-course meal and it can accommodate almost any type of guest. Some of the most popular kinds of food bars for parties and events are nacho bars, pizza bars, charcuterie bars, chip and dip bars, an ever-popular salad bar, and our favorite…taco bars! Taco bars come in a very large variety, can be served in several different ways and are overall delicious.
Make Your Choices
There are a lot of decisions to make when it comes to planning an event already, but luckily setting up a taco bar is easy! You're going to want to decide your theme, decorations, lighting and music for your event in an effort to decorate your food bar around that. If you are wanting a cohesive look for your event or party, it would be the best choice to start there.
The next thing you will want to decide for your taco bar is your presentation. There are a couple different options here from self-serving to hiring someone to cater and serve for you. Creating a DIY taco station or action station for your guests allows for extra creativity and allows your guests to pick-and-choose as they come and go. This also gives the host the ability to be totally hands-free, other than the set-up and preparation for the food. Another choice you have is to serve the tacos yourself. This will give you the chance to see and talk to every guest that comes through, but has a downside. Being totally hands-on when it's time to eat will result in only being able to man the bar temporarily, instead of the duration of the event, before getting back to activities. Your last option is to hire a caterer. Many caterers will take care of everything like plates, cups, silverware and napkins. They will prepare, cook and serve food as guests come and go. They also have amazing chefs who know how to cook some of the best food you might ever taste!
The biggest decision when creating your taco bar is choosing what kind of tacos you want to serve. There are hundreds of different meats, toppings, condiments, and garnishes that you can stuff into your tacos. Classic, street or custom tacos are loved all around the world and can be altered to fit anyone's tastes or needs. It can be hard coming up with the perfect recipe for tacos, so here are a few of our favorite kinds of tacos that you may enjoy, too.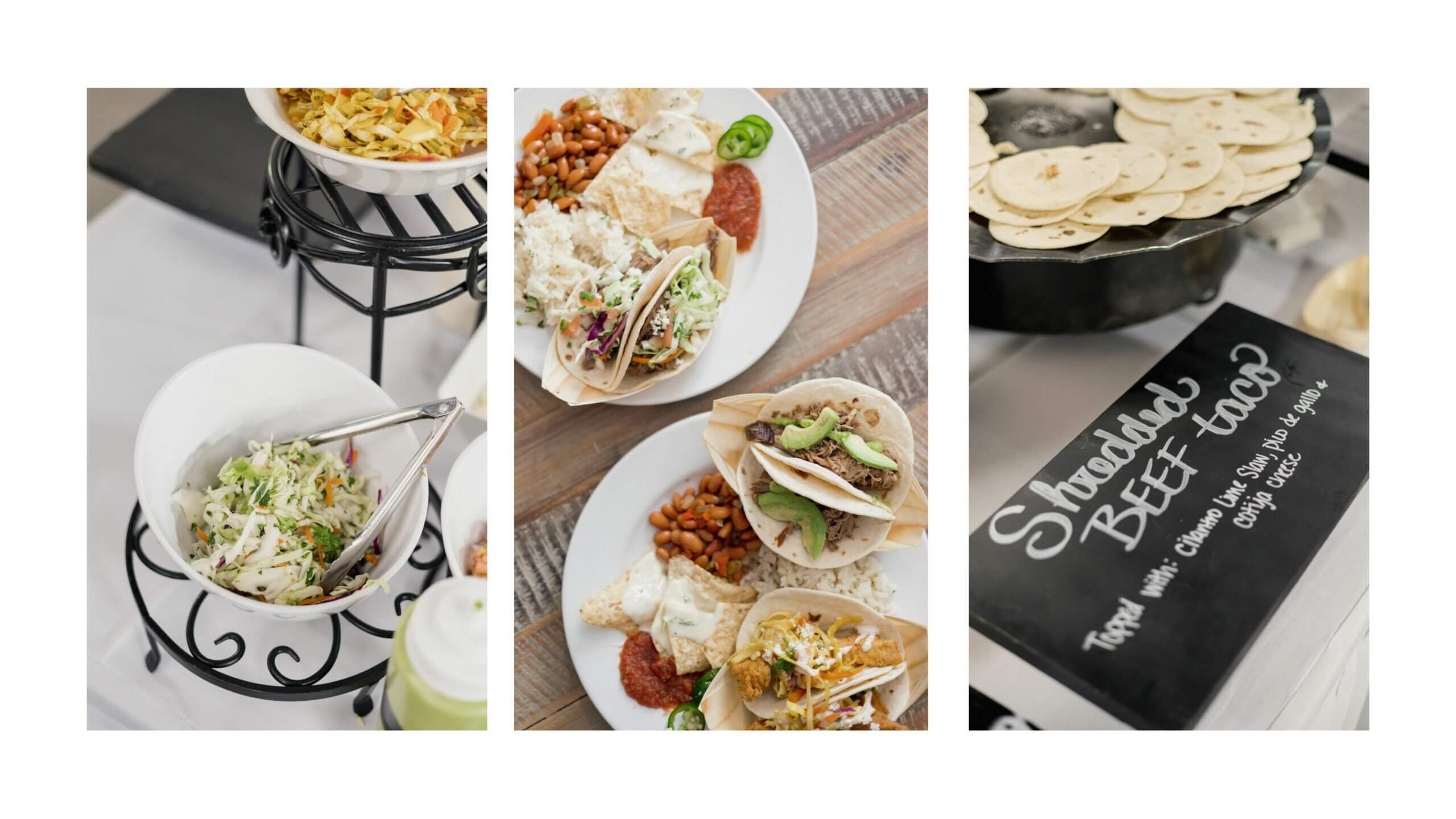 Shredded Brisket Tacos
The brisket taco is a staple street food in Texas. Bringing together two of the tastiest cuisines, tacos and juicy brisket, your mouth is sure to water at the sight of these. Consisting of a shredded brisket cut of beef, fresh cilantro lime slaw, pico de gallo and a sprinkle of cotija cheese. Meaty, hearty, juicy and delicious are the only words to explain this taco. 
Pork Carnitas Tacos
Carnitas is one of the most perfect meats for a taco. Meaning "little meats" in Spanish, it's the best meat to perfectly fill your taco. Simmered in oil or lard until tender allows for the pork to be easily pulled apart. This leaves us with a very tender, juicy and flavorful pork meat for our tacos. These tacos are able to be topped with slaw, onions, avocado, really anything your heart (and stomach) desire. We love to top ours with a lovely chimichurri sauce to give it that extra punch. 
Pollo Asado Tacos
If you're looking for something perhaps a little healthier or maybe you don't don't prefer red meat, our pollo asado tacos will have your guests lining up for seconds. Meaning grilled chicken, this street taco can be jazzed up with many different sauces and vegetable fillings. For our pollo asado tacos, we marinate our chicken in orange and lime juices for a kick and extra flavor. Topping with cilantro lime slaw, pico de gallo, as well as our cotija cheese. 
Bulgogi Tacos 
A Korean-Mexican fusion taco as well as the ever-popular Los Angeles created street taco. Bulgogi is a Korean beef barbeque, made of thinly-cut marinated beef and is often grilled on a barbeque or stove-top griddle. For our bulgogi tacos, we top them with a tangy and sweet Korean barbeque sauce as well as our fresh Asian slaw. A unique and tasty taco for a unique and food-loving host. 
Mediterranean Chicken Tacos
The Mediterranean chicken taco is the perfect way to get a quick taste of Greece or Italy. It's quite simple and doesn't involve an overwhelming amount of preparation. The filling and sauce are just delicious in this kind of taco, with crumbles of feta cheese, fresh cucumber, crisp onions, glistening tomatoes and finally topped with a piquant tahini tzatziki sauce. 
Cajun Shrimp Tacos
Fish tacos of all kinds have been on the rise for the past 60 years, originating from Mexico and taking over the street food trucks of America. These tacos can be juicy, smoky, earthy, tangy and even spicy. Although it doesn't seem like fish would give a lot of forgiveness in a taste palette, there are many savory garnishes and fillings you can use. Traditional taco fillings such as cheese, sour cream, lettuce and tomatoes are perfect. For our favorite Cajun shrimp tacos, be sure to have your bayou bengel sauce and top it with a fresh lime slaw.
Choosing the best kind of food doesn't have to be as difficult as choosing which lighting will be best or what playlist your guests will love the most. Everyone loves a tasty taco, an easy set-up and economical alternatives. The taco also compliments a variety of drinks from margaritas to cocktails to beer. Impress your guests with a plated dinner or give them taco-filling freedom by setting up a self-serving station. Trendy and simple is just too hard to beat. 
Special thank you to Cameron and Elizabeth Photography for all photos used in this blog post.