You don't have to live in or visit Philadelphia to enjoy a good Philly steak sandwich! Chef Serge Krikorian with Vibrant Occasions originally shared his own unique recipe with the public on THV 11's The Vine television show with hosts, Adam Bledsoe and Ashley King. Now you can grab this tasty recipe here on our blog and try it at home. Read on to learn more about the original Philly cheesesteak sandwich and how it has evolved over the years.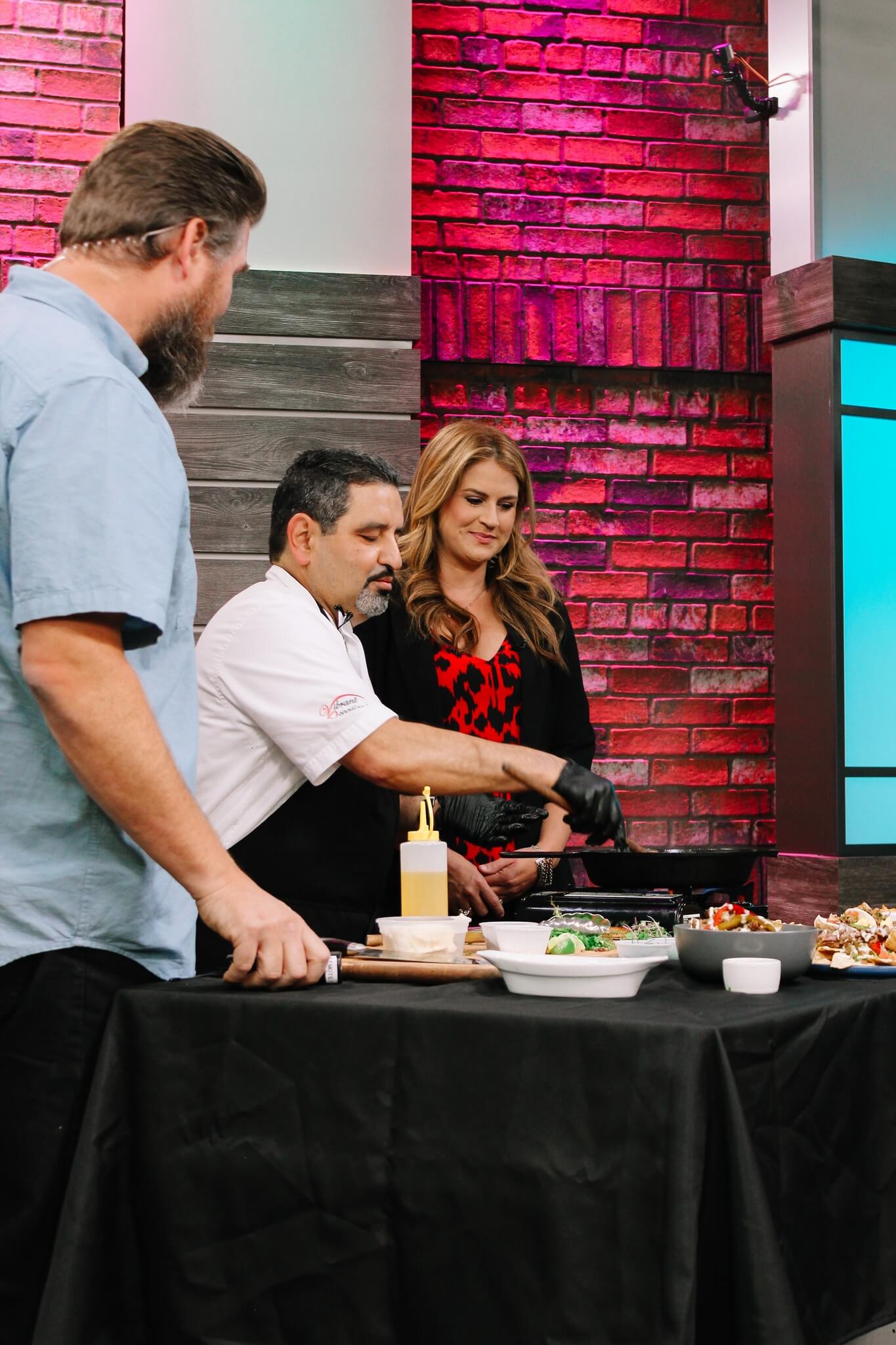 The Philly Cheesesteak is a sandwich originated in Philadelphia, Pennsylvania, in the 1930s. It is made with thinly-sliced steak and melted cheese, typically served on a long, crusty roll. The cheese is usually American or Cheez Whiz, and the traditional toppings include fried onions and peppers.
The origins of the Philly Cheesesteak are somewhat disputed, but the most commonly accepted story is that it was first made by Pat Olivieri, a hot dog vendor in south Philadelphia. Legend has it that Olivieri was tired of eating hot dogs for lunch every day, so he decided to grill some steak and put it on a roll with some onions. A passing taxi driver smelled the sandwich and asked to try it, and soon Olivieri was selling cheesesteaks to customers at his stand.
The popularity of the Philly cheesesteak grew quickly, and by the 1950s, it had become a staple of Philadelphia cuisine. Today, it is a beloved sandwich not just in Philadelphia, but throughout the United States and even in other countries.
There are many variations of the Philly Cheesesteak, and different shops, restaurants and chefs have their own signature twists on the classic sandwich. Some popular variations include adding mushrooms, hot peppers, or different types of cheese. There is even a vegan version of the sandwich that uses seitan instead of steak.
Despite its humble origins, the Philly Cheesesteak has become a cultural icon and a symbol of Philadelphia's food scene. It has been featured in countless TV shows, movies and songs, and is a must-try for anyone visiting the city.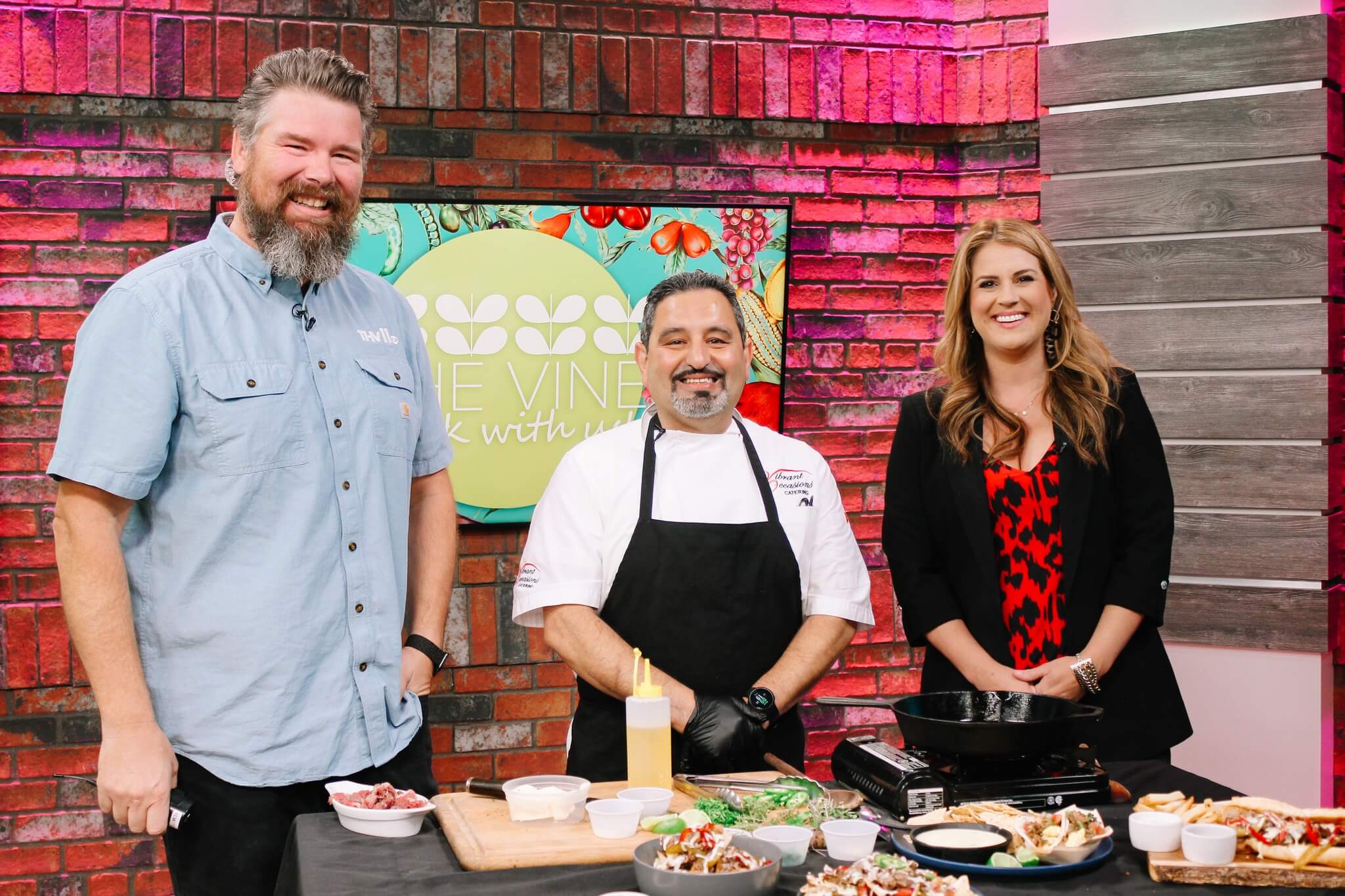 Don't forget, you do not have to wait to learn new recipes from chef Serge! Just head over to our Youtube show, Cooking with the Kriks, and you will find an array of delicious dishes to choose from with step-by-step tutorials. Be sure to hit that SUBSCRIBE button, give our videos a like and comment: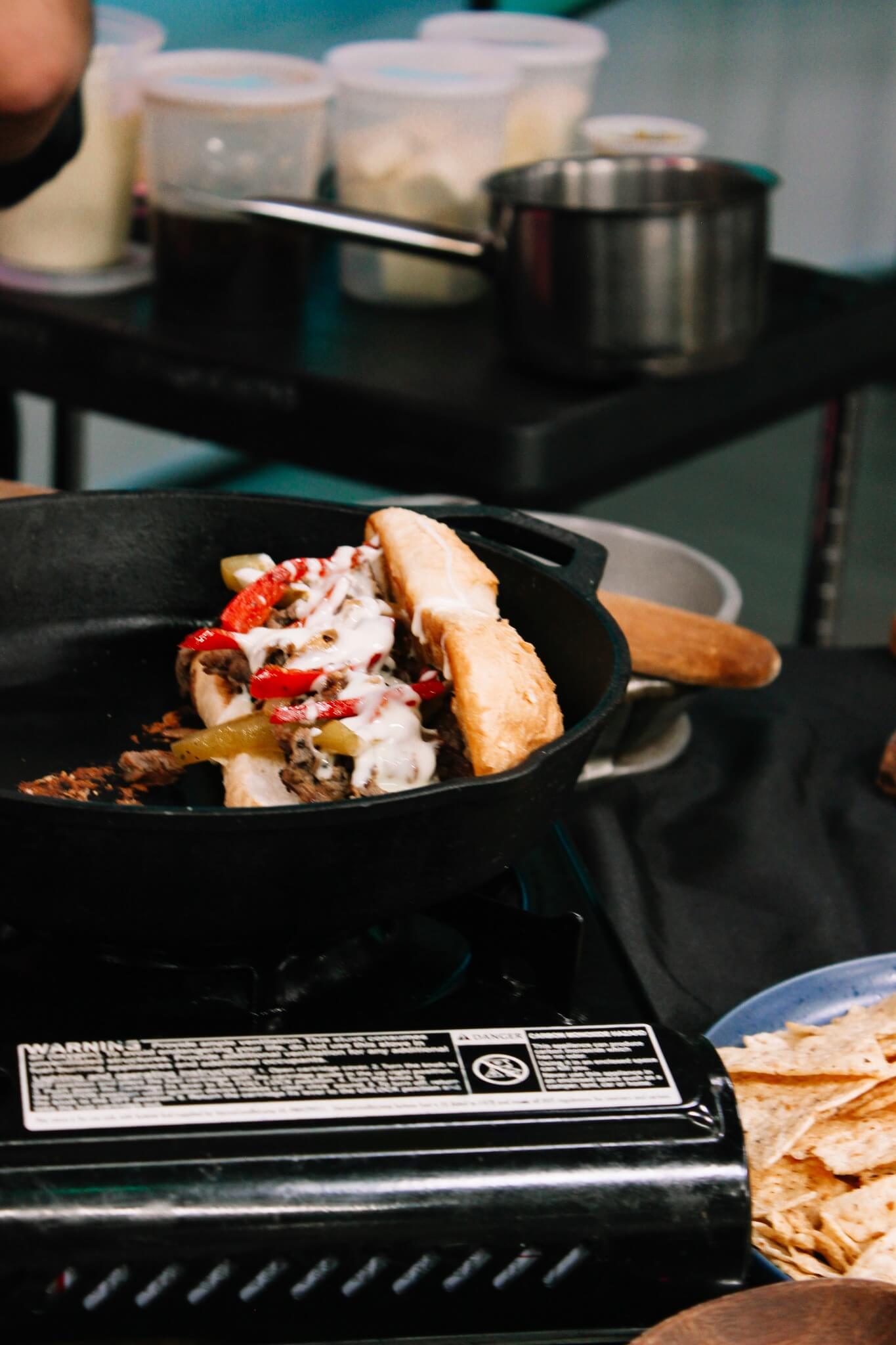 Philly Steak Sandwich
1.5  tsp. Grapeseed Oil
6 oz. Thinly Shaved striploin Steak
Salt
Freshly Ground Black Pepper
½ oz. Red Bell Pepper, thinly sliced
½ oz. Green Bell Pepper, thinly sliced
½ oz. Yellow Onion, thinly sliced
1 6-7" Hoagie Roll, halved lengthwise
1.5 tsp. Butter, melted
1.5 oz  Jalapeno cheese sauce 
2.5 oz. Au Jus (recipe below)
Preheat the oven to 325 degrees.
Heat oil in a cast iron skillet over medium heat.
Season the shaved strip steak with salt and pepper.
Working in batches, place steak in the skillet in a single layer and cook 2-3 minutes per side, just until it starts to crisp around the edges.
Remove steak and cover to keep warm.
Put peppers and onions into the same skillet and season with salt and pepper. Cook for 5-6 minutes, until the onions are translucent.
Brush the cut edges of the hoagie roll with the melted butter.  Top the bottom half with the meat, the peppers and onions, and then the cheese.  Place both halves of the hoagie on an oven-safe sheet pan.
Place in a preheated oven and cook until the cheese is melted.  
Serve with the Au Jus as a dipping sauce.
Au Jus
½ Cup Beef Stock
1 Sm. Sprig Fresh Rosemary
4 Black Peppercorns
Combine all ingredients in a small saucepan over medium heat.  Simmer until reduced by half.  Remove the rosemary and peppercorns to serve.
Jalapeno Cheese Sauce
2 cups  Heavy cream
1.5 lbs   White american easy melt
¼ lbs     White cheddar cheese
1            Fresh Jalapeno  fine diced
4 oz       Pepper green chilis dice
Place all ingredients in a double boiler on low heat, stirring occasionally until melted.