On season 3, episode 2 of Cooking with the Kriks we are happy to welcome back to the show chef Serge and Mary Krikorian's son, Brian Krikorian! In case you missed the last episode, Brian just became the co-owner (with his new bride, Raechel) of Different Dough Pizza Co. in Bryant, Arkansas. Chef Serge and Brian are showing us how to make this unique recipe for a delectable French toast dish. Read on to hear more about the history of this sweet breakfast treat and don't miss the tutorial found here on Cooking with the Kriks:
The history of French toast can be traced back to ancient times. It was likely created as a way to use stale bread that would otherwise go to waste – clever! The earliest versions of French toast can be found in Roman cookbooks that go back to the 4th and 5th centuries, but the modern name "French toast" originated in medieval Europe. In France, the dish was called "pain perdu," which means "lost bread" in French, referring to the practice of using bread that was about to be thrown away. 
French toast made its way to America with the early settlers. It became a common dish in colonial times and was often flavored with spices like cinnamon and nutmeg. Over time, it evolved into the breakfast staple that is enjoyed today. While French toast has been traditionally made with plain white bread, there are numerous variations and regional differences in its preparation. Today, French toast continues to be a beloved breakfast option around the world, enjoyed for its simplicity, versatility, and delicious taste.
Grab the recipe below and don't forget to go SUBSCRIBE, LIKE and COMMENT over on Cooking with the Kriks – it really helps our channel, thank you!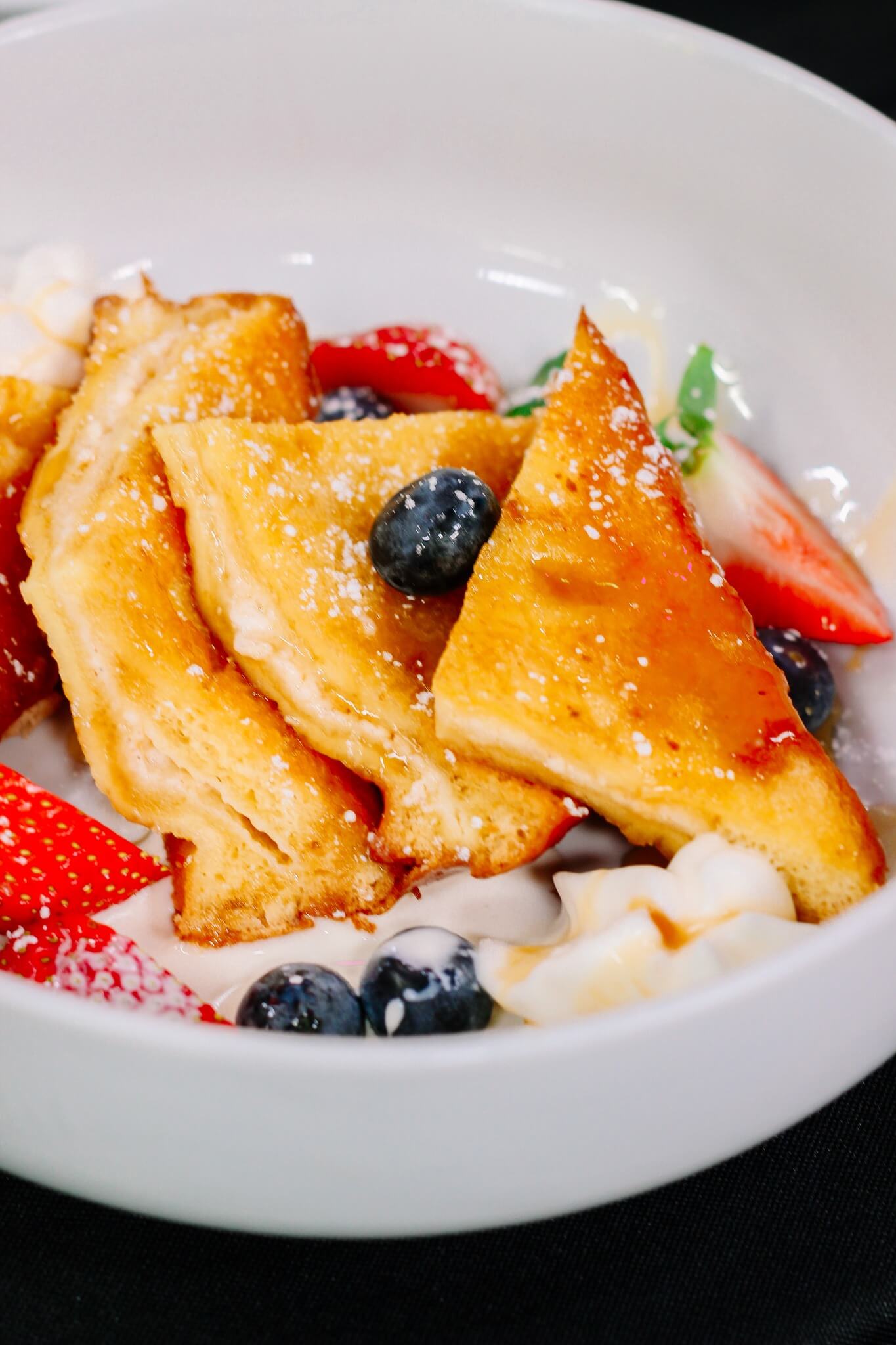 OMG! French Toast Recipe
2 Servings 
Custard Base: 
2 Eggs, Beaten 
½ Cup Heavy Cream 
2 Tbls. Maple Syrup 
For the Toast: 
4 Slices Brioche Bread 
½ Cup Mascarpone Cheese 
2 Tbls. Heavy Cream 
½ tsp. Vanilla Extract 
½ tsp. Ground Cinnamon 
1 tsp. Sugar 
Pinch of Salt 
Lemon Zest 
For the Coating: 
4 Tbls. Unsalted Butter, melted 
2 Tbls. Brown Sugar 
2 Tbls. Maple Syrup 
Vanilla Cream: 
1 Cup Heavy Cream 
1 tsp. Vanilla Extract 
Garnish: 
Caramel Syrup 
Maple Syrup 
Fresh Strawberries 
Fresh Blueberries 
Toasted Coconut 
For the Custard: In a medium bowl, combine the beaten eggs, ½ cup heavy cream, and 2 Tbls. maple syrup. Mix well and set aside.
For the Toast: Combine the mascarpone cheese with the heavy cream, vanilla extract, cinnamon, sugar, salt and lime zest and mix well. Spread the mixture evenly on two slices of brioche bread and top with remaining slices of bread. 
On a baking sheet, combine the melted butter, brown sugar and maple syrup and spread evenly around the pan. 
Dip the stuffed toast in the custard mixture to evenly coat and then lay on the sheet pan in the coating and then turn them over to coat the other side. 
Cook in a preheated 350 degree oven for 10-15 minutes, until golden brown. 
Meanwhile, for the Vanilla Cream, combine the heavy cream and vanilla extract in a mixture and whip until soft peaks form. 
To serve, put the toast on a plate and top with the caramel, Vanilla Cream, maple syrup, fresh berries and toasted coconut. OMG! That's good French Toast!!