More fabulous recipes by chef Serge Krikorian are here! These recipes were originally presented on THV11's The Vine TV show and now you can grab it at the bottom of this blog post but first, let's learn some more about these mouth-watering dishes. Pork Chops with Balsamic Reduction is a flavorful and elegant dish that combines tender pork chops with a tangy-sweet balsamic reduction sauce. With its creamy, cheesy goodness, Au Gratin Potatoes can stand alone as a hearty vegetarian main course or shine as a delightful side dish to complement a variety of main dishes. Read on for more…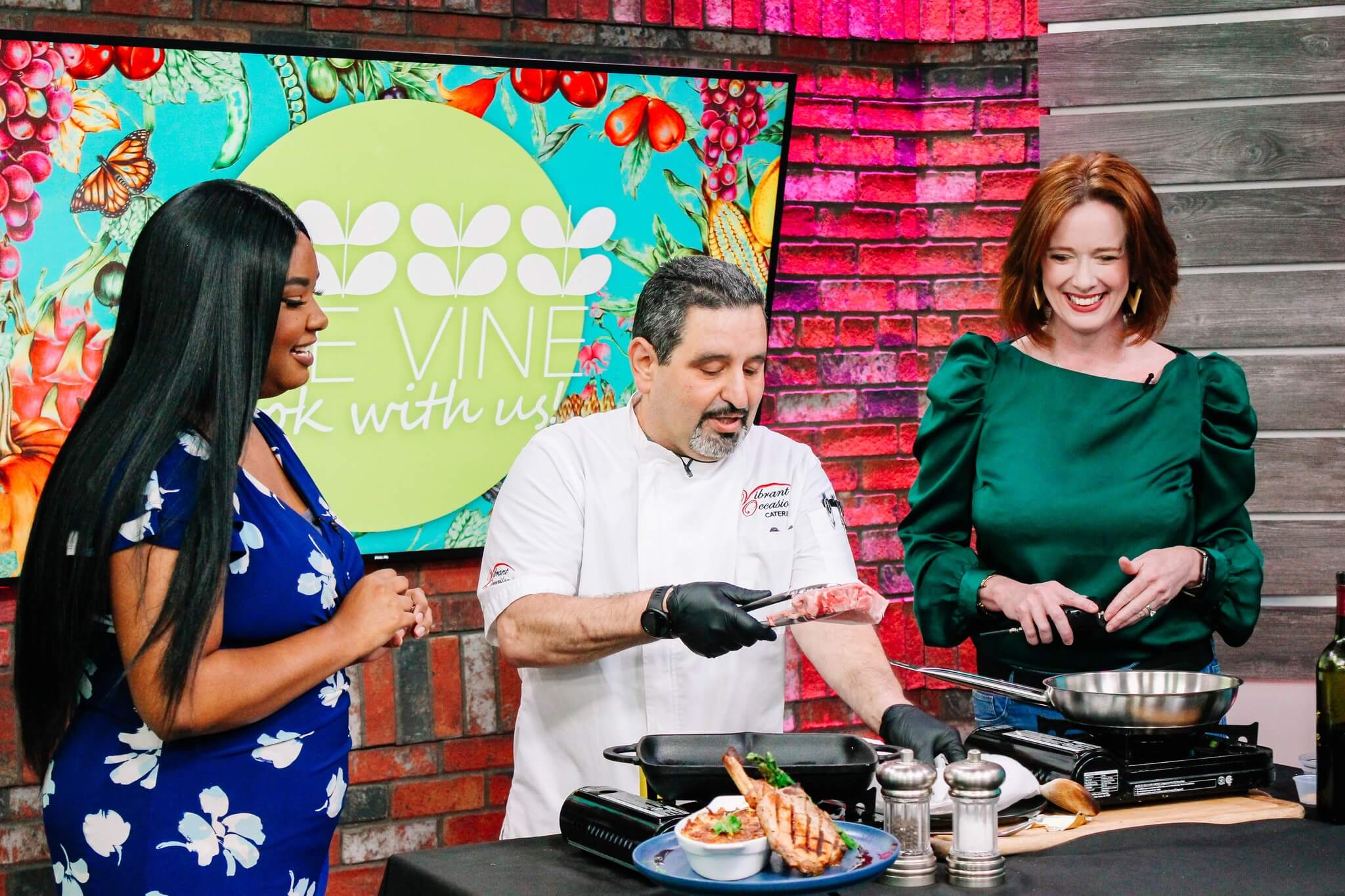 Balsamic vinegar has been used in Italian cuisine for centuries. The rich and complex flavor of balsamic vinegar complements the savory taste of pork chops perfectly, creating a harmonious combination. This dish is versatile and can be served on a variety of occasions. Its sophisticated presentation and delicious taste make it ideal for special occasions such as dinner parties, anniversaries, or holiday gatherings. It also works well as a gourmet weeknight dinner option when you want to elevate your evening meal.
Au Gratin Potatoes, also known as scalloped potatoes, is a delicious and comforting dish consisting of thinly sliced potatoes layered with a creamy cheese sauce and baked until golden and bubbling. The term "au gratin" originates from French cuisine, with "gratin" referring to the crispy or browned crust that forms on top of a dish when it is baked or broiled. Its warm, comforting nature makes it an excellent choice for a range of occasions and combinations. 
When it comes to sides that pair well with pork chops with balsamic reduction, there are several options. Ultimately, the choice of sides depends on personal preferences and dietary restrictions. The key is to select sides that enhance the flavors and textures of the dish, while also considering the occasion and desired overall dining experience.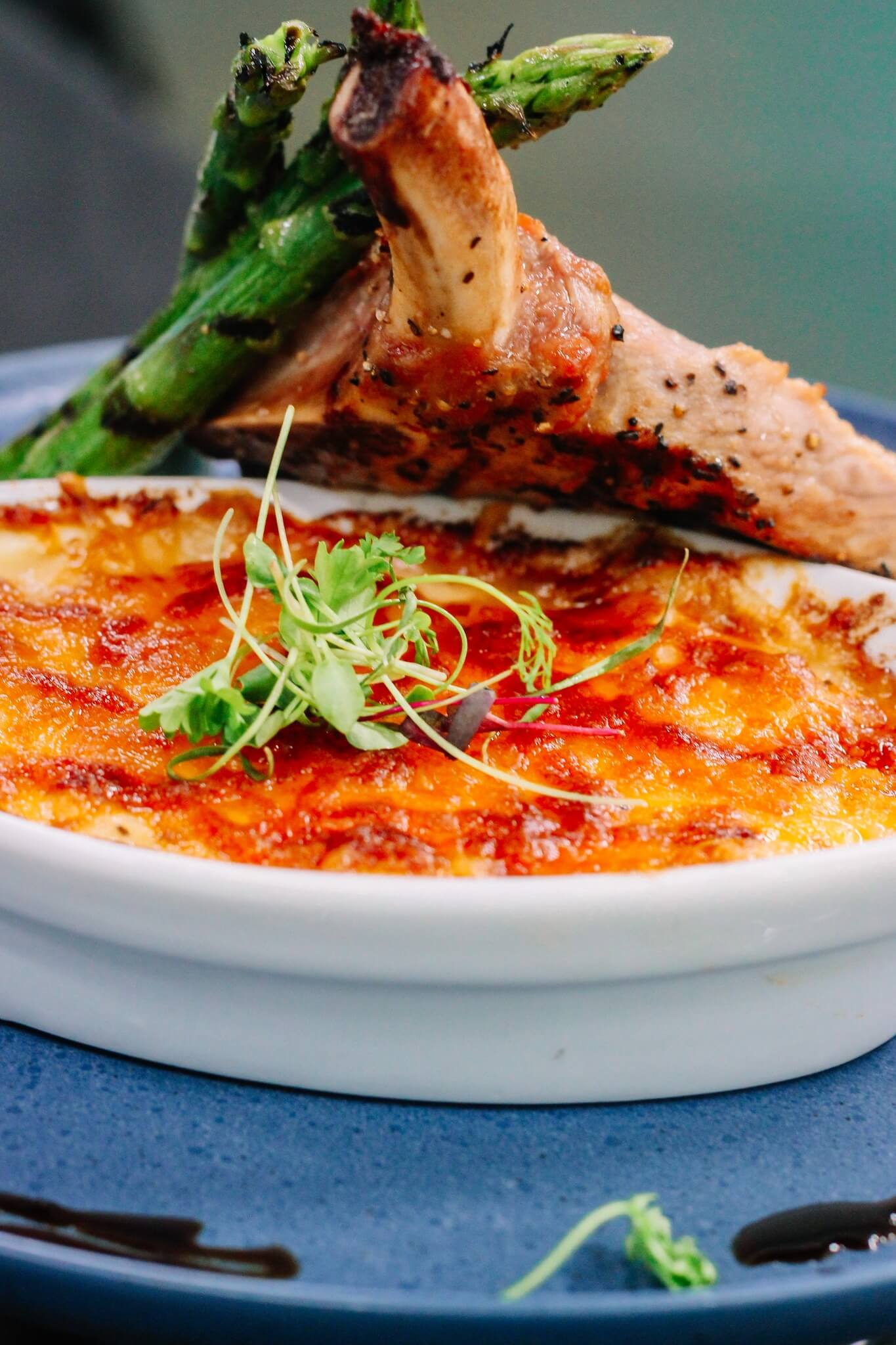 While we chose au gratin potatoes as the side for this presentation, here are a few other popular choices that pair well with pork chops with balsamic reduction:
Roasted Vegetables: The caramelized flavors of roasted vegetables like carrots, Brussels sprouts, or sweet potatoes add a hearty and earthy component to the dish.
Garlic Mashed Potatoes: Creamy mashed potatoes infused with garlic provide a comforting and classic side that balances out the tanginess of the balsamic reduction.
Grilled Asparagus: Lightly grilled asparagus spears bring a vibrant and fresh element to the plate, enhancing the overall visual appeal and taste of the dish.
Wild Rice Pilaf: The nutty flavors of wild rice pilaf provide a wholesome and satisfying accompaniment to the pork chops, adding texture and depth to the meal.
Mixed Greens Salad: A simple salad with fresh mixed greens, cherry tomatoes, and a light vinaigrette can serve as a refreshing and light side that complements the richness of the pork chops.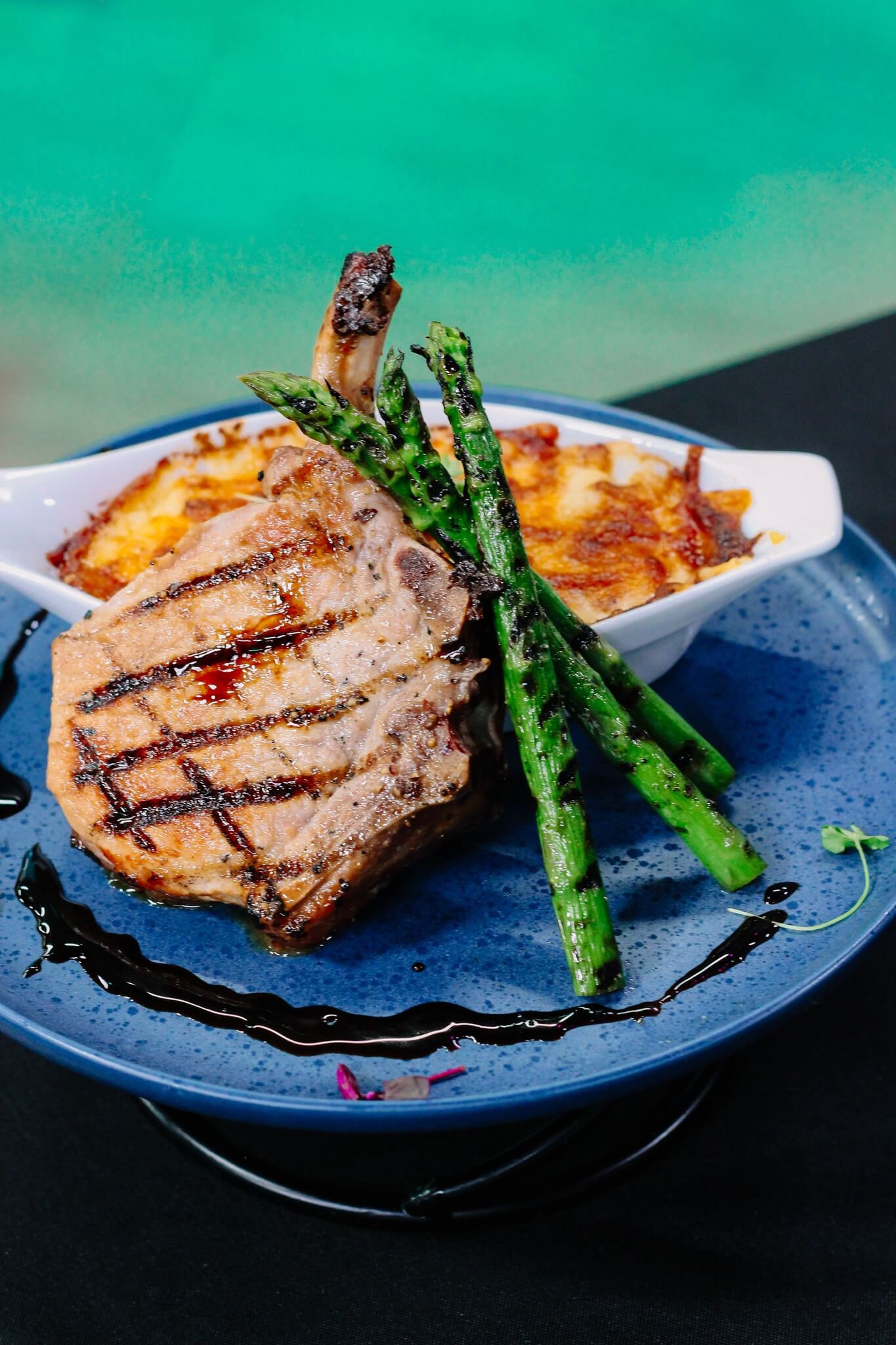 Pork Chop with Balsamic Reduction
2 bone in frenched prime pork chop, 1" thick
½ tsp. Kosher salt
½ tsp. course ground black pepper
1 Tbls. olive oil
2 pats unsalted butter
1 recipe Balsamic Reduction (recipe below)
Take the bone in pork chops out of the refrigerator 30 minutes prior to grilling so that it gets to room temperature.
Heat your cast iron grill pan over medium high heat.
Rub the pork chops with olive oil and season with salt and pepper.
Place the pork chop in the hot grill pan, fat edge down to render the fat.  Once fat is rendered, grill for 4 to 5 minutes on each side until the internal temperature reaches 145 degrees.
Place the cooked chops in a warm place and top each with a pat of butter.  Tent with foil and allow them to rest for 5 minutes before serving topped with Balsamic Reduction.
Balsamic Reduction
1 Tbls. olive oil
1 Tbls. minced shallots
1 garlic clove, crushed
1/2 cup aged balsamic
1 Tbls. honey
Sprig of rosemary
1/2 tsp. dijon mustard
1 tsp. unsalted butter 
In a saucepan, saute the shallots in olive oil for 2 minutes over medium heat.  Add the garlic and saute for another minute.
Add the remaining ingredients, except the butter, and bring to a boil.  Turn down the heat and let simmer for 10 minutes.
Take the sauce off the heat, stir in the butter, and serve.
Au Gratin Potatoes
2 Tbls. unsalted butter, plus additional to butter casserole dish
1/2 medium onion, minced
1 garlic clove, minced
1 1/4 tsp. salt
1/2 tsp. course ground black pepper
3/4 cup chicken stock
1 1/4 cup heavy cream, plus a little more, if necessary
1 1/2 lbs. russet potatoes, peeled and thinly sliced 1/8" thick (a mandolin is good for this)
2 cups shredded cheddar
3/4 cup shredded provolone
1/4 cup shredded parmesan
Preheat the oven to 425 degrees.
Melt 2 Tbls. butter in a dutch oven and sauté the onion over medium heat until soft and translucent. Add the garlic, salt, and pepper and cook for about 30 seconds. 
Add the sliced potatoes, chicken stock, and heavy cream to the pot and bring to a good simmer (not a boil).  If needed, add more heavy cream to cover the potatoes. 
Cover, reduce the heat to medium-low, and gently simmer until the potatoes are nearly tender when pierced with a knife, about 15 to 20 minutes. Taste and adjust seasoning, if necessary.
Transfer the mixture to a buttered 8 x 8″ or equivalent sized baking dish. 
Combine the cheeses and sprinkle over the top of the potatoes.  Set the baking dish on a baking sheet and cook in the preheated oven for about 25-30 minutes for the casserole or just until the sauce is bubbling and the cheese is melted and the potatoes are cooked through. Cool a few minutes before serving.