One of our favorite "friendors" (vendor-friends) came to our kitchen recently and we could not be more excited to share the fourth episode of Cooking with the Kriks. Chef Serge Krikorian is creating his extra cheesy recipe for Chicken Alfredo Lasagna with Joe Snell and Joanna Perry from Central Arkansas Entertainment in Little Rock, Arkansas. Joe and his daughter, JoAnna, operate the largest dual entertainment booking agency and event production company in the state. Joe and JoAnna requested one of their all-time family favorites, lasagna, and Chef Serge tells us why he is so good at making this Italian favorite – psst…it has something to do with his first restaurant he and his wife, Mary, opened in the 90s! Learn an easy, extra cheesy way to make this classic dish with an Alfredo twist on the fourth episode of Cooking with the Kriks.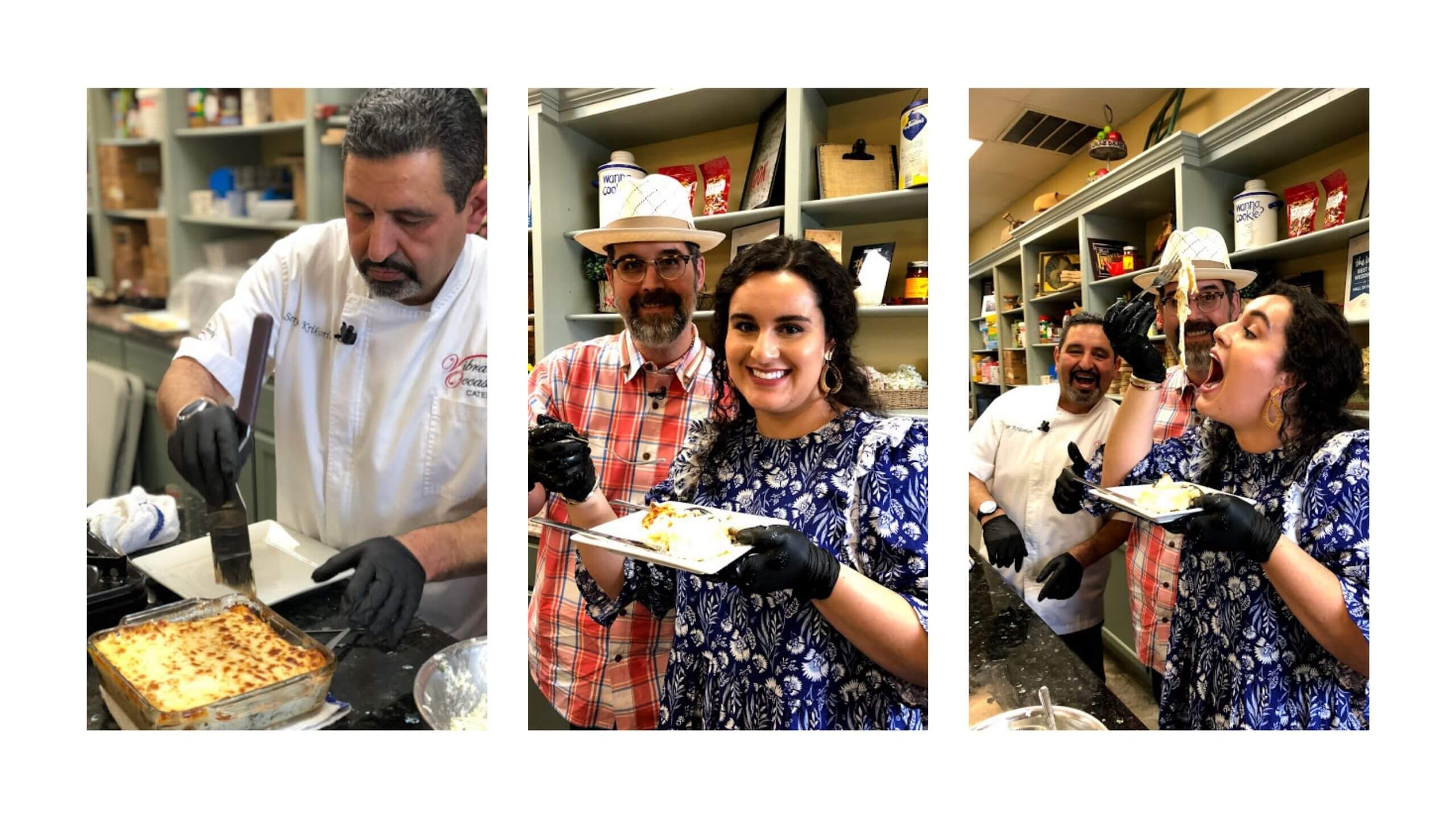 The Central Arkansas Entertainment family are not only colleagues of Vibrant Occasions Catering, but we also had the honor of catering JoAnna's wedding last year at The Grandeur House in Little Rock, Arkansas. Go check out JoAnna and Josh Perry's wedding day in the 2020 issue of Real Weddings in Arkansas here. Want to know what JoAnna and Josh served their guests on their special day? Nobody left hungry with our prosciutto-wrapped stuffed chicken, Jack Daniels honey-glazed ham, an array of comfort food sides and a bananas foster action station. Clearly, JoAnna and Josh have marvelous taste. Here's what JoAnna said about her wedding catering:
"If you want to have the BEST meal of your life on the BEST day of your life (or any day lol), this is who you need to book! Serge, Mary, Leah, and the entire VO team are all very professional, easy to work with, and very kind! It's obvious that they truly care and have a passion for what they do… that goes a long way! Everything we chose was customizable, although our food was SO GOOD at the tasting that nothing had to be changed! We had SO MANY compliments on the food from our wedding. Even my Pastor preached about it from the pulpit the next day! 
P.S. I HIGHLY recommend the Banana Foster Action Station… it was a HUGE HIT with the guests!" – JoAnna Perry 
Grab this Chicken Alfredo Lasagna recipe below, and enjoy it with your family!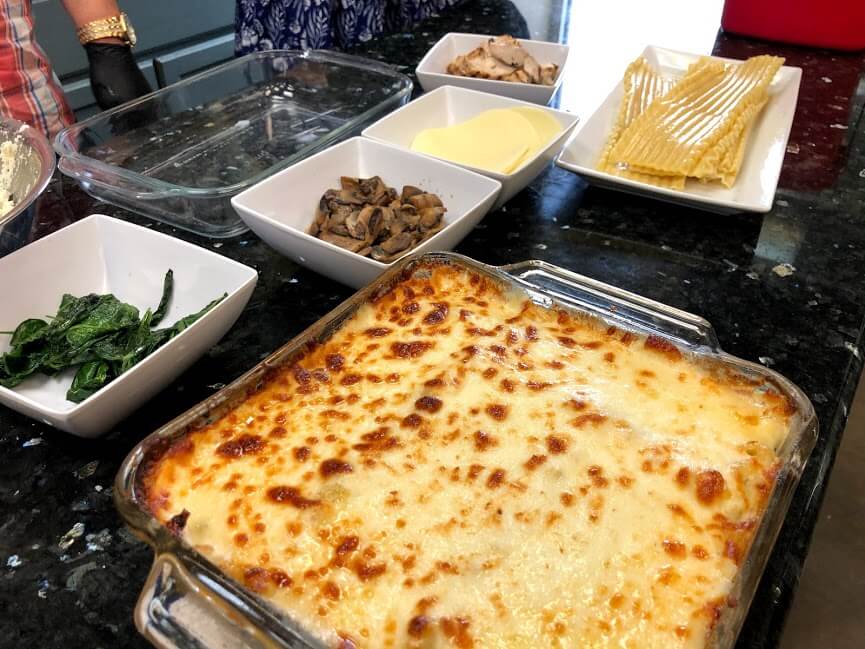 Chicken Alfredo Lasagna
1 Recipe Alfredo Sauce (recipe below)
1 Recipe Lasagna Cheese (recipe below)
8 oz. Boneless, Skinless Chicken Breast, seasoned with salt & pepper to taste
8 oz. Lasagna Noodles
6 oz. Provolone Cheese
5 oz. Shredded Mozzarella Cheese
5 oz. Sliced Button Mushrooms, sautéed in olive oil & seasoned to taste with salt & pepper
2 oz. Fresh Spinach, sautéed in olive oil & seasoned to taste with salt & pepper
Cook lasagna noodles according to package directions. Rinse with cold water, oil lightly with vegetable oil and set aside. 
Grill seasoned chicken for 3-4 minutes per side, put in an oven-safe pan and cover with foil. Bake in the oven until cooked through, approximately 15 minutes or until the internal temperature reaches 165 degrees. 
When chicken has cooled, slice into thin slices. 
Spread a small amount of alfredo sauce on the bottom of a 9″x13″ baking pan. Lay lasagna noodles in a single layer on the bottom of the pan and top with more alfredo sauce. Dot with 1/2 of the lasagna cheese, 1/2 of the cooked strips of chicken, 1/2 of the sliced, sautéed mushrooms, 1/2 of the sautéed spinach. Tear the provolone cheese into strips and dot lasagna with 1/2 of the provolone cheese. 
Repeat the layers. 
Top with 3rd layer of lasagna noodles and alfredo sauce. Cover with foil and bake for 45 minutes. Uncover and top with shredded mozzarella cheese. Return to the oven until mozzarella is melted and slightly browned.
Allow to rest 5 minutes before cutting.
For the Alfredo Sauce:
3 Cups Heavy Cream
3 Tbls. Cornstarch, mixed with 3 Tbls. water
1/2 Tbls. Granulated Garlic
1 Cup Shredded Parmesan Cheese
1/4 tsp. Ground Black Pepper
1/4 tsp. Kosher Salt
Bring cream to the point of boiling but DO NOT boil. Slowly add cornstarch mix until thickened. Add cheese and garlic. Add salt and pepper to taste. Adjust seasonings as needed.
For the Cheese Mixture:
6 oz. Ricotta Cheese
1/4 Cup Shredded Parmesan Cheese
1/4 Cup Shredded Mozzarella Cheese
1/8 Cup Minced Parsley 
2 Tbls. Cup Heavy Cream
1/2 tsp. Minced Garlic
Salt and Pepper to taste
Combine all ingredients in a large bowl and mix well.