Chef Serge Krikorian is creating his Blackened Chicken with Cajun Cream Sauce recipe with Kaitie Gill from
Kaitie Gill Weddings
(formerly Sailboat Weddings) in Benton, Arkansas for the
eighth episode
of
Cooking with the Kriks
.  Kaitie is one of Arkansas' premier wedding planners and started her business in 2017.  She loves "all things weddings," her family and Jesus.  Due to her phenomenal organizational skills, in 2020 she decided to start up a Virtual Assistant business called
Kaitie Gill Consulting
where she helps other business owners keep things straight while offering her positive attitude to boot.  Whether hiring Kaitie to plan your wedding or virtually assist with your business, you can be certain that she is your go-to gal for streamlined processes and keeping life in order!  As a mother (and expecting mother during this taping!), Kaitie likes recipes that are simple to do after a long day of work that her picky little eater, Lincoln, will love to eat, too.  Learn this easy, creamy pasta recipe on the
eighth episode
of Cooking with the Kriks.  Please give us a follow on our
Youtube channel
to stay up-to-date on all the latest episodes
here
.
Vibrant Occasions Catering has worked with Kaitie Gill Weddings many times over the years.  You can see a couple of our weddings we have worked with Kaitie on our blog
here
and
here
.  One of the highlights of our year, was seeing one of our mutual clients' who were also high school sweethearts featured on
Southern Bride here
.  A wedding planner or coordinator can truly make the day run smoothly and turn out even more beautiful as you can see from these gorgeous blog posts!
"Vibrant Occasions is one of my absolute favorite wedding and event caterers to work with as a wedding planner.  The staff is always kind and professional.  And, of course, the food is always mouth-watering.  I always overhear guests talking about how delicious everything is when I work a wedding they have catered," says Kaitie Gill.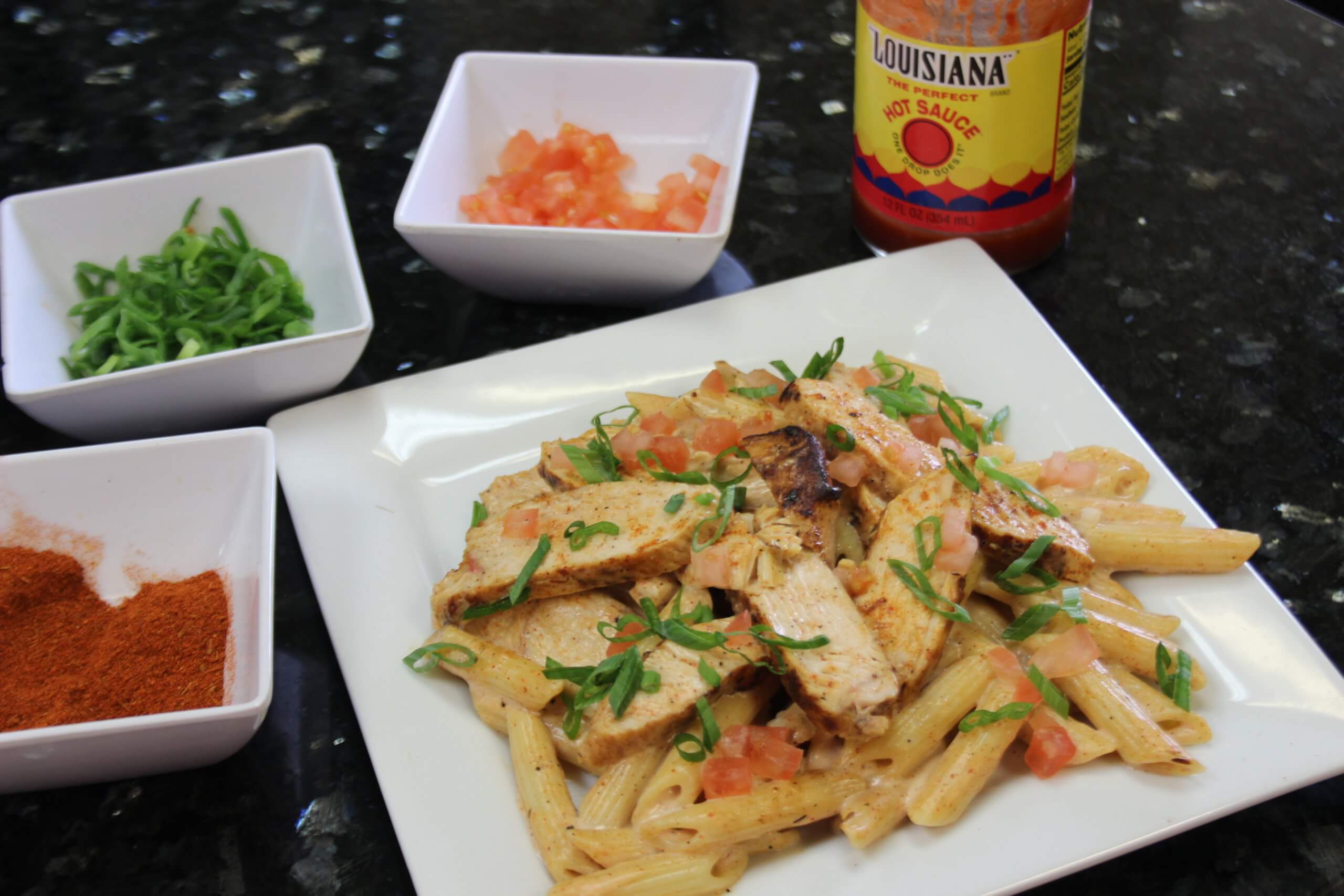 Blackened Chicken Pasta with Cajun Cream Sauce
Ingredients
1 Tbls blackened seasoning*
4  6-8oz boneless, skinless chicken breasts
1 Quart heavy cream
2 Tbls Cornstarch
¼ Cup of Cold Water 
1 Tbls Worcestershire sauce
1/2 tsp ground black pepper
4 tsp blackened seasoning*
3/4 tsp salt 
1/8 tsp Louisiana Hot sauce
1 Pound ziti pasta (1 box)
Instructions
Preheat oven to 350 degrees. Prepare chicken breasts, then sprinkle with 1 Tablespoon of Blackened Seasoning — or more if you like it spicier! 
Heat a cast iron skillet on medium-high heat and add a little cooking oil. Place chicken in hot pan and cook for 3 minutes. Turn, and cook 3 minutes on other side. Then place breasts in an oven-safe pan and cover with foil. 
Bake in preheated oven for about 20 minutes —until the internal temperature reaches 165 degrees.
Cook bowtie pasta according to package directions, drain and set aside. 
In a small bowl, mix together cold water and cornstarch until smooth, and set aside. Heat heavy cream in a pot to the point of boiling, then slowly add the cornstarch mix to the heavy cream until thickened. Add 4 tsp of blackened seasoning, salt, and black pepper — tasting and adjusting as necessary.
To Serve: Spoon sauce over warm bowtie pasta and top with sliced blackened chicken. Mix together.
*Blackened Seasoning
1.5 Tbls Qty 
1/2 Tbls paprika 
1/10 Tbls salt 
1/4 Tbls cayenne pepper
1/4 Tbls ground cumin
1/4 Tbls dried thyme
1/10 Tbls ground white pepper
1/8 Tbls onion powder
Combine all ingredients and mix well. Store in an airtight container.