As we move through a busy wedding season, it is refreshing to see couples put so much thought and care into their rehearsal dinner decor, mood and of course, their food!  With Our Mobile Kitchen, Vibrant Occasions Catering has the ability to cater exquisite dinners virtually anywhere.  Our team has noticed that Our Mobile Kitchen comes in so handy for clients wishing for a dinner under the stars whether it is in their own backyard, a park or we have even catered a lovely wedding in a cow pasture (true story!).  It was such a pleasure catering this rehearsal dinner for Julie and Ellie at their riverfront home in Heber Springs, Arkansas.  This rehearsal dinner was led by the fabulous Christa Wilkins with JLK Weddings.
"Planning with these two was a blessing.  They were fun and open!  Through the events these two made sure that myself and my husband, Dom, were just as comfortable as their guests.  We had the best time eating and socializing with all of their family and friends.  I enjoyed hearing about their rugby days, med school, traveling adventures and how these two were smitten from first sight.  After 17 years together, this weekend full of festivities seemed perfect to celebrate their commitment.  To know these two is to love them and I'm pretty fond of them," says Christa Wilkins with JLK Weddings.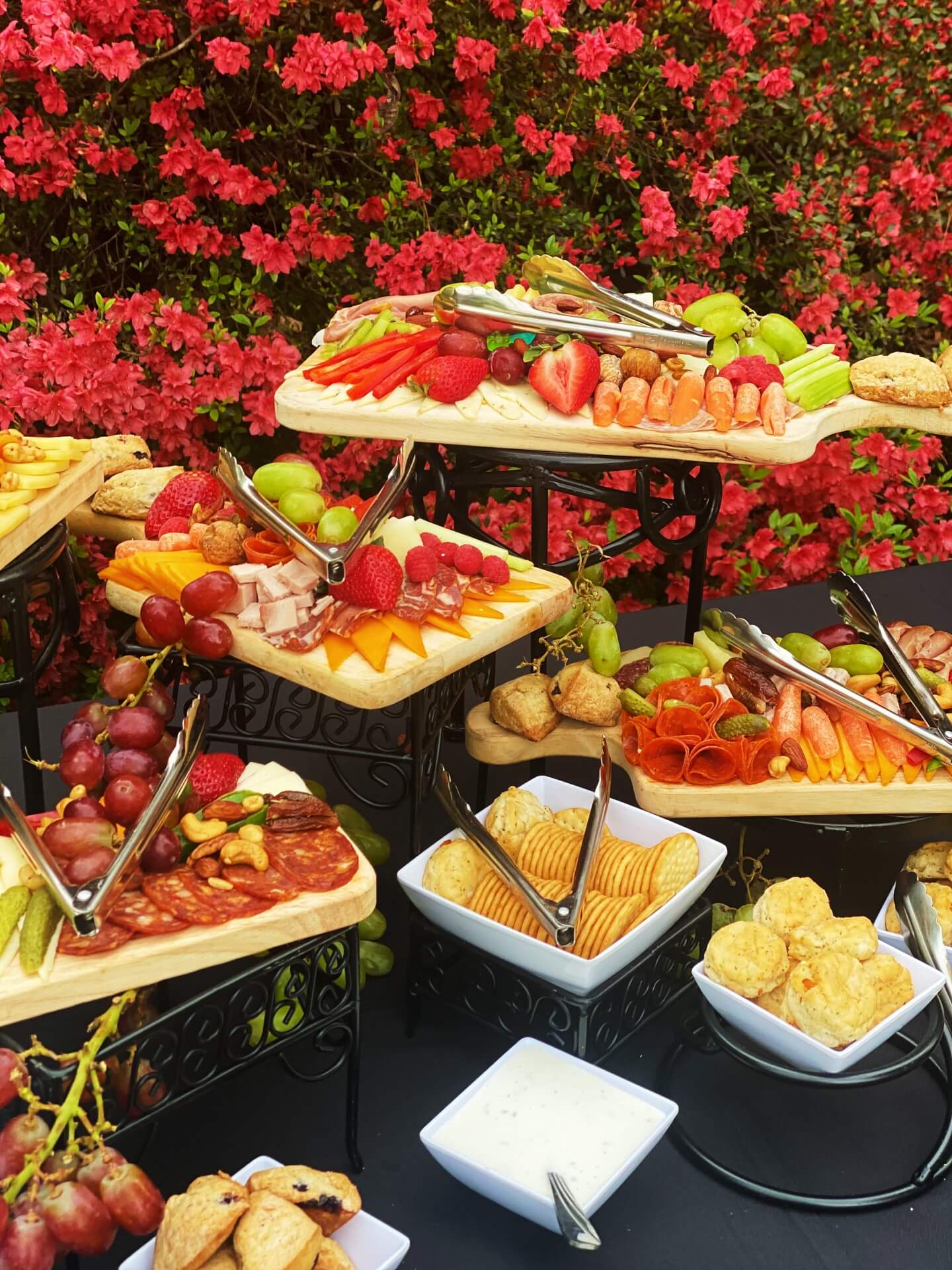 Check out Julie and Ellie's delectable four-course rehearsal dinner menu.
COCKTAIL HOUR
Chef's Board 
A beautiful display of the chef's choice of assorted domestic and imported meats and cheeses. Served with fresh fruit, fresh vegetables, and fresh-baked breads 
DINNER MENU PLATED MEAL
1st Course
Dinner Salad 
A garden salad served with house-made vinaigrette 
Dinner Rolls 
Freshly-baked dinner rolls 
2nd Course 
Pan Seared Salmon Filet with Lemon Butter Dill Sauce 
Wild caught salmon filet draped with a savory lemon butter sauce with a touch of fresh dill 
Pan Seared Filet 
Black Angus Choice Beef Filet pan-seared to medium rare, served draped with a veal reduction and a white truffle cream sauce 
Broccolini 
Fresh broccolini roasted with extra virgin olive oil 
Wild Mushroom Ragout 
An assortment of fresh wild mushrooms sauteed with creamery butter and a touch of garlic 
Yukon Gold Mashed Potatoes 
Buttery Yukon Gold potatoes whipped with butter and cream 
Vegan Entree: Spaghetti Squash with Arrabiata Sauce 
Roasted spaghetti squash topped with a delicious tomato-based sauce, served with a side of fresh vegetables
DESSERT MENU
Bananas Foster Action Station 
Sweet bananas flambeed with brandy in a caramel sauce and served over vanilla ice cream 
Berries Foster Action Station
A trio of sweet berries flambeed with brandy in a caramel sauce and served over vanilla ice cream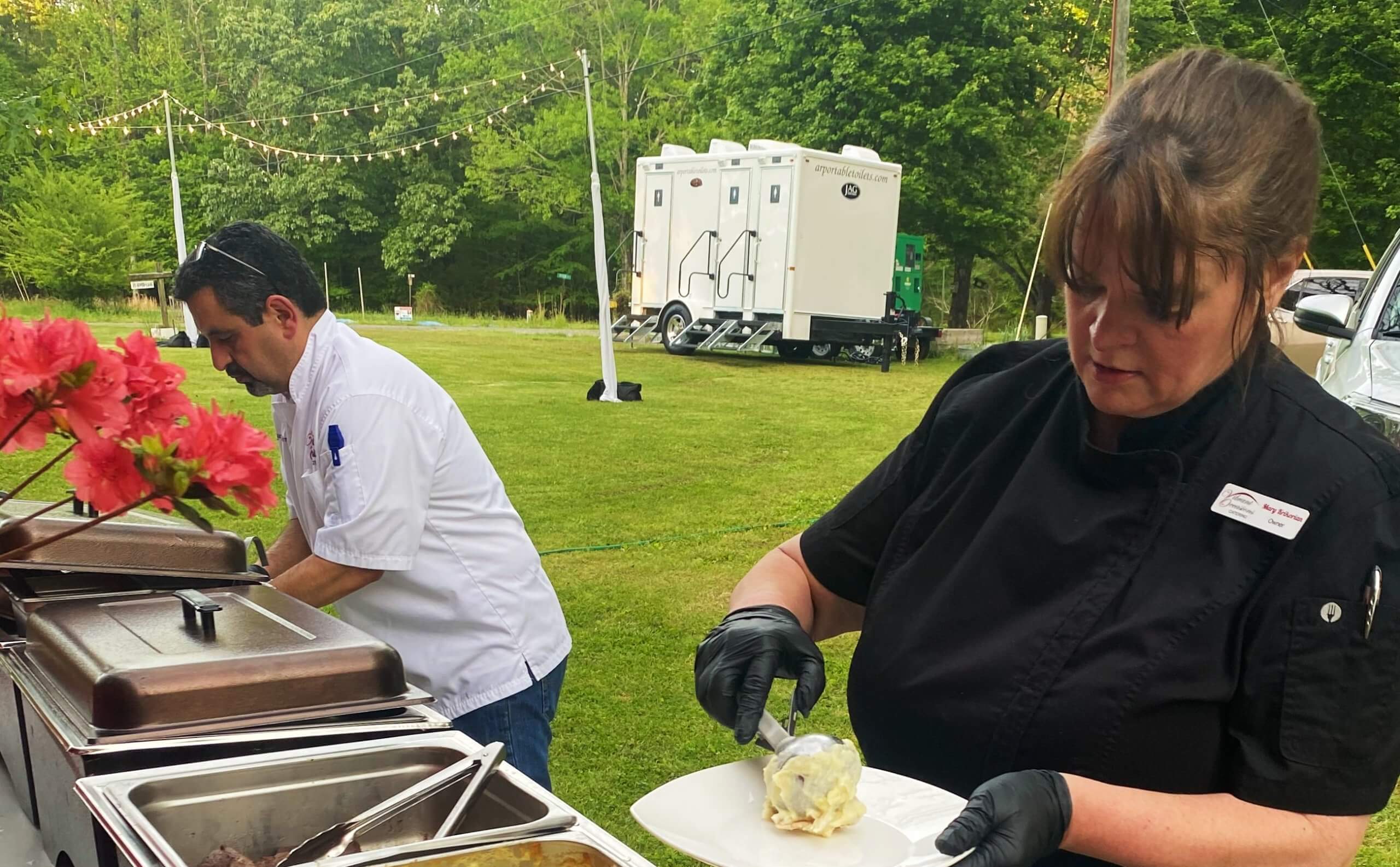 Many caterers are limited in their ability to provide the freshest and most complex menu items because often there is no access to a working kitchen at event venues and especially outdoor locations.  Certain foodie favorites must be prepared on location to be done right, well and safely.  That's why catering companies with mobile food trucks who offer dynamic menu options are the latest luxury event planning secret.
Makes cooking on site outside the geographical area of the company's corporate location possible.

5-star quality food cooked fresh.

Foods that do not travel well such as seafood, steaks, and pizza can be prepared on site and taste their best.

Options to add special grills and smokers to events whilst keeping all equipment tucked away.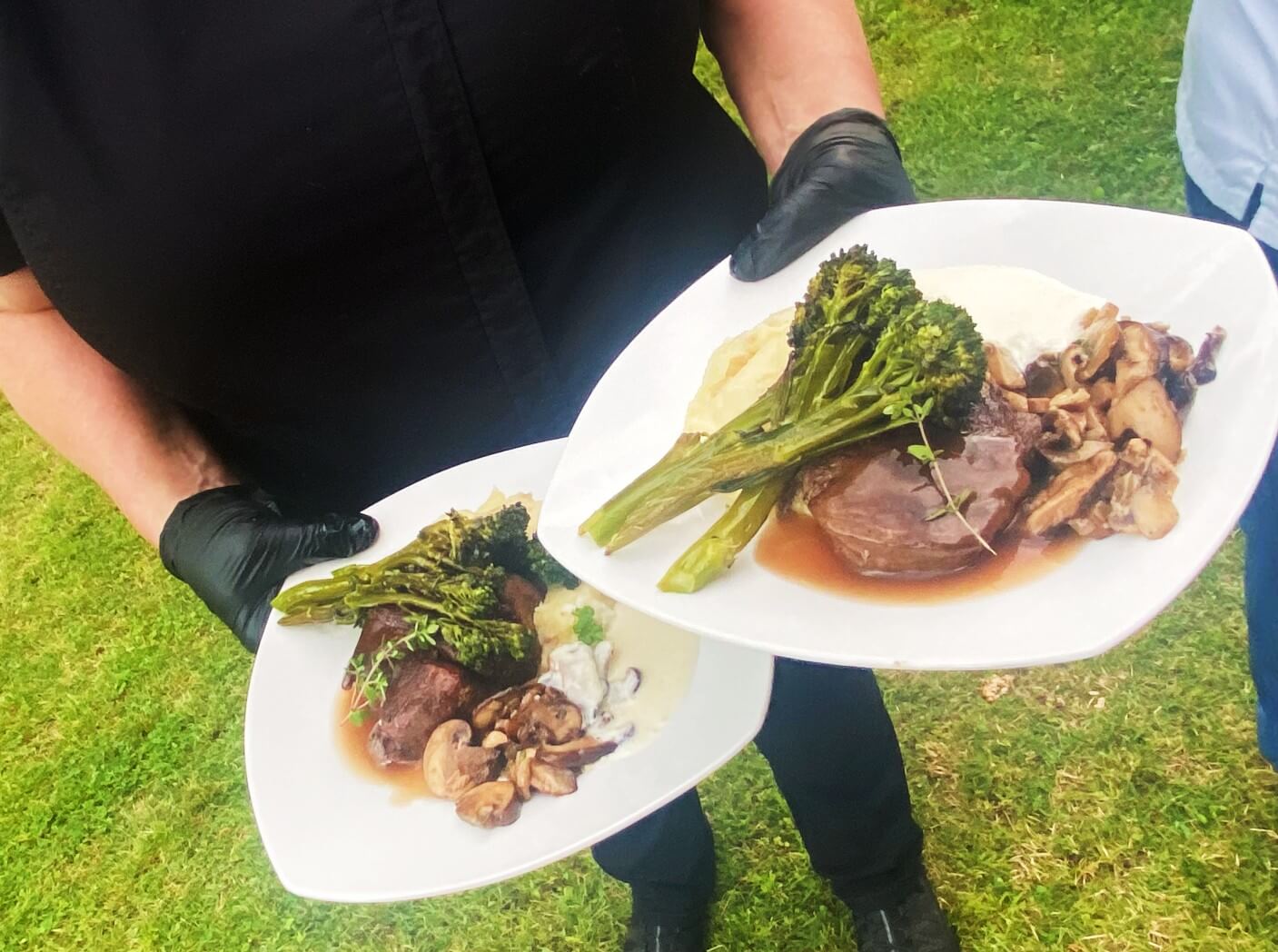 Choose your presentation style:
Plate and serve

– Opt for a plate and serve event and our friendly staff will cater to your guests' every need.  Our staff will artfully plate each meal and butler to your guests' seats for a fine dining experience.

Traditional buffet

– We will display your meal in our silver dining chafing dishes buffet-style to suit your wishes.  You have the option of self-serve or choose to have our staff stand behind the buffet and serve your guests' plates as they walk through the buffet line.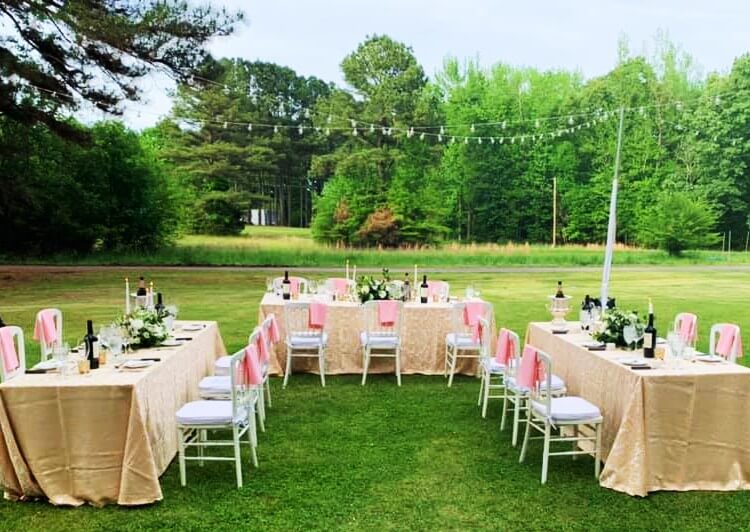 "The couple's riverhaus was the perfect backdrop – the flowing river with patio that stretched right into the river and the beautiful bulbs spread across the property created an ambiance like nothing else. But….it was the amazing vendors who came together to truly celebrate this love," reflects Christa Wilkins with JLK Weddings.
(Please excuse our cell phone pics via Mary Krikorian and Christa Wilkins…too pretty not to share!)