On this episode of Cooking with the Kriks, Chef Serge Krikorian is cooking chicken Alfredo with Little Rock fashion blogger and
Instagram influencer
, Mary Kate Whitmire from
Chic Little Honey
.  Mary Kate works in corporate advertising for her full-time career, so she knows a thing or two about captivating an audience.  Chic Little Honey started out as a blog to showcase Mary Kate's fashion sense while she was in college. Seven years later, she is still creating amazing content for her audience with the goal of inspiring others to build their own closets with items they love, feel good in, and make them smile. While Mary Kate considers Chic Little Honey as a side hustle, her blog has grown with her over the years due to her consistency and readers will find topics on interior design, personal style and even cooking and baking ideas.  You may recognize Mary Kate since she has been featured on the
Vibrant Occasions Catering blog
in the past – she and her husband, Colton, had the opportunity to sample one of our Valentine's Day special dinners, so be sure to check that out! She has also been featured as a
Rising Star on The Memphis Voyager
(this gal is going places!).  Learn this chicken Alfredo recipe featured on the
fourteenth episode of Cooking with the Kriks
.
Don't forget to SUBSCRIBE to the Cooking with the Kriks Youtube channel and stay up-to-date on all the fabulous recipes Chef Serge Krikorian shares just for you!  Stay tuned for future episodes featuring flavors from around the world (Chef Serge's specialty!).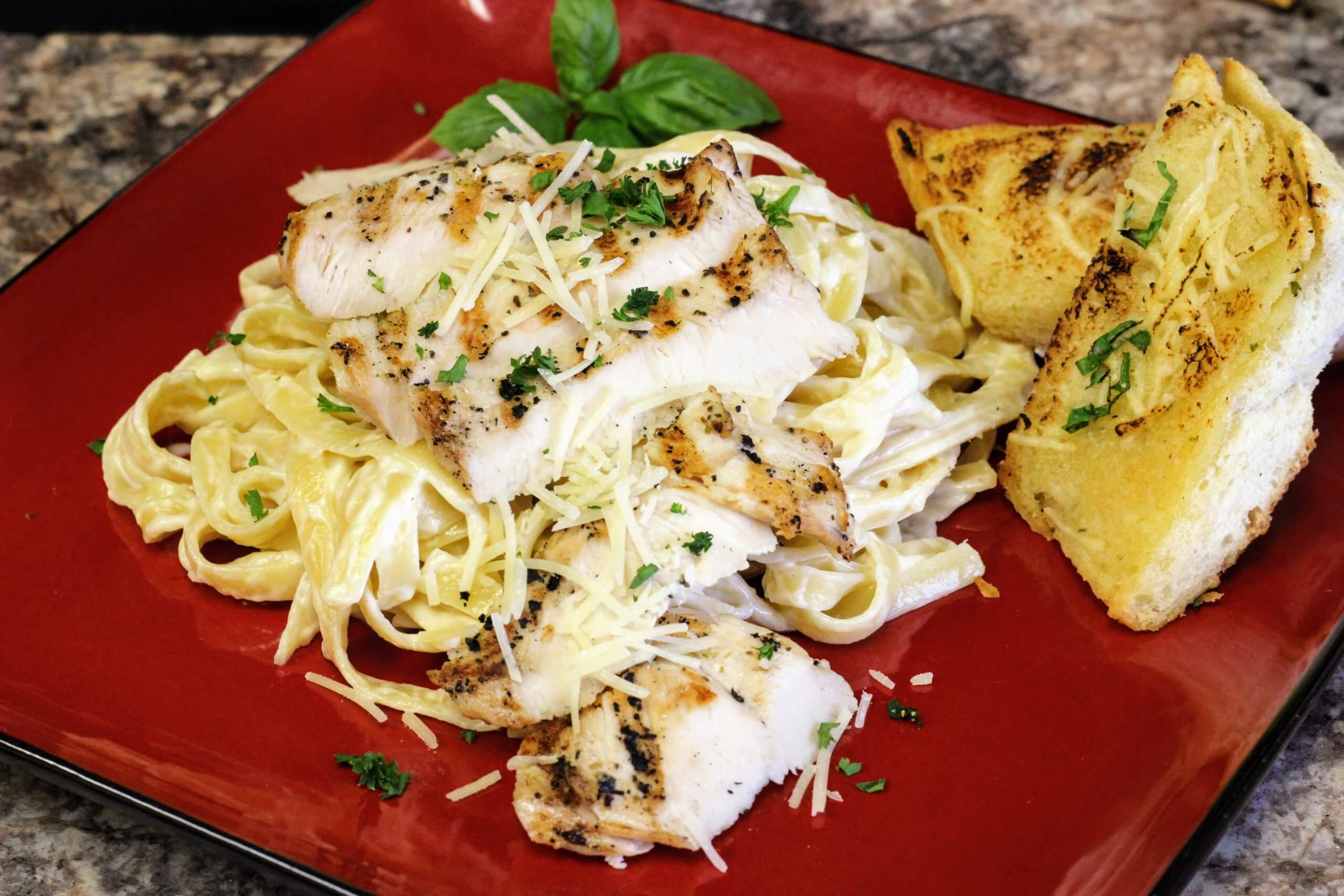 Chicken Alfredo Pasta
Ingredients
2 Tbls olive oil
1 Tbls lemon juice
1 tsp dried basil
1 tsp dried oregano
1 tsp salt
1/2 tsp ground black pepper
2 tsp minced garlic
1 pound boneless skinless chicken breasts
1/2 pound fettuccine pasta
3 Tbls butter
1/4 tsp minced garlic
2 Tbls flour
2 Cups heavy cream
½ Cup shredded parmesan cheese
1/8 tsp ground black pepper, to taste
1/8 tsp salt, to taste
Dash of nutmeg (optional)
Fresh parsley (optional topping)
More shredded parmesan cheese (optional topping)
Instructions
Combine the first seven ingredients (everything listed above the chicken breast) and mix well. Pour mixture over chicken breasts in a resealable bag and marinate for at least four hours in the refrigerator.
After the chicken has had time to marinate, heat a skillet to medium-high heat. Cook chicken for approximately 5 minutes on each side. Once the chicken's internal temperature reaches 165 degrees, remove from heat and let it rest.
Meanwhile, prepare fettuccine according to package directions. Be sure to salt the water! Reserve about ½ cup of pasta water.
For the sauce, heat a bottom heavy pot to medium-high heat. Add butter and let it melt. Once melted, add minced garlic. Cook for 1-2 minutes, just enough to allow garlic to infuse with butter. Add flour to the pan, and stir well. Cook for 1-2 minutes, you're looking for a blonde roux. Lower heat and add heavy cream. While stirring, add parmesan cheese. Add salt, pepper and nutmeg to sauce once cheese has melted. Stir sauce until it starts to thicken, then remove from heat.
Slice chicken into strips. Plate pasta, then spoon over desired amount of alfredo sauce, then lay one of the sliced chicken breasts on top. Sprinkle it with fresh parsley and parmesan cheese, and enjoy!
Chef Serge Tip: If the sauce is too thick, add a tablespoon of pasta water at a time until it reaches desired thickness.