Kimberly Trell was born and raised in Arkansas and is the CEO, planner and floral designer at Kimber Décor Events.  Kimber Décor Events has been in business almost 12 years with offices in Little Rock and a newly-opened location in Fayetteville, Arkansas.  Trell's team prides itself on making every wedding unique, never duplicating a design.  From intimate dinner parties to grand-scale galas to weddings, each event is given special attention to detail.  Trell started out her professional career in business administration and landscape design.  The Kimber Décor Events staff also includes a senior coordinator and designer, hospitality managers, setup and breakdown crew, and team administrators.  Get to know more about this hard-working boss mom, trailblazer and versatile planner by reading our interview with Kimberly Trell below!
What does a normal workday look like for you? 
No day is normal for a planner with kids and 20 plus brides. No matter how I organize my planner book, it's always quickly altered. 
Where do you receive most of your design inspiration? 
Hotel interior design and flea markets.
What is your biggest success so far? 
The consistency of being fully staffed for the last 7 years with the majority of the same team members. This allowed us as a team to open a second location in Fayetteville, Arkansas this year. 
What is your biggest disaster story so far and how did you overcome it? 
Past business partner issues. I have resolved the issues by cutting all ties and with the help of an attorney.
Do you prefer to plan huge events or intimate affairs and why? 
I don't really have a preference because sometimes the smaller events require a lot more detailed key components needed for the event by the client. For example, a birthday party for 20 could result in a client request for things that you'd have at a lavish corporate event like grand statement floral pieces.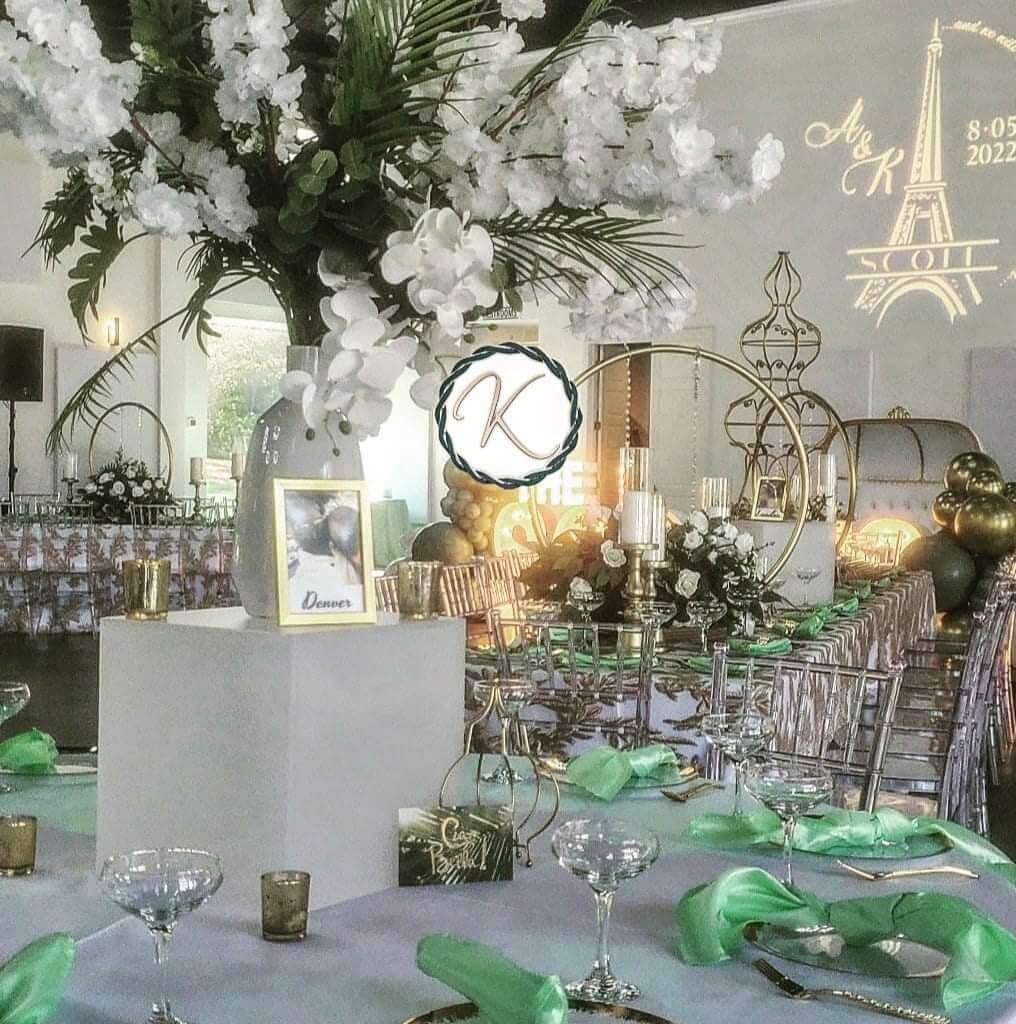 What is your most memorable design so far? 
Each design is memorable because we never duplicate any of our events. This is what makes each of our events special and unforgettable. I will sketch an entirely new idea using the same colors yet different design setup. 
What is the most important thing for a host to keep in mind? 
Follow guidelines, follow the timeline and keep order. Being informative to the guests when questions arise and knowledgeable of detailed key components helps to ease the guests' minds, making them feel welcome helps everyone stay stress-free. 
How important are flowers in a wedding design? 
I believe that flowers are absolutely beautiful, but they aren't a primary necessity of the design for a wedding to make it creative and unique. Whether you utilize real, silk, foam or Sola wood flowers, there's other options to use as long as you allow your imagination to run wild and free. 
How important is food for an event? 
Great food is extremely important for an event. Bonus points when full-service is provided and the staffing is professional and has an outstanding hospitality team. It's very important that whether you're serving appetizers or a full meal that your guests receive a great experience with tasteful food. There's nothing worse than seeing food left on a plate and thrown away from the majority of your guests or they left the event hungry. 
How do you decompress (vacations, meditation, a hobby…tell us)? 
Truthfully and sadly, I don't have the luxury of this opportunity as a single mother. As important as it is for self-care, I just don't get the opportunity for this. This is one of the downsides of being a business owner and not having anyone alongside you to help . I've traveled with my kids to various places, but it's still not a relaxing time for me. I'm driving to get us there, we check-in and the kids are ready for an adventure!  We head to a fun place plus dinner . We return back to the hotel room and it's just consistent movement. The trip is over, I drive back and then it's "back to work I go." No recovery time to rest before heading back into the event planning battlefield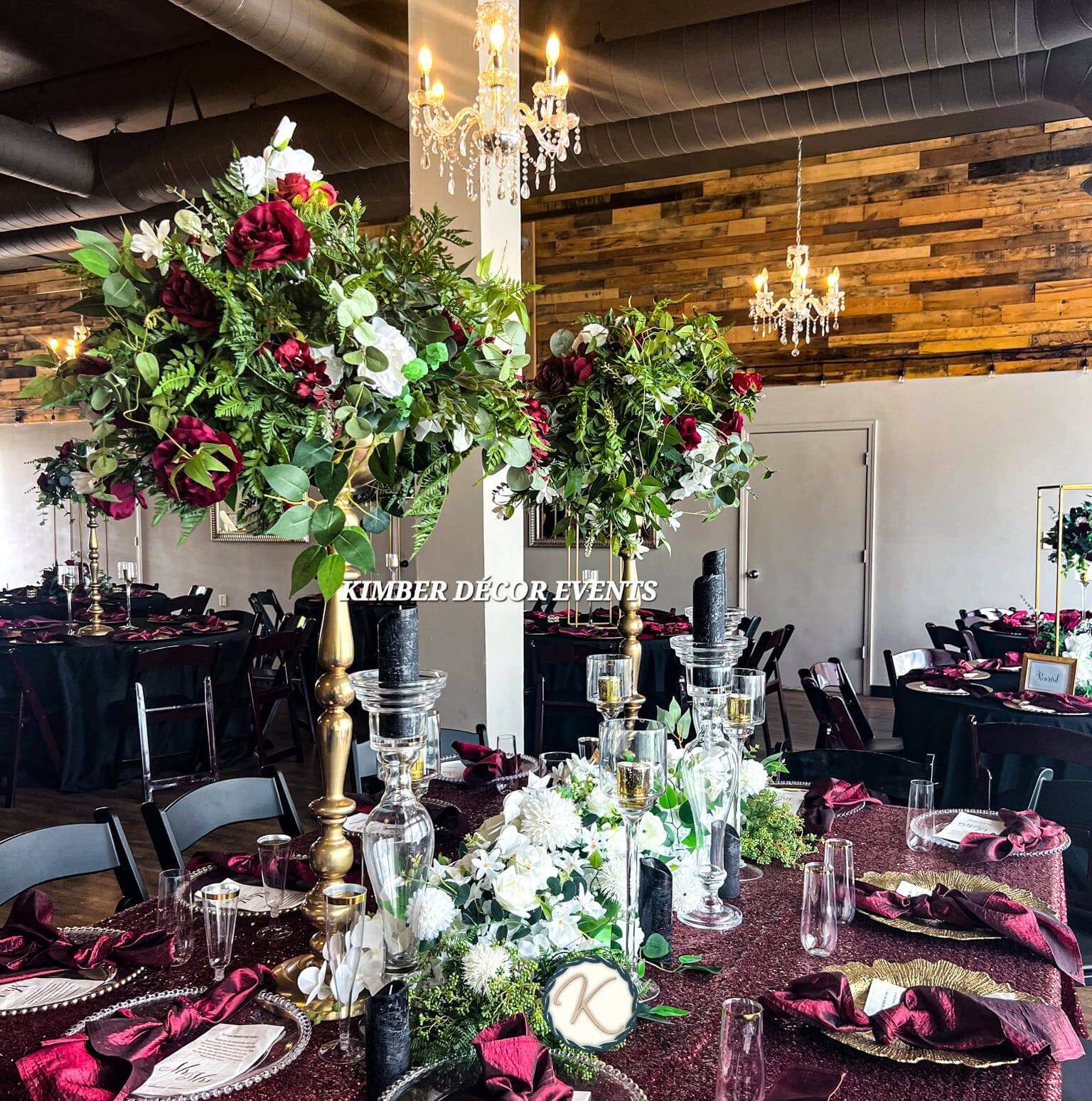 What's the most extravagant party favor you have ever seen? 
Mini bar in a jar.  They were $20.00 per guest at 250 guests. Each guest received some nice mini shot alcohol bottles. There were three bar stations set up for the reception. Liquor was served from 4:30 p.m. to 11:30 p.m. Talk about witnessing a frat house party reunion!
What wedding trends are hip right now?  
Neon personalized signs, pampas grass décor, geometric shaped backdrops, the color "terracotta," flower guy, mobile bars, and TikTok trends for inspiration.
What wedding trend would like to hit the road? 
For traditional weddings, I love when couples find unique ways to make their day extra special. With that being said…wedding registries.  Many couples waste time registering for things then individuals either don't give a gift or just give money. Also name placement cards – I see a lot of guests moving their names to another table or rearrange the names on tables due to guests not attending after being seated. 
If you could give an aspiring event planner one piece of advice, what would it be? 
Stay true to your style . Make sure to educate yourself and use the tools that work best for you. Legally cover yourself and your business. Trust your gut.  Every client you speak with may not be a good fit for your business and that's ok. That means you will not need to have an extra bottle of wine in the fridge for the extra stress planning their event.  Advertise your products when promoting your business. 
What's next for your business?
To infinity and beyond! We are excited to be growing and are enjoying our new location in Fayetteville, Arkansas. 
How can someone find Kimber Décor Events online?
Thank you to Kimberly Trell with Kimber Décor Events for sharing these beautiful photos with us!