Looking for the perfect Valentine's Day breakfast recipe?  Chef Serge Krikorian's Oh my! French Toast recipe is sure to please your Valentine this season!  Chef Serge recently went on THV 11's The Vine with Adam Bledsoe and Ashley King to whip up this delectable dish.  
A little known fact about French toast…it's actually not a French-originated recipe.  Its origins pre-date France's existence as documented in text around 300 A.D. from Rome.  The Roman author, Apicius, included it in his cookbook titled, Cooking and Dining in Imperial Rome. 
French toast has been embraced around the world for ages, so if you want a tried and true breakfast treat look no further.  This makes a great breakfast in bed option for your sweetheart or one the whole family can enjoy.  The trick is to start with a great brioche bread and finish off in the oven 😉  Garnish with plenty of strawberries to give it that extra Valentine's Day feel.  Grab the recipe below and try it in your own kitchen!  
Don't forget you can find even more recipes on our Youtube show, Cooking with the Kriks.  Be sure to hit that Subscribe button: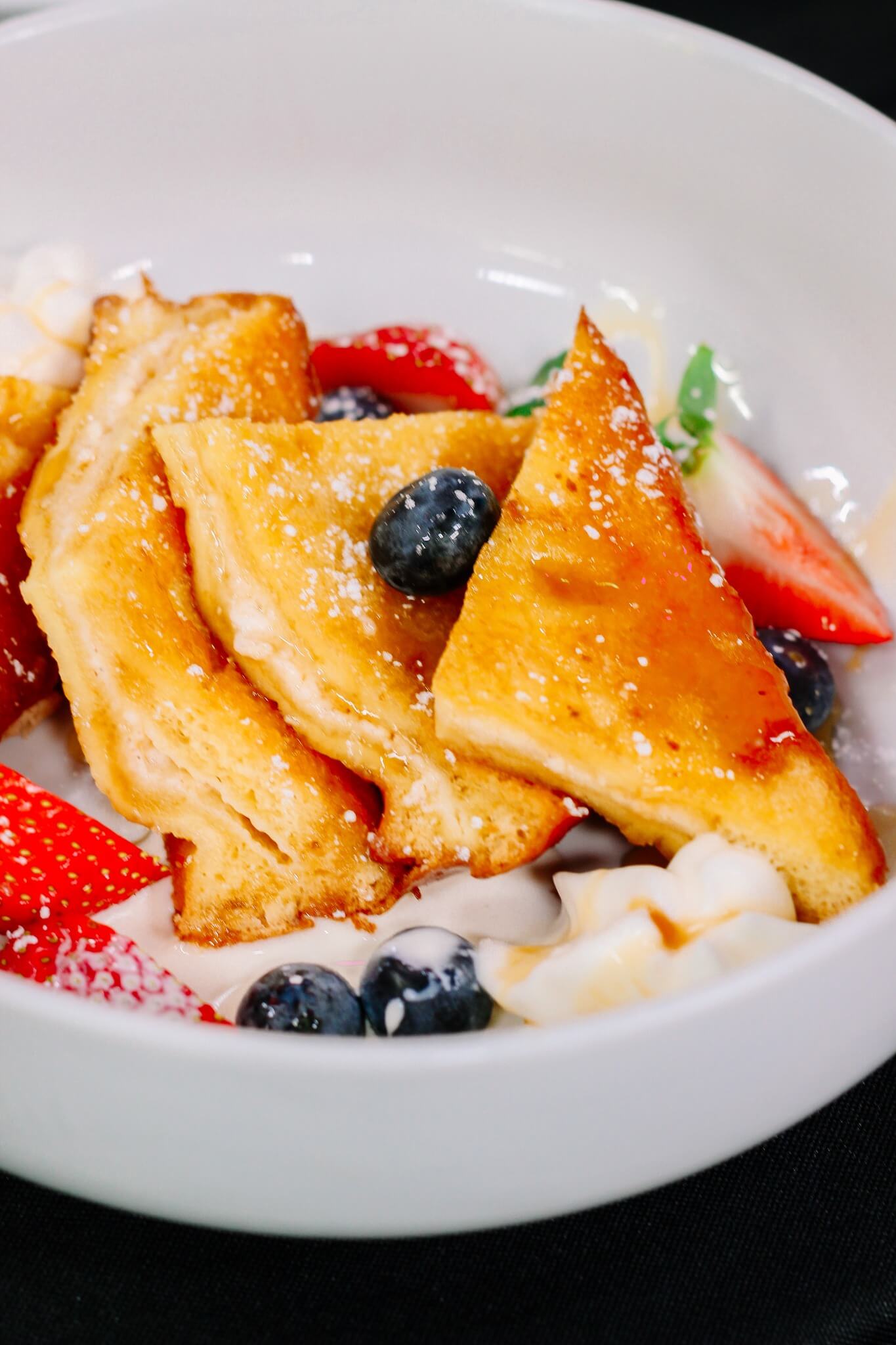 Oh My! French Toast 
2 Servings 
Custard Base: 
2 Eggs, Beaten 
½ Cup Heavy Cream 
2 Tbls. Maple Syrup 
For the Toast: 
4 Slices Brioche Bread 
½ Cup Mascarpone Cheese 
2 Tbls. Heavy Cream 
½ tsp. Vanilla Extract 
½ tsp. Ground Cinnamon 
1 tsp. Sugar 
Pinch of Salt 
Lemon Zest 
For the Coating: 
4 Tbls. Unsalted Butter, melted 
2 Tbls. Brown Sugar 
2 Tbls. Maple Syrup 
Vanilla Cream: 
1 Cup Heavy Cream 
1 tsp. Vanilla Extract 
Garnish: 
Caramel Syrup 
Maple Syrup 
Fresh Strawberries 
Fresh Blueberries 
Toasted Coconut 
For the Custard: In a medium bowl, combine the beaten eggs, ½ cup heavy cream, and 2 Tbls. maple syrup. Mix well and set aside.
For the Toast: Combine the mascarpone cheese with the heavy cream, vanilla extract, cinnamon, sugar, salt and lime zest and mix well. Spread the mixture evenly on two slices of brioche bread and top with remaining slices of bread. 
On a baking sheet, combine the melted butter, brown sugar and maple syrup and spread evenly around the pan. 
Dip the stuffed toast in the custard mixture to evenly coat and then lay on the sheet pan in the coating and then turn them over to coat the other side. 
Cook in a preheated 350 degree oven for 10-15 minutes, until golden brown. 
Meanwhile, for the Vanilla Cream, combine the heavy cream and vanilla extract in a mixture and whip until soft peaks form. 
To serve, put the toast on a plate and top with the caramel, vanilla cream, maple syrup, fresh berries and toasted coconut. 
Oh My! That's good French Toast!!