Welcome back to season 3 of Cooking with the Kriks! After this long break, you know we had to come back with one of everybody's favorites…TACOS! On this episode of Cooking with the Kriks, we are bringing back Brian Krikorian who happens to be chef Serge Krikorian's son and (drum roll, please) the new owner of Different Dough Pizza Co.! That's right, Brian is following in his father's footsteps with a pizza restaurant located in Bryant, Arkansas. Today these two are whipping up pollo asado tacos with all the fixings. Brian has worked at Vibrant Occasions over the years with his parents and is no stranger to good food and good service! His parents, Serge and Mary Krikorian, owned a pizza restaurant when Brian was a baby back in the 1990s in Benton, Arkansas called Sergio's Pizza prior to their formal entry into the catering business.  FUN FACT: Brian recently married the love of his life, Raechel, in their new pizza restaurant! What a fun story they will have to tell their grandkids one day.  This pollo asado recipe is all about the marinade as you will learn in this episode.  Learn how to make pollo asado tacos today featured on season three, episode one of Cooking with the Kriks.
It would mean the world to us at Vibrant Occasions if you would SUBSCRIBE to our channel, like our videos and leave us a comment!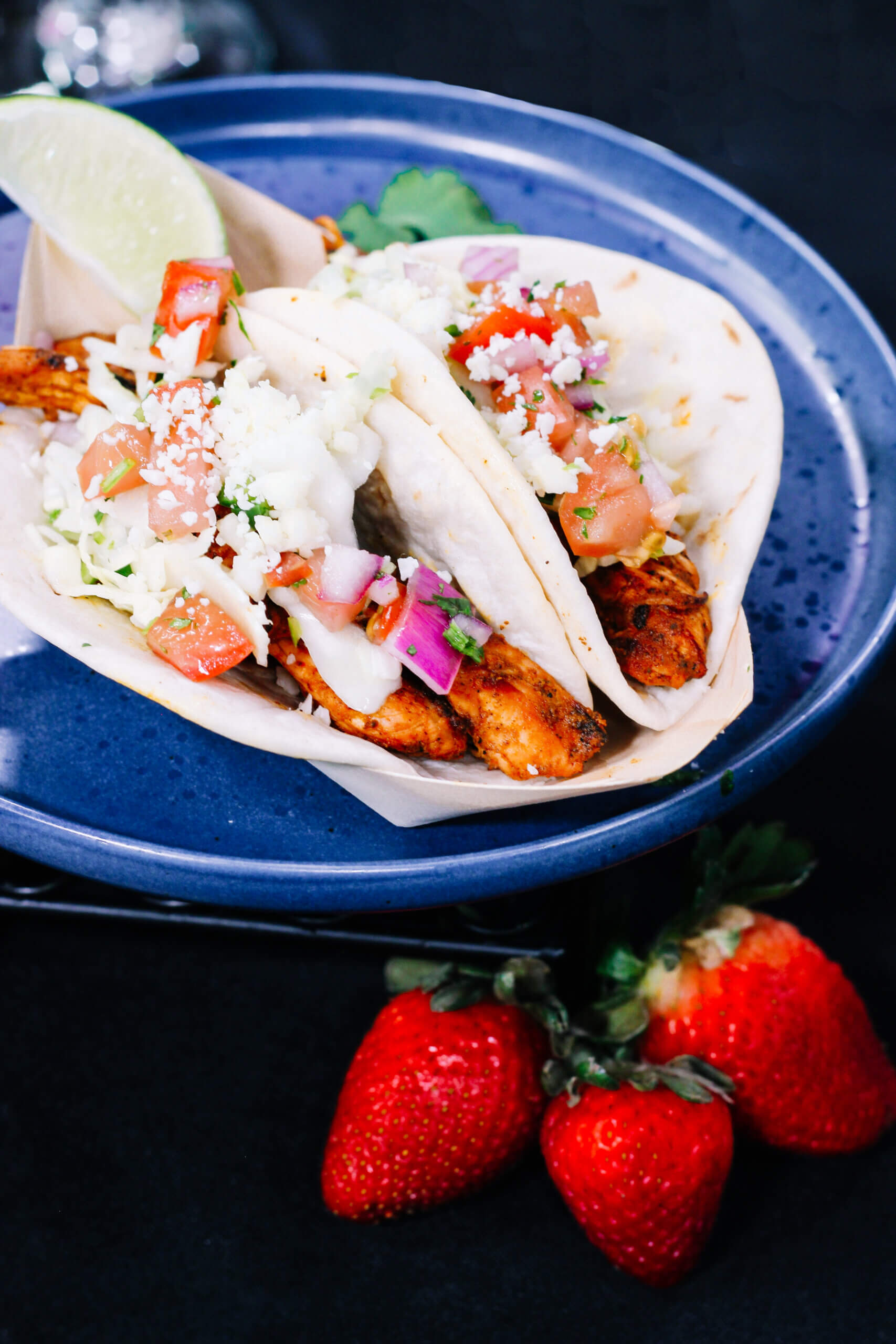 Pollo Asado
2 lbs. boneless, skinless chicken breasts
Juice of 1 orange
2 Tbls. olive oil
Juice of 1 lime
1 Tbls. white wine vinegar
1 Tbls. achiote paste
1 Tbls. ground coriander
1 Tbls. kosher salt
1 Tbls. minced garlic
2 Tsp. paprika
2 Tsp. dried oregano
1 Tsp. ground black pepper
1 Tsp. ground cumin
⅛ Tsp. ground cloves
Cut chicken into small, thin strips.  Set aside.
Combine the remaining ingredients in a blender and blend until smooth.  
Pour the marinade into a large bowl and add the chicken.  Stir to combine.  Cover and refrigerate for at least 4 hours but preferably overnight.
Heat a cast iron skillet or a flat top grill over medium high heat.  Remove the chicken from the marinade and cook, working in batches, until the chicken is cooked through.
Serving Idea #1:  Pollo Asado Tacos
Warm a flour or corn tortilla and fill with the pollo asado.  Top with pico de gallo, slaw made with a touch of lime, chopped fresh cilantro, and a little salt (lime slaw), and a sprinkling of cotija cheese.
Serving Idea #2:  Breakfast Tacos
Scramble 2 eggs using your favorite scrambled egg recipe.  Add the eggs to warm flour or corn tortillas, top with the pollo asado, pico de gallo, lime slaw, and cotija cheese
Serving Idea #3:  Chicken Quesadillas
Top a flour tortilla with shredded mozzarella and cheddar cheeses and top with pollo asado.  Place a second flour tortilla on top.  Heat a skillet or flat top on medium high heat and spray with nonstick cooking spray.  Cook the quesadilla on both sides until golden brown.  Remove from heat and cut into triangles.  Serve with sour cream and pico de gallo.