Chef Serge Krikorian is whipping up the goods for you with this pan-seared steak with brandy cream sauce recipe! This recipe was first presented on THV 11's The Vine show with Adam Bledsoe and Ashley King. We are excited to share the written recipe with you here today and tell you a little more about the dish. 
Everyday is a great day for a steak recipe, but this one is especially impressive for holiday celebrations and dinner parties. It feels festive and livens up a meal leaving guests feeling more than satisfied. Brandy cream is a less rich alternative to brandy butter and is an absolutely mouth-watering addition to any steak. Its creamy texture and savory flavor adds a moisture-rich ingredient that creates a unique twist. It makes a great sauce for many pasta dishes and don't worry if you don't have brandy on hand! You can always substitute an equal amount of rum, bourbon or cognac.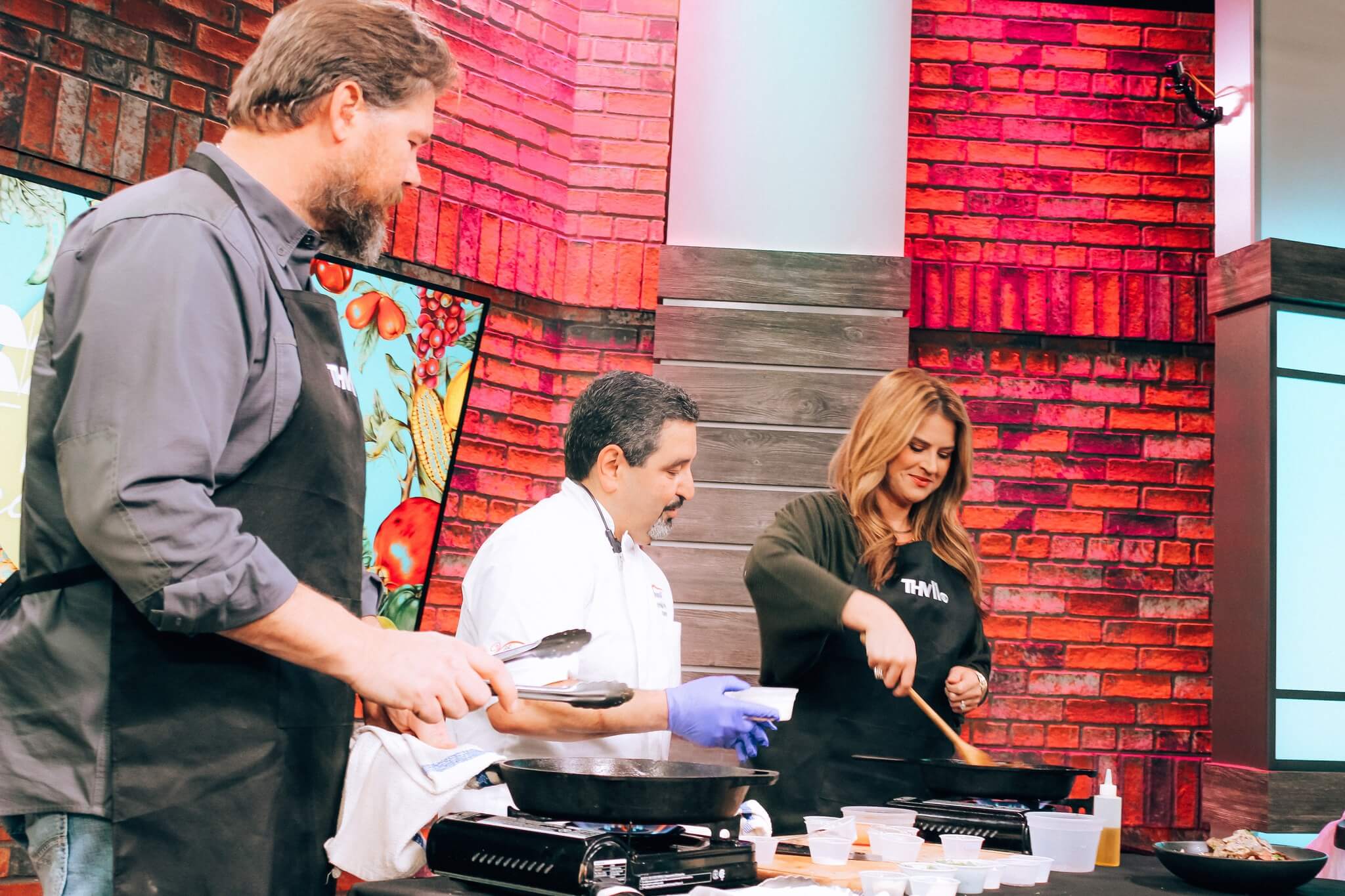 For more amazing recipes by chef Serge Krikorian, visit our Youtube show, Cooking with Kriks, and don't forget to hit that subscribe button: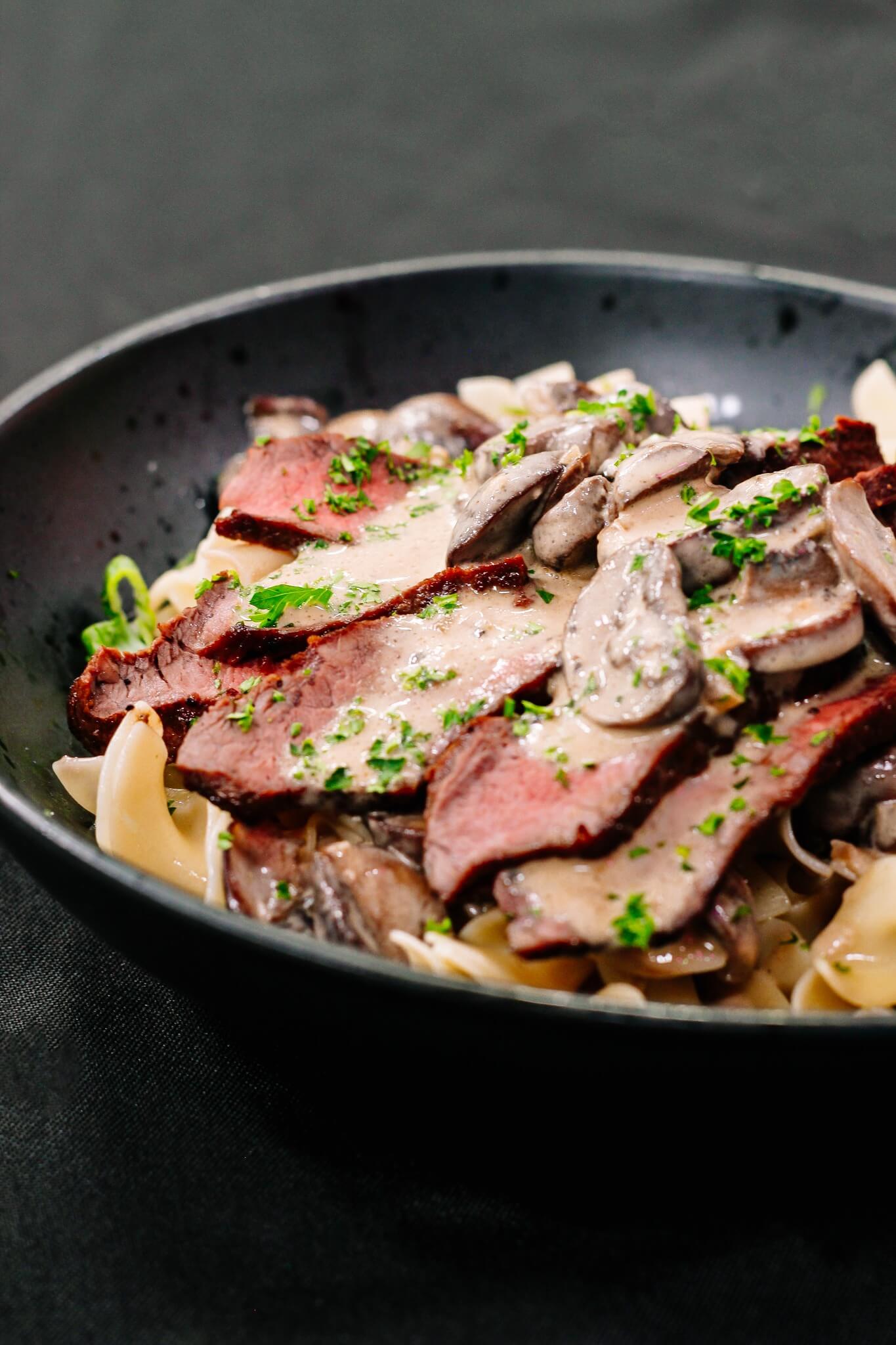 Pan-Seared Steaks with Brandy Cream Sauce
2 8 oz. Flat Iron Steaks
1 Tbls. Grapeseed Oil
1 tsp. Kosher Salt
1/2 tsp. Ground Black Pepper
1 Tbls. Unsalted Butter
1 Shallot, minced
1 tsp. Minced Garlic
2 Cups Sliced Baby Portobello Mushrooms
2 oz. Brandy
1 tsp. Dijon Mustard
3/4 Cup Heavy Cream
1/4 Cup Beef Stock
2 tsp. Worcestershire Sauce
1 tsp. Louisiana Hot Sauce
6 oz. Egg Noodles, cooked according to package directions
1 tsp. Cornstarch
1 Tbls. Water
Sliced Green Onions, optional garnish
Preheat your grapeseed oil in a heavy bottomed skillet on medium high heat.  Season your steak with salt and pepper  Gently place the steaks in the skillet and cook for 4 minutes on the first side.  Add your butter, turn the steak over, and cook for 3 minutes on the second side, occasionally basting it until the steak reaches 135 degrees for medium rare.  Cover and set aside and let the steaks rest.    
Lower your heat and add the  mushrooms and shallots, along with a tablespoon of grapeseed oil to the skillet and saute, scraping the bottom and stirring until done.   Add garlic and saute for another minute.  
Carefully add the brandy, tip the pan away from you, and ignite the brandy with a lighter.  When the flame has burned out, add the mustard and cream.  Mix thoroughly and cook, stirring, for 1 minute.  Add the beef stock, worcestershire, and hot sauce and simmer for 3-4 minutes. Taste and adjust salt and pepper as necessary.  
Combine the cornstarch with 1 tablespoon of water and stir into the sauce mixture and stir until the sauce has thickened.  
Slice the steaks across the grain and lay on top of cooked egg noodles.  Ladle sauce over the steak and noodles and garnish with sliced green onions.