When it comes to crafting a memorable meal, finding the perfect combination of flavors and ingredients is key. Today, we're diving into the exquisite trio of Beef Tenderloin with Truffle Cream Sauce, Roasted Nutmeg Fingerling Potatoes, and Pan-Grilled Asparagus. Join us on a culinary journey as we explore the history, preparation, and why this combination makes for an extraordinary dining experience.
In case you missed Chef Serge Krikorian creating this magnificent combination on THV 11's The Vine cooking segment, we have prepared the recap here! Don't miss out on more delectable recipes like this one by subscribing to the Cooking with the Kriks Youtube channel here: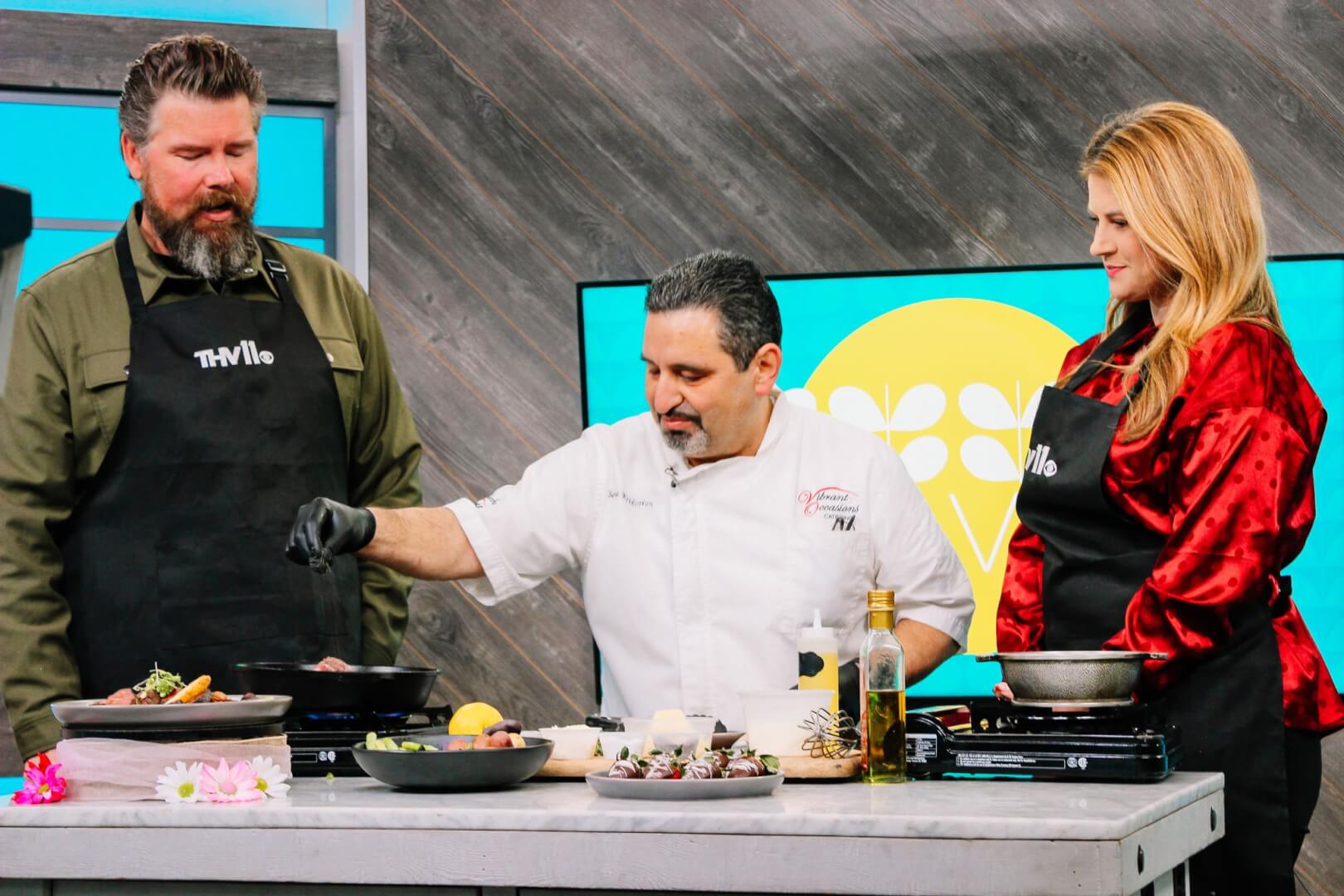 Beef Tenderloin with Truffle Cream Sauce
The succulent Beef Tenderloin, also known as Filet Mignon, has been cherished for centuries as one of the most tender and flavorful cuts of beef. Its roots trace back to medieval times when it was reserved for nobles due to its exceptional taste and tenderness. Fast forward to today, and it remains a beloved indulgence among food enthusiasts.
1 Lb. Beef Tenderloin 
1 Tsp. Kosher Salt
1/2 tsp. Ground Black Pepper
2 Tbls. Unsalted Butter 
1 Tbls. Extra Virgin Olive Oil
2 Whole Garlic Clove 
3 to 4 Sprigs of Fresh Thyme
Preheat oven to 325 degrees.
Season the tenderloin with salt and pepper.  In a heavy cast iron skillet, heat the oil.  Sear the meat on all sides.  Add the butter, garlic, and thyme, and baste the tenderloin with the butter.  Place the meat in the oven and baste every 3-4 minutes until the internal temperature reaches 135 degrees.  This generally takes 7-10 minutes. 
Sauce:
1 Cups Heavy Cream
1 Tsp. Black Truffle Oil
1/4 Cups Shredded Asiago Cheese
Kosher Salt, to taste
2 tsp. Unsalted Butter
Directions:
In a small saucepan over medium heat, add heavy cream and truffle oil and whisk to combine.  Add shredded asiago and Kosher salt to taste and simmer (do not boil) until sauce is reduced and thickened.  To finish, stir in 2 tsp. unsalted butter.
Roasted Nutmeg  Fingerling Potatoes
Incorporating aromatic spices and heirloom gold potatoes, the Roasted Nutmeg Fingerling Potatoes elevate this meal to new heights. The history of using nutmeg dates back to ancient times when it was considered a precious spice with medicinal properties. Today, it continues to add warmth and depth to dishes, creating a delightful and comforting flavor profile.
4 Tbls. Unsalted Butter
3/4 Tsp. Ground Nutmeg
1 Tsp. Kosher Salt
1 1/2 Tsp. Minced Garlic
1/2 Tsp. Ground Black Pepper 
1 Lb. Heirloom  Gold Potatoes
Preheat oven to 350 degrees.
Place the fingerling potatoes in a pot of water and bring to a rolling boil .  Cook until potatoes just start to soften but not too soft.  Drain and set aside.
Meanwhile, melt the butter and add the nutmeg, garlic, salt and pepper and simmer for one minute.
Coat the potatoes in the butter mixture and spread out on a sheet pan in a single layer.
Cook potatoes in the oven until they are cooked through, about 25-30 minutes.
Pan-Grilled Asparagus
Adding a burst of vibrant color and freshness to our meal, the Pan-Grilled Asparagus brings a touch of elegance. Asparagus has been cultivated and enjoyed for thousands of years, dating back to ancient Egypt, Greece, and Rome. With its unique flavor and exceptional nutritional value, it has stood the test of time as a beloved vegetable.
1 Bunch Fresh Asparagus
Kosher Salt, to taste
Ground Black Pepper, to taste
Extra Virgin Olive Oil
Zest of 1 Lemon
Crushed Red Pepper Flakes (optional)
Bring a pot of water to boil and salt heavily (like ocean water).  
Snap off the woody ends of the asparagus.  Drop your asparagus into the boiling for approximately 3 minutes. 
Meanwhile, prepare an ice bath in a bowl with ice and water.
Drop the asparagus in the ice water to cool down quickly.  Drain and pat dry with a paper towel.
Rub the asparagus with the olive oil and season with salt and pepper.  
Pre-heat a grill pan over high heat.  Grill the asparagus for 2 minutes, turn over, and grill for another 2 minutes. 
Transfer the asparagus to a serving platter and sprinkle with lemon zest and red pepper flakes.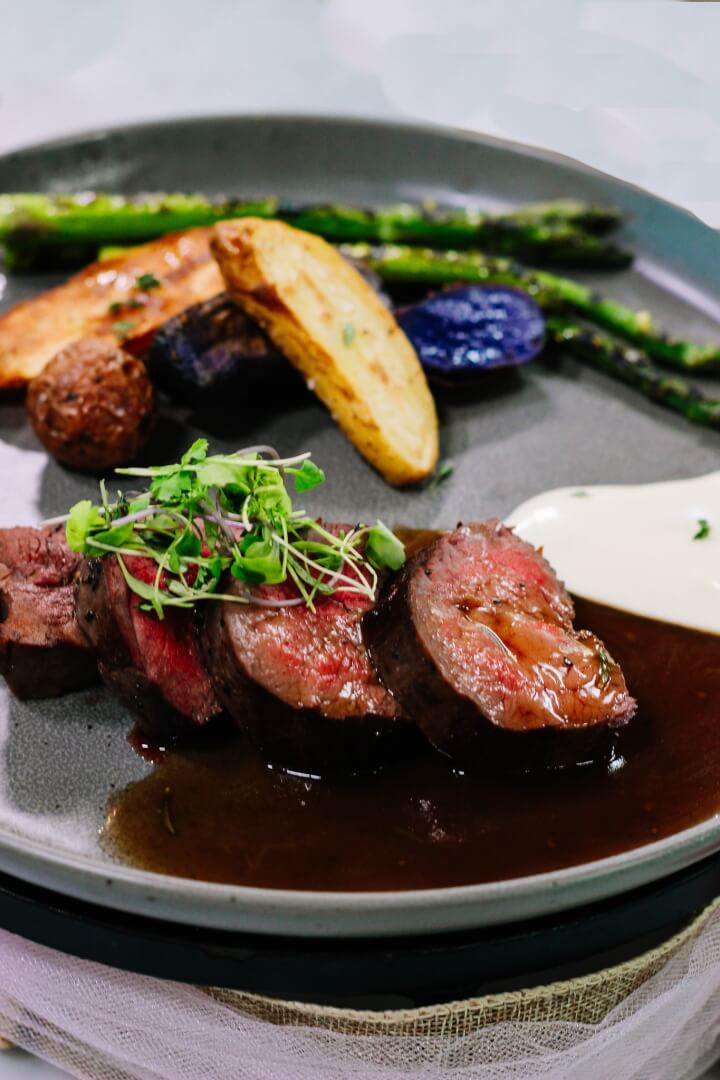 The combination of Beef Tenderloin with Truffle Cream Sauce, Roasted Nutmeg Fingerling Potatoes, and Pan-Grilled Asparagus is a symphony of flavors, textures, and aromas that will leave you wanting more. Indulge in the tender and flavorful beef, accentuated by the rich and velvety truffle sauce. The roasted potatoes, infused with the warmth of nutmeg, provide a satisfying side, while the vibrant asparagus adds freshness and a pop of color.
This meticulously crafted meal not only brings together a rich culinary history but also harmonizes ingredients that complement each other perfectly. Each bite is a delightful journey of taste and luxury. So, gather your loved ones, ignite your passion for cooking, and savor this wonderful combination that will undoubtedly become a memorable centerpiece of your culinary repertoire.